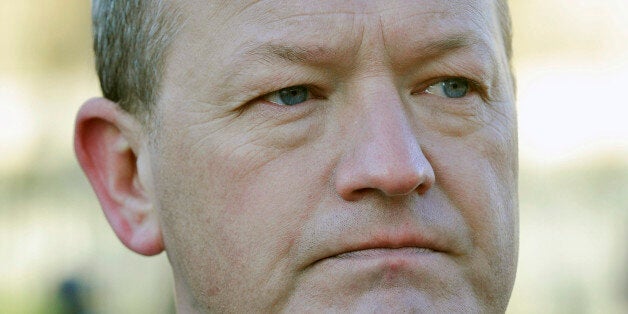 Labour MP Simon Danczuk has hit back hard at a former minister's call for him to be deslected as an MP.
Ex-Labour minister and leftwing veteran Chris Mullin has said that Mr Danczuk's local party in Rochdale should be 'sharpening' their 'sword' because of his lack of loyalty to Jeremy Corbyn.
But his remarks have prompted a furious backlash from Mr Danczuk, who dubbed Mr Mullin - the author of the classic political novel A Very British Coup - a 'champagne socialist'.
Mr Mullin, a former Environment and then Foreign Office minister under Tony Blair, had complained that the Rochdale MP had been 'collaborating' with 'right wing' newspapers.
He told the New Statesman that while it would be unwise of Mr Corbyn to start a 'purge' of dissenting Labour MPs, there were 'one or two people riding for a fall'.
"This Simon Danczuk fellow seems to have teamed up with the Murdoch press. I don't object to anyone who has a different opinion from Jeremy or who supported another candidate, but there is a minimum level of solidarity that one would expect to see shown.
"And I notice that Danczuk has been putting himself around in the Murdoch press in the week after Jeremy was elected. He seems to have inspired a very nasty front page lead in the Sunday Times that talked about "punishment beatings".
"Now collaborating with the nastier elements of the Murdoch press to do down the party is quite a high crime in my book, and if I was in Simon Danczuk's CLP, I would certainly be sharpening my sword.
"He might well go away to Ukip or somewhere in the end, but good riddance to him, I say. As we have seen, people who defect to Ukip don't usually last very long."
Mr Danczuk told HuffPost UK that Mr Mullin had got his facts wrong, but defended the right of Labour MPs to speak their mind about the direction of the party and to reach out to 'non-Labour' newspapers.
"He's a bit of a champagne socialist, he's quite posh isn't he? Compared to me he is anyway," he said of the privately-educated former minister.
"It's outrageous. Chapter 2 of the rule book, conditions of membership, forbids 'uncomradely behaviour'," he added, pointing out he was thinking of writing to the party's compliance unit to report Mr Mullin for breaching party rules against inciting deselection.
"We are a very united party in Rochdale and have been for a number of years now and nobody locally will appreciate Chris Mullin, who's not even engaged in frontline politics, sticking his nose in, trying to goad people into taking action of this kind.
"It's a nonsense to say what he said, I work with a wide range of media to get Labour's message across, he should celebrate that rather than denigrate people like me that do it."
The warning against 'punishment beatings' of moderate MPs was actually made by Shadow Cabinet Minister Michael Dugher.
In the week after the Labour leader's election, Mr Danczuk had told the Mail on Sunday that Mr Corbyn was at risk of "indulging the unelectable politics of protest".
Mr Danczuk has come under fire from the left for his own suggestiong that he could act as a stalking horse to replace Mr Corbyn if the party does badly in next year's local, Scottish and London elections in May.
Mr Mullin said earlier this year he was planning a sequel to his classic novel and TV series, A Very British Coup, which depicted a leftwing Labour leader who is ousted as Prime Minister.
Asked for Mr Corbyn's reaction to Mr Mullin's remarks, a spokesman told HuffPost: "He's on the record on deselections and reselections, he's not trying to change the rules."
Related