A man in Germany who hosted 24 refugees in his Berlin home has given an extraordinarily uplifting account of his experience.
Dirk Voltz and his partner Mario opened their home to displaced persons from Syria, Afghanistan and Iraq in July.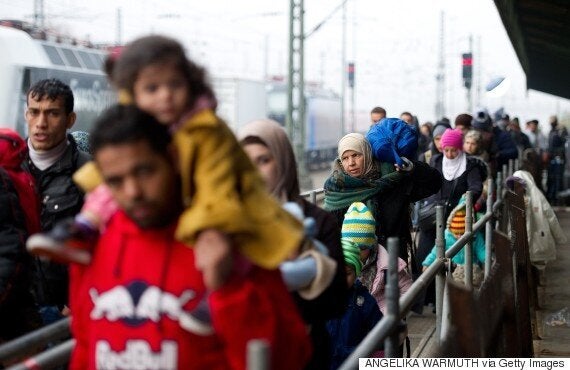 Migrants walk on a platform of the railway station in Passau, southern Germany, on November 3
"No one insulted us because we are two men and share one bed. No one, by any means, said they prefer Sharia law over German Law. We did not meet one person who did not regret leaving their home. Where is this Islamisation that people in Germany have been so worried about in these past weeks?"
Voltz wrote that the "real disappointment" emerged in the form of text messages, death threats and insulting letters left on his front door... by his fellow Germans.
He continued: "As if one could stop this migration of people. As if we could personally influence which war will break out. As if we all don't have a responsibility in the world's happenings.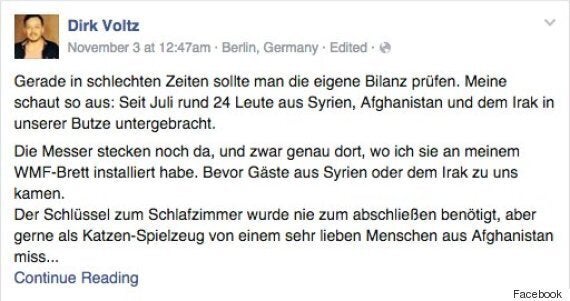 "It may be that Islam does not belong to Germany. It's also possible that the devil is part of every religion. Maybe I have to fight for my rights as a homosexual in ten years, more intensely than I have to do it now."
Voltz's post has been shared thousands of times and is making waves online.
As well as a flood of positive feedback on the post, he told Huffington Post UK he has received hundreds of private messages, and that: "As far as I can see, 99% are positive."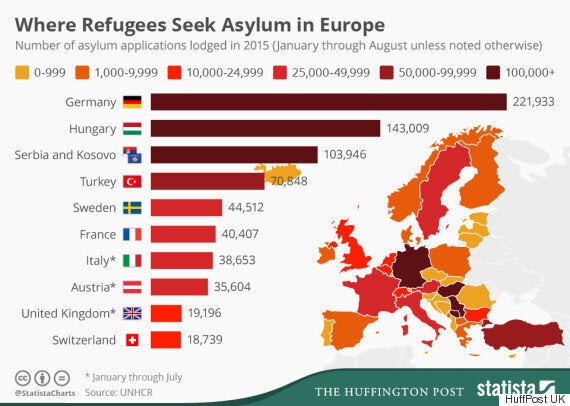 When asked what he would say to the remaining 1% who continue to persist with the negative stereotype of refugees, Voltz replied: "If they still do not understand what is going on here in Europe… I better save my breath for those people who really want to change something in a positive way."
Voltz signed off his Facebook missive with: "Who knows? I mean, who knows what will be someday? Certainly I know that what happened this past summer and this fall have changed our lives. You can be there for other people. Or you can be scared. And if that happens, I'm sorry. I'm sorry for those who live in fear."
Refugees making applications for asylum are more likely to apply for residency in Germany than in any other European nation.
221,993 applications had been logged by Germany from refugees so far in 2015, compared to 100,669 in the same period last year.