A mother-of-three got the bum's rush from her new set of 'Animal' pyjamas - after a sewing mishap on the label caused it to spell out the word 'Anal' on the bottoms.
Maria Wright, 23, had paid budget chain clothes Peacocks £11 for the novelty leopard-print set - which features the word 'Animal' on the waistband and which apparently offers wearers the chance to ''unleash their inner wild side.''
But whilst getting ready for bed, she put them on only for partner, John to spot the manufacturers had tightened up the waistline at the back - causing the letters 'i' and 'm' on the 'Animal' label to be inadvertently hidden. Maria Wright and her 'Animal' pyjamas
"He was in tears of laughter," Wright, from Peterborough, told Cavendish News. "He started laughing, it's typical that he noticed it right above my bum. Right on top of my bum it says anal, so where they stitched they had not put the I and M of animal in."
"I do see the funny side but it's more the embarrassment for me. I had to go down to the store to get my refund and show off the pyjama bottoms in front of everyone. The members of staff were laughing along with the rest of the store.
"My four-year-old son is just learning to read as well, and he said 'what's anal mummy?' I was horrified. I just said 'I don't know'. How embarrassing. "It's girls that are younger than me though, some children fit into women's pyjamas and I would be shocked as a mother to see that. They are not sexy or Ann Summer-ish or anything like that, they're just something a young girl would get.
"If they are going to sell something like that it should have a warning label or it should be in Ann Summers, I was gob-smacked. Then my friends came around to visit and they saw them too.
"They were all laughing, I think anyone is going to laugh but when I put my side across, my serious side, they were understanding and told me they saw my point and told me I need to do something about it.
"John told my mum and said 'even pyjamas come with instructions' my mum was gob-smacked too. Seeing her 23 year-old daughter wearing some pyjamas that say 'anal' on the back isn't what a mother wants to see. "It says animal all around and then straight above my bum says anal, it's the perfect place to be honest."
Wright, was offered a full refund when she spoke to head office but she added: "What about my embarrassment of having to go back in there? I said I wanted a full refund and a £10 gift voucher and he said he couldn't do that.
"I'm still embarrassed now because I've still got to take them back. Then there's my child learning to read and wondering what it was, and being a mother and thinking about other younger people who could have bought them and who still can buy them because I don't think they have taken them off the shelf."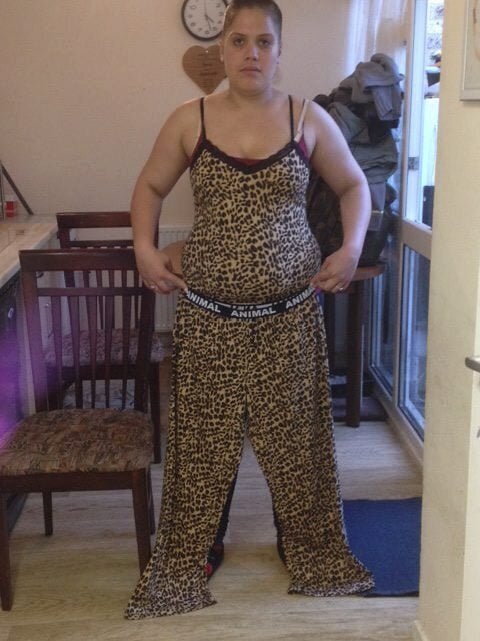 'Anal' pyjamas