Simon Cowell has been accused of trying to sabotage his own 'X Factor' act, following Anton Stephans' bizarre performance in Saturday night's show.
READ MORE:
Despite the fact he's mostly performed soulful ballads so far in the competition, Anton was given a mash-up of two recent chart-toppers to perform as part of this weekend's 'Reinvention' theme, and his performance did not go down well with viewers.
Kicking off with Meghan Trainor's 'All About That Bass', a track Anton has already struggled with in the competition, he then went into Jessie J's 'Bang Bang', a performance which began on a gold throne and ended with him surrounded by dancers.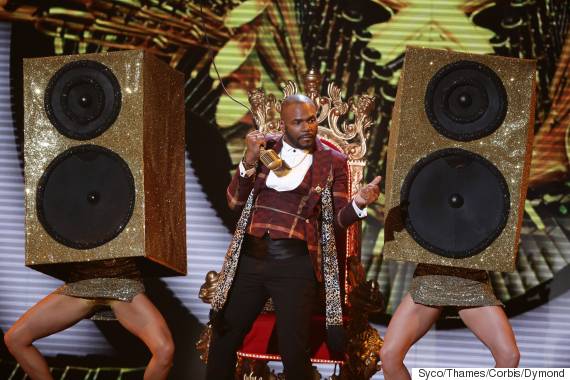 Anton Stephans
But the hair-raising performance went down terribly with both 'X Factor' viewers and the judging panel, with some livid Twitter users even accusing Simon of attempting to ruin Anton's chances in the show, by deliberately giving him two songs that didn't suit him.
Simon Cowell has either lost it, or wants to sabotage himself.. #XFactor

— Katy Mortimer (@katydotcom) November 7, 2015
@SimonCowell you destroyed anton i hate you

— vit (@karasouderts) November 8, 2015
@SimonCowell Simon Anton is a classy singer, u embarrassed him tonight, even u were laughin! Shame on u.

— Diana Hamilton (@hamiltondiana) November 7, 2015
@SimonCowell well we all know you don't want any of your group to win and be signed..but why did you do that to Anton ..why..car crash TV .

— dancerlover (@lizmccrystal) November 7, 2015
@SimonCowell are u trying to stitch up ur own category by givin them rubbish songs etc #bupsi went last week and poor #Anton will go tonight

— marie smith (@tinkerbellsdust) November 7, 2015
Simon Cowell is taking the piss out of Anton. One of the most incredibly talented people on the show and he's just shat all over him.

— Laura Piper (@Mattypriorfan) November 7, 2015
Is @SimonCowell doing his best to sabotage his own acts???? #XFactor

— jane inglefield (@janeinglefield) November 7, 2015
@SimonCowell yeah vut poor Anton! what did you do that? he can sing! no need to turn him into the joke act...

— Marcia F. (@Marcia_F) November 8, 2015
What on earth has Simon Cowell done to poor Anton? #badchoice

— Rachael Birch (@RachaelBirch2) November 7, 2015
@SimonCowell you just made a laughing stock of Anton he looked so uncomfortable why would you do that to him??

— Jayne Smith (@JayneSmith11591) November 7, 2015
What the actual F*CK has @SimonCowell done to Anton? And he's apologetic even though it's not his fault ❤️. If he goes tomorrow...#XFactor

— Jade Mercedes Fraser (@missjadefraser) November 7, 2015
@SimonCowell really did Fuck poor @AntonStephans over this week! Still a great performance though! Love Anton so much.

— Toni Mckie (@tmckie1) November 7, 2015
@SimonCowell Its sad that U want 2get over it asap.As U said from the beginning U hate your categorie!Which wasnt & isnt fair 2Boopsi&Anton!

— Lily Amis (@nasSima2015) November 7, 2015
@SimonCowell guess you want anton out the competition. That was awful to make him sing crap would love to hear cheryl sing that

— carole denyer (@caroledenyer) November 7, 2015
Unfair of @SimonCowell to do that to Anton he is lovely and that was just humiliating! #XFactor

— Jade Grove (@Jade_Grove) November 7, 2015
Anton is one of the two remaining acts in the 'Overs' category, who Simon openly berated when he learned he would be mentoring them at the beginning of this year's Six Chair Challenge.
Last week, 'Overs' singer Bupsi became the first performer to be booted out of the competition, later blaming Simon's song choice for her departure.
Story continues after video…
Meanwhile, it was Reggie 'N' Bollie who ended up stealing the show, bringing the energy levels up with their unique take on One Direction's signature hit, 'What Makes You Beautiful', mashed up with OMI's 'Cheerleader'.
The duo were praised by the judging panel, and even got the personal thumbs up from 1D singer Liam Payne, who was in the 'X Factor' audience on Saturday night.
Find out which two acts have failed to impress viewers in Sunday night's 'X Factor' results show, airing at 8pm on ITV.
LIKE US ON FACEBOOK | FOLLOW US ON TWITTER