Doctor Who's next companion should be more working-class to connect him with the real world, according to his current inhabitant Peter Capaldi.
Jenna Coleman is due to leave the show (again) by the end of this year, and her replacement should share the same kind of worldly wisdom as Billie Piper's Rose Tyler, if Peter gets his way.
He said of the vacant role, "I'd like somebody really working class or someone who sounded more like that."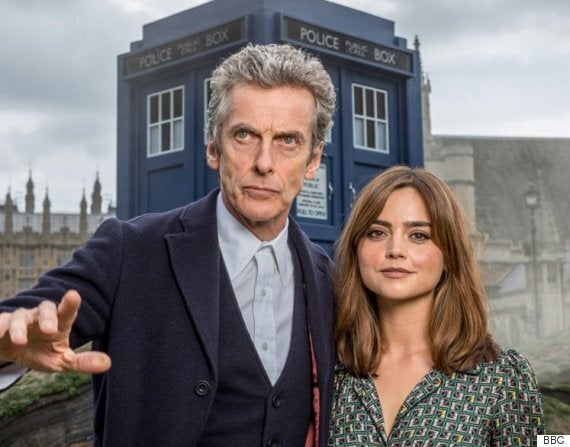 "Billie Piper was a very new thing in Doctor Who, to have somebody who had a much earthier sound to their voice. I think the companion has to be more earthbound.
"I love Jenna, I'm really sorry she's gone, so I feel bad discussing the prospect of somebody else, but I think it might be interesting to have somebody a little more earthy."
Boy or girl? He grins mischievously. "I don't mind – whatever works."
Although Peter says he has his hands full with the part and doesn't feel the need to get involved in story ideas, he admits he'd like to see the Doctor get more involved with challenges affecting his viewers.
"I think there's a real place for engaging with the world. The Doctor was always at the forefront of environmental issues, issues of population in the 1970s, and we seem to have drifted a bit away from that.
"It would be nice to do something a bit more reflective, and help children understand." He adds he'd welcome a fracking episode. "Frack off," he chuckles. "I don't know what we'd find."
Peter reveals he's enjoying a more fun side to his Doctor in the second series, a contrast to the serious manner he had when he first appeared, replacing Matt Smith last year.
"The great thing about Doctor Who is he struggles to find himself. I still don't know who that character is, and I think that's right," he reflects now. "But having struggled with some of the darker aspects of himself, it frees him to be more joyful. I think he's someone who's delighted with the position he's in, and gets impatient because he doesn't want to look at dull things. It's been nice to see him more cheerful."
Peter is also very happy to be experiencing the global recognition that comes with Doctor Who, with a slightly older head on his shoulders than recent incumbents.
"I'm very lucky to be this age. There are some things that are not that great, but as a younger actor, I would have found it very difficult.
"People say the programme is successful internationally, but until you go to South Korea or Australia, or Mexico or Rio, and meet thousands and thousands of fans who are committed and love the show… it's played there a long time, and it's part of their upbringing.
"We went on a world tour, and I thought, 'I'm so glad I'm not 21 and I'm not in a band,' because you would think this is how life is, to be adored and travel very well and live in nice hotels. I, because I'm a grown up, know this will come to an end, so I can just enjoy it while it's happening, whereas if I was younger, I'd think this is how it's going to be, and of course that's not how it rolls for most people, so yes, I'm glad I'm older."
Doctor Who continues on BBC1 on Saturday evenings. Some of the Doctor's previous companions...