Benedict Cumberbatch has come out fighting, strongly defending his actions in asking his audiences at the Barbican for money to help the plight of Syrian refugees.
Benedict was receiving his CBE at Buckingham Palace today, when he was put on the spot by reporters about the criticism he's received in some quarters for using his theatre performances to make political statements, including an infamous 'F*** the politicians' a couple of weeks ago.
WATCH him in action above - do you agree or disagree with his point of view?
But Benedict was having none of it, saying he didn't believe he'd received too much flack, and if he had, he didn't care.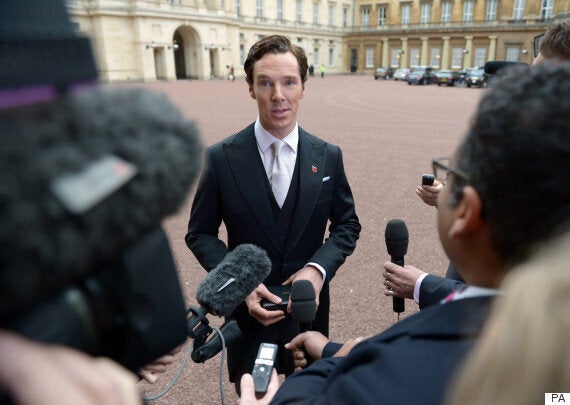 Benedict Cumberbatch took questions from reporters about his actions on the chin
He said in the grounds of the palace: "If I have that's news to me and that's not the kind of news I'm interested in, I'm interested in the numbers of people who are drowning off the coast of the island of Lesbos. I'm interested trying to help people who need funding, I'm not interested in what flack I'm taking.
"I'm interested in trying to raise awareness of people who are in far worse positions than an actor being criticised for doing something other than his job.
"If I'm in the public eye because of my work and I get scrutinised in my private life because of that, then I cam damn well make sure I use that potency to do good for other people."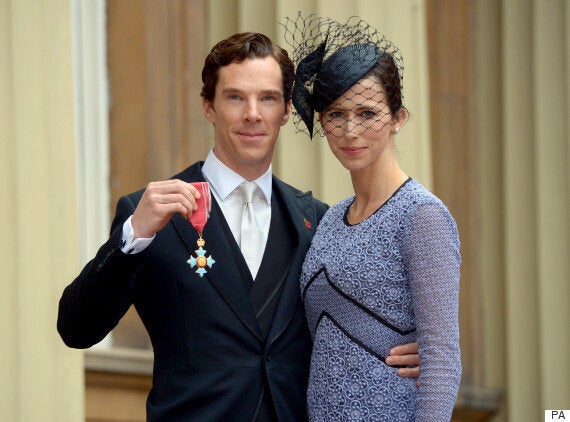 Benedict Cumberbatch was with his wife Sophie to receive his CBE at Buckingham Palace this morning
One reporter began to ask if the theatre stage was an appropriate forum for his statements, but Benedict rounded on him with a Sherlock-worthy stare, before asking:
"Have you been to the theatre recently? How many times? Have you never been in an audience where someone's raised awareness for the Terence Higgins Trust for Aids or for cancer awareness or for any particular cause? It's not an abnormal activity for someone to appeal at the end of a night's performance for something that is affecting our world, and the actual community of people that have just made the show.
"I've not done anything unusual. I'll take what criticism people will throw at me, but they should just look back to the last person that also asked for somebody to dig into their pockets and put some folded up change to put some money into a bucket for a good cause."
The star of TV's 'Sherlock' and 'The Hobbit' on the big screen has been giving nightly speeches after his curtain call at the Barbican in London and seeking donations from the audience to help Syrian refugees. So far, audience contributions have raised more than £150,000 for Save the Children.
He has told audiences of a friend's experience, volunteering on Lesbos, where 5,000 refugees had been arriving every day, and has voiced his criticism of the British government's decision to take in 20,000 refugees over five years.
He has also been reading a poem called Home by Somali poet Warsan Shire, which includes the line: "No one puts children in a boat unless the water is safer than the land."
He said today: "As a new father to see the footage and the photographs that were coming to us in the summer.
"I think all of us with a heart just realised this wasn't someone else's problem somewhere else."
Related