Last month we brought you the humorous little yarn about a spoof 'The Wright Stuff' Twitter account that had the world fooled over a tweet about selfies and ISIS.
Well, good news all, there's another one.
@wrightstufflive A new low, well done. Do you think you'll ever know when you've reached the bottom? @DorothyLou

— Mitch Sullivan (@mitchsullivan) November 11, 2015
@wrightstufflive abhorrent.

— Kirsty Hulse (@Kirsty_Hulse) November 11, 2015
Yup, Twitter is awash with outrage over the seemingly insensitive and rather crude questions that have definitely not been posed by the Channel 5 call-in show.
@wrightstufflive why don't you go fuck yourselves how about that!

— Kenny Ranks (@mrkenvin) November 11, 2015
Yes! All this tinsel and fairy lights bullshit, why don't we have lumberjacks instead of santa! https://t.co/Y1dDv0Qekq

— La Oveja Negra (@__Khaira) November 11, 2015
Well, extraordinary https://t.co/oFhvCvOMhU

— Heyhorothko (@HeyHoRothko) November 11, 2015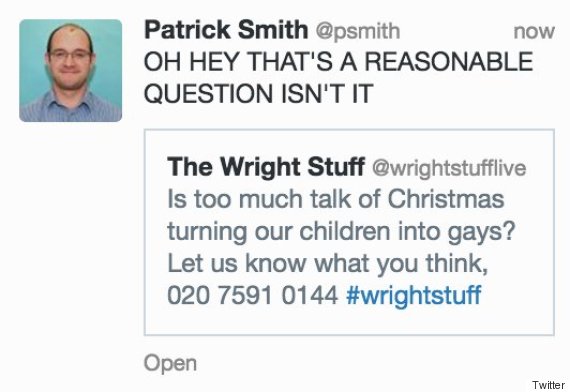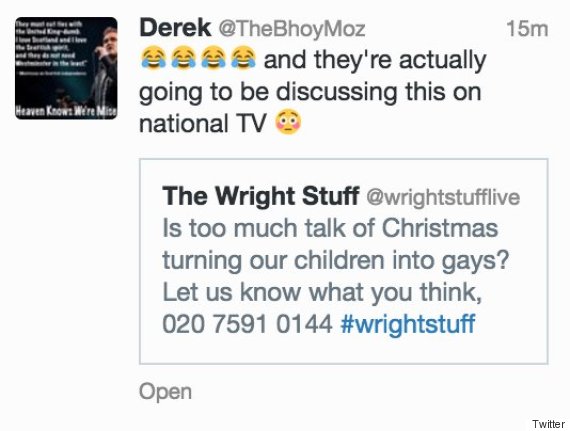 As a reminder, the previous spoof account which was quickly suspended, rose to infamy with the question: "Are people that take selfies more likely to join ISIS?"
Obviously the answer was no but that didn't stop people getting a little upset.
@wrightstuffon5 Has someone been on the booze already this morning?

— Fuzzy Duck (@BoatingFuzzy) October 7, 2015
@wrightstuffon5 @isis_karaoke don't be ridiculous. Plumbing new depths now on this show.

— Sam (@DipBrig11) October 7, 2015
Next up Are people who drink coffee more likely to vote Green? https://t.co/zYBRVhDcwY

— Kevin Jackson (@kevinlfj) October 7, 2015
@wrightstuffon5 😂😂😂😂😂😂😂 So ISIS is just full of hot young girls, that like to go out then? And we still can't defeat them... Bloody useless

— DAN (@DDS082) October 7, 2015
.@wrightstuffon5 @sjhross Better start with baseball and go from there pic.twitter.com/256mbxHBXs

— Steve Smith (@stevesmithffx) October 7, 2015
Matthew Wright hosts the discussion programme, which airs on weekday mornings on Channel 5.