Teen model Essena O'Neill, who hit the headlines after quitting social media and exposing the truth behind her "perfect" life, has now taken on social media couples - saying they are fake and "sad".
In a video posted on Vimeo, the 19-year-old from Australia recounted an incident where she was approached by a "famous supermodel" who wanted to start an "online relationship" so they could both boost their followers.
"He referred to other couples that had been doing it he said we'd have all this free travel and that if we became a couple we'd both bump up our followers and we could make YouTube videos and get heaps of money.
"He said in the industry it's not unheard of to do this that it's actually really smart and that I should think about it seriously as a business proposal - so here I am, 18, in Thailand and this A-class supermodel wants to propose a business deal and that is an online relationship."
Relationships between social media celebrities are not uncommon; YouTubers Zoella and Alfie Deyes, and Tanya Burr and Him Chapman are among the better known couples, although O'Neill makes no suggestion she is referring to them in her video.
O'Neill deleted her Twitter accounts, 2,000 Instagram images and re-captioned the rest to tell the true story behind the "candid" images.
The Australian teen said she wanted to expose the reality of famous Instagram youths who are paid by companies to model clothing and products.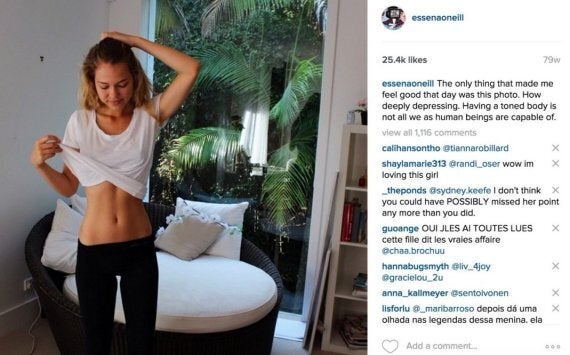 In her video about "fake" social media couples, O'Neill added: "He sent me a ridiculous amount of selfies, which again should have been a turn off, and he asked to see a good night pic from me.
"My skin was not great so I put on a really thin layer of foundation and I took a whole heap of selfies and I ended up sending him this stupid one because I just thought the whole process was so stupid I didn't understand why he wanted a goodnight selfie."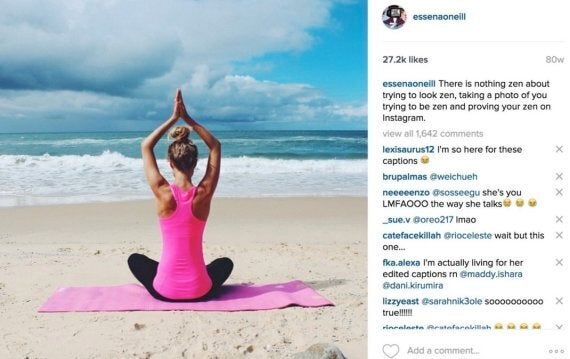 After deleting her social media accounts earlier this month, O'Neill revealed even as a 15-year-old she restricted her calories and excessively exercised.
"[Those are] not goals," she said.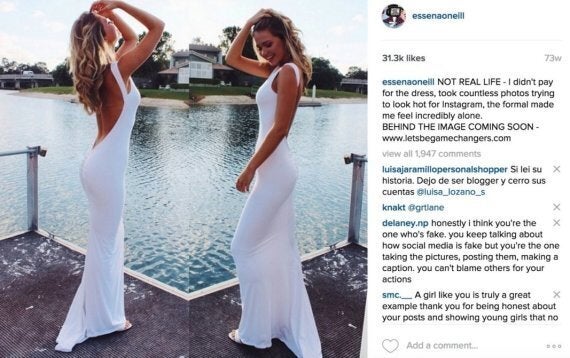 The teenager is now exposing what was behind her "candid" Instagram shots - "stomach sucked in, strategic pose, pushed up boobs" - to show young people how fake social media is.
"I just want younger girls to know this isn't candid life, or cool or inspirational. It's contrived perfection made to get attention."