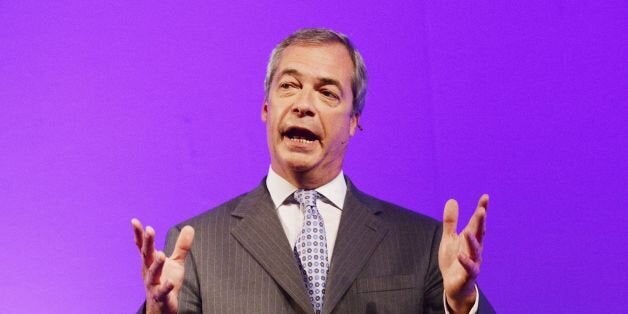 Nigel Farage wants to abolish the only Ukip body which has the power to sack him as party leader, the Huffington Post UK can reveal.
Mr Farage is proposing to axe Ukip's National Executive Committee [NEC], which has the power to scrutinise and ultimately topple the party leader through a vote of no confidence.
The Ukip leader put forward the idea of scrapping the NEC, and replacing it with a less democratic board of governors, during a confidential meeting with his party's MEPs in Strasbourg within the past few weeks.
Party insiders say Mr Farage is worried his power over the committee – which rejected his resignation as leader in May – is waning thanks to an influx of new members.
One source, who is close to the NEC and others high up in Ukip, said: "The new NEC is going to prove a significant headache for Nigel Farage."
The NEC is supposed to comprise of 12 elected members, plus the party leader, party chairman, and two others appointed by the committee itself.
According to Ukip's constitution, the party leader can be ousted if nine members back a motion of no confidence, which is then put to rank and file members at an emergency conference.
Today, the result of the election for six committee places were announced, with two members re-elected and four new faces joining.
The source said: "Victoria Ayling, Tomaz Slivnik [new members] and Piers Wauchope [re-elected] are not people who will be manipulated.
"They are strong voices. I think this election result will cause concern for Nigel Farage. There are rumours afield of the NEC being abolished and being replaced with a body. That should cause significant concern for the membership.
"The NEC should provide a vital check and balance as with any party in the UK."
The source said Mr Farage and the NEC often have run-ins on policy, and if the Ukip leader does not get his own way he will "have a big sulk and the NEC will have to placate him."
Another party insider also felt that the new NEC would have no problem holding Mr Farage to account.
They said: "They are not people who are going to sit there, they are very capable people.
"These are strong, serious people. They are good at holding people to account. They are not going to defer to anyone."
Abolishing the NEC would be a serious power-grab from Mr Farage, who many believe has been damaged from his "unresignation" as leader in the aftermath of the General Election.
Ukip membership numbers are reported to have fallen from 47,000 to 40,000 since the election, and a number of staff have been let go as the party tries to cut costs.
Related