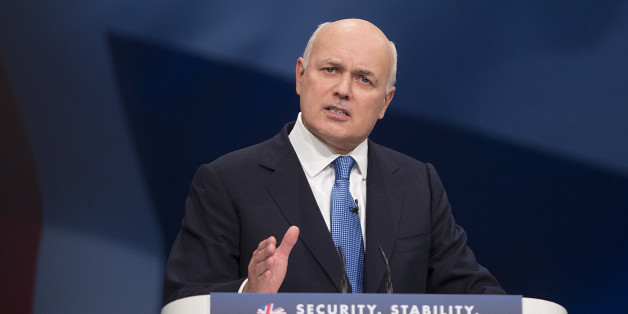 Isabel Infantes/EMPICS Entertainment
Almost 600 "additional" suicides could be related to the Government's Work Capability Assessments, according to research published today.
A study in the Journal of Epidemiology and Community Health claims the areas of England with the greatest use of the assessments has also seen the sharpest rise in reported suicides, mental health issues, and antidepressant prescribing.
The report says the assessments may be having "serious adverse consequences for mental health" and even suggested doctors involved in the process could face "ethical issues" in continuing with the tests.
The Department for Work and Pensions, which operates the policy, described the report as "wholly misleading" and pointed out even the authors recognised no conclusions can be drawn about the assessments and the suicide rates.
The report, which was led by Dr Benjamin Barr from the Department of Public Health and Policy, from the University of Liverpool, reads: "Our study provides evidence that the policy in England of reassessing the eligibility of [disability] benefit recipients using the WCA (Work Capability Assessment) may have unintended but serious consequences for population mental health, and there is a danger that these adverse effects outweigh any benefits that may or may not arise from moving people off disability benefits.
"Although the explicit aim of welfare reform in the UK is to reduce 'dependency,' it is likely that targeting the people living in the most vulnerable conditions with policies that are harmful to health, will further marginalise already excluded groups, reducing, rather than increasing, their independence."
The report claims that after taking into account the socio-economic background of different parts of the country, as well as long-term trends in mental health, a total of 590 additional suicides could be related to the assessments between 2010 and 2013.
There were also an additional 279,000 extra cases of mental ill health and 725,000 more prescriptions for antidepressants.
Marjorie Wallace, chief executive of the mental health charity SANE, said there were concerns people with mental illness undertaking the assessments may feel "threatened and afraid."
She said: "An assessment is made as a snap judgement by someone who does not know the claimant's history, with little knowledge of the fluctuating nature of many mental illnesses. Nor do they realise how long-term and debilitating some conditions can be.
"The pressure imposed by being told you are 'fit for work' and no longer eligible for benefits can reinforce feelings of despair, in some cases leading to people taking their own lives."
Labour's Shadow Cabinet Minister for Mental Health Luciana Berger said the report raised "serious questions" about WCA, while Debbie Abrahams, Shadow Minister for Disabled People, said: "I wish I could say the findings from this research comes as a surprise.
She added: "The findings are devastating for the Government. They are damning of the Government's approach to disabled people receiving social security support, and in particular of their Work Capability Assessment process."
A DWP spokesperson said: "This report is wholly misleading, and the authors themselves caution that no conclusions can be drawn about cause and effect.
"In addition, it is concerning that they provide no evidence that the people with mental health problems highlighted in the report even underwent a Work Capability Assessment."
Figures released in September revealed more than 2,650 people died within six weeks of being found "fit for work" following a WCA.
Of that figure, 1,360 died after losing an appeal against the decision.
Samaritans offers a listening service which is open 24 hours a day, on 116 123 UK and ROI (this number is FREE to call and will not appear on your phone bill).