Despite England fans being among the most dedicated and well-travelled of all football supporters, when it comes to singing the anthem, they're rightfully more at home with God Save The Queen than the opposition's national tune.
That is likely to change tonight, however, when supporters of Wayne Rooney's men will be encouraged to join their French counterparts in singing the La Marseillaise in solidarity with fans of Les Bleus.
Behold this helpful video (above) to teach you how to sing La Marseillaise at tonight's England vs France game using phonetics, prepared specially by our friends at Le Huffington Post.
England play France tonight at Wembley, the first game by the French national side since Friday, when Islamic State terrorists attacked its match against Germany and other locations in Paris, killing 129 people and plunging the country into anger and mourning.
Security at tonight's match is expected to be very tight, with the French players spotted walking with armed police protection after they arrived in Britain in Monday.
Armed officers have been deployed with the Duke of Cambridge, Prime Minister David Cameron and Labour leader Jeremy Corbyn among those in the crowd.
This evening a match in Hannover between Germany and the Netherlands was cancelled and the stadium evacuated. The stadium was hosting a match between Germany and the Netherlands. Many top German officials, including Chancellor Angela Merkel, were scheduled to attend the match to show they will not bow to terrorism.
Ahead of kickoff at 8pm at Wembley, England fans are expected to sing along to the La Marseillaise in a gesture of solidarity.
If you're up for a challenge, you can also look at this HuffPost UK version of the anthem (below) that gives the lyrics in actual French.
For the curious, this what you're actually singing:
Arise children of the fatherland,

The day of glory has arrived,

Against us tyranny's,

Bloody standard is raised,

Listen to the sound in the fields,

The howling of these fearsome soldiers,

They are coming into our midst,

To cut the throats of your sons and consorts,

To arms citizens,

Form your battalions,

March, march,

Let impure blood,

Water our fields

This horde of slaves, traitors, plotting kings,

What do they want?

For whom these vile shackles,

These long-prepared irons? (repeat)

Frenchmen, for us, oh! what an insult!

What emotions that must excite!

It is us that they dare to consider

Returning to ancient slavery!

What! These foreign troops

Would make laws in our home!

What! These mercenary phalanxes

Would bring down our proud warriors! (repeat)

Good Lord! By chained hands

Our brows would bend beneath the yoke!

Vile despots would become

The masters of our fate!

Tremble, tyrants! and you traitors,

The disgrace of all groups,

Tremble! Your parricidal plans,

Will finally pay the price!

Everyone is a soldier to fight you,

If they fall, our young heroes,

France will make more,

Ready to battle you!
French fans sang La Marseillaise as the Stade de France was evacuated on Friday, after two suicide bombers attacked, blowing themselves up outside the ground.
The explosions and panic led to a pitch invasion, as frightened spectators ran to the only place they thought they could.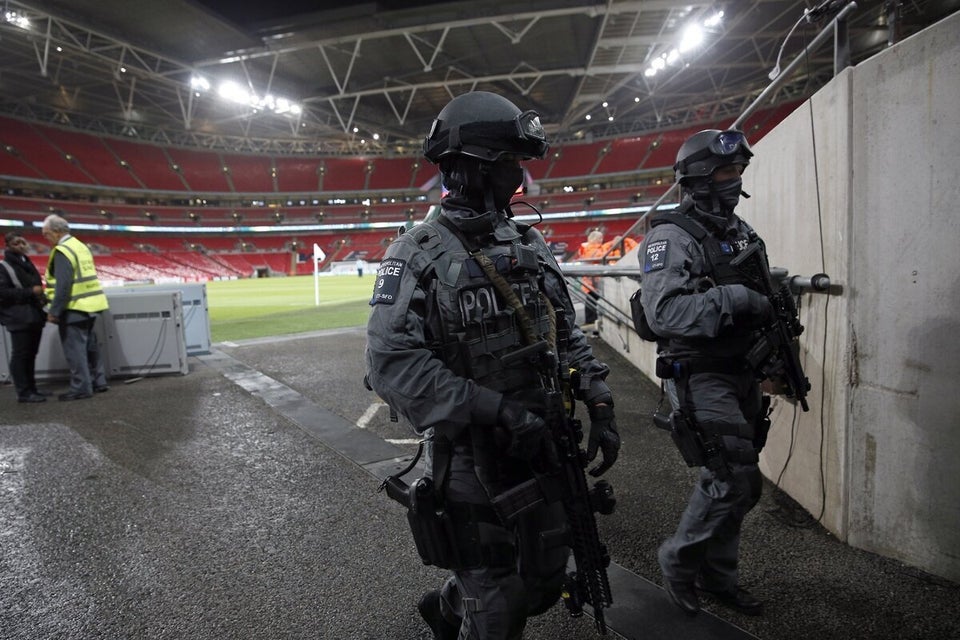 Armed Guards Deployed At Wembley Stadium
Fans arriving early for the England-France match said they are hoping for a peaceful event.
French supporters waved Tricolor flags outside the national stadium and displayed banners, including one that read: "Thanks to the world"
Muslim friends Ansheed Tahir, 24, and Mazin Mohammed, 23, who are students from Upton Park, east London, said they are worried after Friday's events but are determined to attend to show their sympathy for the French.
Mr Tahir said: "We have had the tickets for two months and have not been put off by what happened.
"I am looking forward to the minute's silence and a chance to show solidarity with the people of Paris."
His friend added: "This has not affected us as Muslims. People in Britain are good to us. Globally there is blame for the Muslims but it is a tiny minority who are doing this and we do not approve of violence - it is against our religion."
The stadium bore the words Liberte, Egalite, Fraternite in red, white and blue and the arch over the ground was also lit in the colours of the French flag.
Armed police stood guard on Olympic Way, the main approach to the stadium.
Related