Nigella Lawson's new show got viewers in all of a tizz earlier this month with her avocado on toast recipe, and now she's done it again.
READ MORE:
The TV chef caused a stir as she presented her take on a Caesar salad on Monday (16 November) night's edition of her show 'Simply Nigella'.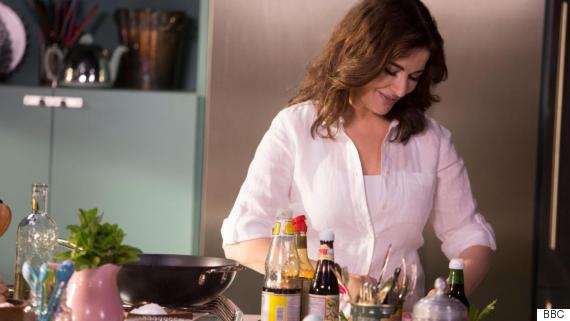 Nigella Lawson
And while the well-known dish is traditionally made up of fresh lettuce leaves, croutons, chicken, anchovies, Parmesan shavings and a white dressing, Nigella's version was rather different.
She served up half a baked lettuce, sprinkled with anchovies and a fried egg on top, complete with a piece of toast.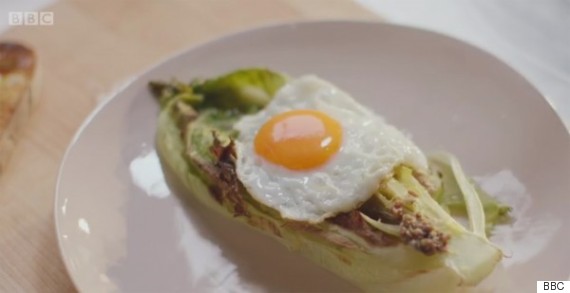 Nigella's *interesting* version of a Caesar salad
Needless to say fans were not impressed, and the recipe caused quite a stir on Twitter.
As if Nigella is roasting some lettuce, putting a fried egg on top and can have the audacity to call it "delicious" #SimplyNigella

— Kyle (@kyleio_) November 16, 2015
@Nigella_Lawson has just cooked egg & lettuce. My dad served up egg & lettuce once; oh, how we laughed but maybe he was ahead of his time..

— Bonnie Church (@BonnieChurch1) November 16, 2015
Soooo lets get this straight nigella is a pro chef??? Well she has just done fried egg in roasted lettuce!!!

— Michelle Bowater (@BowaterMichelle) November 16, 2015
Seriously!! @Nigella_Lawson you've roasted a lettuce leaf then put a deep fried egg on top? And they say cooking's hard? I could do that

— James (@JimmyP82) November 16, 2015
Did I just watch #nigella put a fried egg on top of hot lettuce? That's not a Caesar salad, that's a travesty. What's going on??

— Annie Gotts (@AnnieGotts) November 16, 2015
Nigella just made Egg & Lettuce on toast......ON TV!? I'm gonna pitch my idea for a SuperNoodle based cooking show

November 16, 2015
Flick onto BBC 2 now, Nigella is showing us how to do egg on toast with a bit of lettuce. Good to see she's not running out of ideas...

— Alex Lynch (@AlexJRLynch) November 16, 2015
Hang on that wasn't even a Caesar salad...it was a fried egg on lettuce. She's taking the piss now #nigella

— Angelina Hunt (@AngelinaEHunt) November 16, 2015
Sorry but how does nigella have a career? She just spent 5 minutes showing how to fry an egg and place it on a piece of lettuce

— izzy (@IzzyEnglish) November 16, 2015
Nigella's latest bizarre concoction comes just weeks after she was criticised for serving up avocado on toast on the show, which proved somewhat too pared down for some appetites.
'Simply Nigella' continues next Monday at 8.30pm on BBC Two.
LIKE US ON FACEBOOK | FOLLOW US ON TWITTER