The five things you need to know on Tuesday November 17, 2015…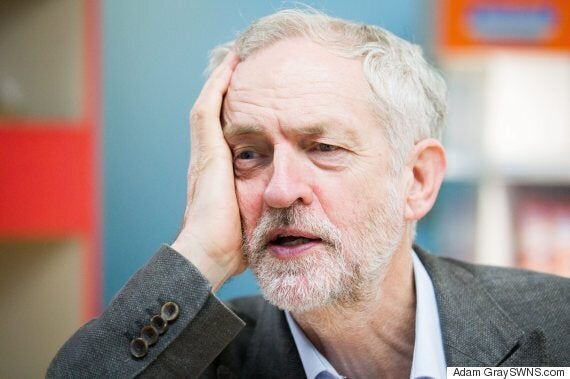 Last night's Parliamentary Labour Party meeting was a baptism of fire for Jeremy Corbyn's new comms chief Seumas Milne. Although afterwards he said a 'minority' of MPs 'expressed themselves volubly', Milne can have been left in no doubt that many in the PLP and its leader are pretty far apart on foreign and security policy.
I've written a full account of the meeting here. The PM wasn't slow last night in trying to ridicule Corbyn's unease about Jihadi John not being brought to trial. But for some Labour MPs, their leader's stance on Emwazi, like his views on 'shoot to kill' tactics of the cops in the Paris attacks, was no laughing matter.
Another thing that upset several MPs was Stop the War Coalition's blogpost (swiftly deleted) that Paris had brought the terror attacks on itself, reaping the 'whirlwind' of Western foreign policy. And though Corbyn pointed out the article had been 'inappropriate' and he hadn't written it, some seized on his decision to be guest speaker at the Stop the War Coalition Christmas fundraiser (STW says 'The evening includes a classic three course Turkish meal with a glass of wine in the heart of central London'). One MP told me last night: "You couldn't make it up, even in Armando Iannucci's wildest, sickest imagination".
Hilary Benn told Today this morning "it was wholly wrong to say that, this was not the fault of the French". Corbyn attending the Stop the War event is seen as a non-issue by some of his side. Still, Benn said 'I can't speak for Jeremy' when asked about it. But he didn't take the chance to say he wouldn't resign if Corbyn went ahead.
Yet it was Benn's performance last night that impressed several MPs. He won applause at two key moments, first for arguing against those who said any intervention in Syria would make things worse and second for denouncing ISIL's barbaric beheadings and rapes: 'They are without doubt, fascists'.
And it's the tension between Corbyn and Benn on intervention that is most fascinating. Benn pointed out Labour had voted overwhelmingly to back RAF strikes in Iraq. And one MP reminded me that Corbyn had been teller for the Noes for that vote. Although 'shoot to kill' has Northern Ireland echoes for Corbyn, Benn on Today made the point several made last night that there is a legal framework to allow our forces to kill terrorists as long as it was proportionate and reasonable force.
Benn told Today: "You have to protect people….in those circumstances everybody would agree it was right and reasonable where there is an immediate threat to life….with our procedures, to use lethal force to protect those cowering on the floor of that concert hall. It's got to be reasonable, it's got to be proportionate."
Corbyn is clearly determined to stick to his views despite the PLP (and one Corbynite tells me 'I never knew how right wing some Labour MPs were until I got here'), and will be heartened by some social media backing for his line on legality (many citing Jean Charles de Menezes) as well as on Syrian intervention.
But as David Cameron weighs up whether more Labour MPs will now back a Commons vote, Team Corbyn were right to point out the PM was heading in a Corbyn direction. As the Sun notes, Cameron said yesterday at the G20: "A few extra bombs and missiles won't transform the situation." This despite President Barack Obama's dig that countries "need to step up with the resources" to fight IS.
As ever, the big issue is who speaks for Labour and what Labour policy is. The leader differs from many of his MPs, but agrees with hundreds of thousands of members who voted for him. And as UKIP's leaflet in Oldham yesterday showed, critics are poised to seize on Corbyn's views as being those of the whole Labour party. Expect new leaflets on shoot to kill and Jihadi John…
On the 6.30am headlines, Radio 4's newsreader referred to "The Chancellor, Jaws Osborne.." It wasn't quite a 'sh*t' slip like Jim Naughtie's yesterday. But with a fresh list of spending cuts being confirmed this morning, some ministers could be forgiven for thinking Osborne really is a big fish with sharp teeth, constantly prowling in the depths of Whitehall: more a shark than a submarine.
The Chancellor's in GCHQ to unveil new cybersecurity cash (on the back of extra billions for the special forces confirmed by the PM last night). It's rare for a Chancellor to make such a visit publicly and while the spooks will be delighted to have such strong support, some Tory MPs are already eyeing this as another step in the Osborne-looks-like-a-PM-in-waiting campaign.
Often the Treasury look like Cybermen themselves, with a dead eye stare whenever ministers complain they're being squeezed too much. But I'm not sure which is preferable: a shark or a killer robot?
Ahead of the spending review, the Treasury unveiled seven new departments that had settled: DECC, DWP (most significant), HMRC, Cab Off, Scot Off, Wales Off, NIO. But note that the average cuts agreed are 21%. That's lower than the 30% of the first 4 depts last week, lower than the 25% demanded by HMT and lower than the 40% initially sought. But 21% is still a big, big reduction.
Note too that the Home Office still isn't among the settled departments. Several Tories (including Zac and Bojo) are joining Labour in warning Theresa May not to cut neighbourhood policing because of the role it plays in preventing terrorism. This was Labour's strongest attack line yesterday - uniting both JC and his disciples - and I clocked Mrs May's response in the chamber: she said she was looking at police counter-terror operations 'in the round'. Osborne won't have missed that. Bernard Hogan Howe is on LBC at 9am. We have another blog from an ex-cop warning of the dangers of cuts.
The England v France football friendly tonight will be a strong show of solidarity after the Paris attacks. While the Belgium-Spain game has been cancelled amid security fears, the UK and French authorities are determined that the Wembley match goes ahead but with massively increased police and undercover military presence.
The Sun reports that armed police will be on duty, with a further 5,000 troops on standby. It quotes defence sources saying the SAS will "mingle among the crowds" with orders to shoot to kill if terrorists strike. Both the Sun and Mirror reprint the words of the French national anthem.
Prince William, President of the FA, will be there. And PoliticsHome reported last night that David Cameron himself will be at the game too. The aim is make a real point about our joint defiance in the face of the ISIL threat.
As for the PM, his remarks on Today yesterday about 7 UK terror plots having been foiled in the last few months had a hidden detail. On October 28 MI5 chief Andrew Parker said there had been six plots stopped in the last year. Which suggests that since then, another one has been thwarted by our spooks.
The Home Affairs Committee has a special evidence session on combating extremism in schools and communities today. Several eyes will be on CAGE Advocacy witnesses.
BECAUSE YOU'VE READ THIS FAR…
Given the football theme today, watch this fantastic animation of possibly the greatest World Cup final goal in history, by Carlos Alberto v Italy. (The original video is here.
The DWP aren't happy at all with a new study claiming that almost 600 "additional" suicides could be related to the Government's Work Capability Assessments.
A study in the Journal of Epidemiology and Community Health claims the areas of England with the greatest use of the assessments has also seen the sharpest rise in reported suicides, mental health issues, and antidepressant prescribing. The report says the assessments may be having "serious adverse consequences for mental health" and even suggested doctors involved in the process could face "ethical issues" in continuing with the tests.
The Department for Work and Pensions described the report as "wholly misleading" and pointed out even the authors recognised no conclusions can be drawn about the assessments and the suicide rates. But watch the Government's critics seize on it as the first scientific assessment of the impact of the policy.
Over in the US, more than half (27) state governors say they are opposed to letting in Syrian refugees. Donald Trump says 'We cannot let them come into this country, period', and all his Republican rivals for President are engaged in a similar verbal arms race.
Obama still has the overall say and plans 10,000 refugees next year, but it's going to be a rocky ride for Hillary Clinton. Will she wobble? Or will she agree with David Miliband, who's been pointing out that Syrians earmarked for US refugee are screened intensively for security threats. Rupert Murdoch has added his view on Twitter: "Obama facing enormous opposition in accepting refugees. Maybe make special exception for proven Christians."
The Christians/Muslims refugee distinction is a point that has been made in the past by Nigel Farage for the UK. Last night he stepped up his message with a warning that some British Muslims are "conflicted in their loyalties" between the UK way of life and what some elements within their faith are telling them, referring to a "tremendous conflict and a split of loyalties". Lib Dem leader Tim Farron described Farage's comments as "grubby politics of the worst kind".
A senior Ukip source said Farage was referring to polling earlier this year that suggested more than 90% of Muslims approved of the British way of life, but 27% had sympathy for the motives behind the Charlie Hebdo terror attacks. Still, with the Oldham West by-election campaign in full swing expect more of this.
If you're reading this on the web, sign-up HERE to get the WaughZone delivered to your inbox.
Got something you want to share? Please send any stories/tips/quotes/pix/plugs/gossip to Paul Waugh (paul.waugh@huffingtonpost.com), Ned Simons (ned.simons@huffingtonpost.com), Graeme Demianyk (graeme.demianyk@huffingtonpost.com) and Owen Bennett (owen.bennett@huffingtonpost.com)
Popular in the Community