A mother has praised the bravery of her five-month-old baby, who has to wear an uncomfortable helmet 23 hours a day to reshape his square head.
Jake Fontaine, whose head is "as wide as it is long," was diagnosed with severe brachycephaly - commonly known as flat head syndrome- last month.
Doctors have fitted the baby, from Buxted, East Sussex, with a specialist plastic helmet, designed to correct the shape of the head by forcing it to grow backwards rather than outwards.
His mother Kimberley Comeau, 25, said the helmet has given Jake a few sores on his head, but he is still smiling – and his older brother Alfie, five, now wants a helmet of his own.
"We got him a light blue one with fire engines and cars on it," said Comeau. "We thought we should get something he can associate with to make him accept it more."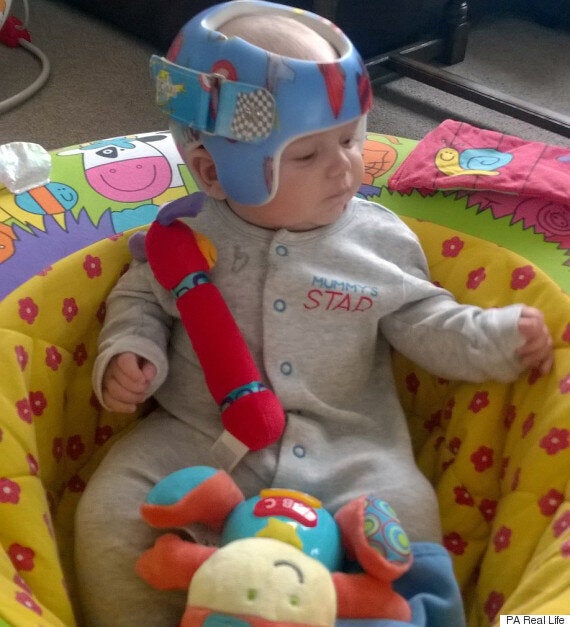 Baby Jake Fontaine has to wear a specialist helmet 23 hours a day
"Everybody realised Jake had a flat head from birth, but I know that babies can have flat heads sometimes, so we didn't question it," explained Comeau.
"It wasn't until he was four months old that my sister Lucy said, 'I think he's got what's called flat head syndrome,'
"She recognised it because she works with children.
"We were expecting the diagnosis but when doctors said it out loud it took me back quite a bit. It was upsetting at first but now we have got used to it.
"People constantly stare at Jake. It makes me feel quite angry. I don't think people know how to take it.
"I hoped Alfie wouldn't notice – but he wants a helmet too."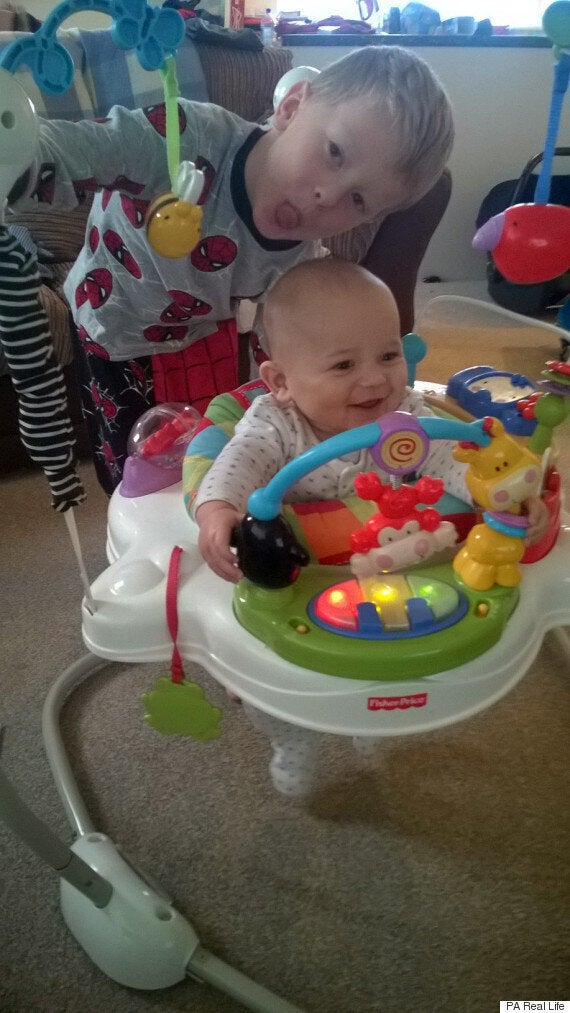 Jake Fontaine's brother Harry would now like a helmet to match his brothers
"Jake had the helemt fitted on October 22 and has adjusted to it really well- he is still smiling," added Comeau. "He is a happy little boy."
Before the official diagnosis, Comeau had researched the syndrome online to find out what could be done.
After discovering the main treatment options were either a corrective helmet or surgery, she admitted fearing the latter.
Comeau and partner Stuart Fontaine, 29, a self employed plasterer, consulted a paediatrician who referred them to Brighton Hospital.
But after finding out there would be a four-and-a-half month wait, the couple decided to go private instead and took Jake to the London Orthotic Consultancy in Kingston.
There, medics ran a 3D scan of his head and officially diagnosed Jake with brachycephaly.
"Jake was distressed throughout it all," Comeau said.
"He has to wear the helmet, called a London Orthotic Consultancy (LOC) band, 23 hours a day, and has to have it readjusted and cleaned every two weeks because he is growing all the time.
"It's a tight fit around the sides and loose at the back, designed to correct the shape of the head, and it forces the head to grow backwards rather than out wide.
"It's got foam on the inside but a hard plastic shell on the outside.
"It's padded on the inside but I wouldn't want to wear one. It has given him a few sores on his head."
Comeau told of how bathing and changing Jake with the helmet on is quite an upheaval, as is the fact that he does not like to sleep with it on.
If after six months Jake needs another helmet made, Comeau will have to pay an additional £1,800.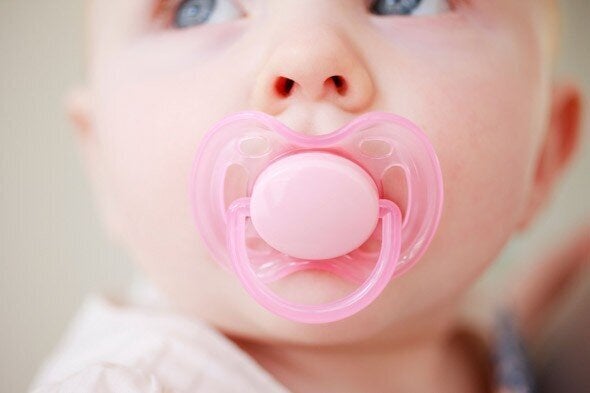 10 things your baby won't worry about