New Zealand rugby player Jonah Lomu had been remembered as "the greatest superstar" and a man who changed a "game into a global sport in 80 minutes", after a rampaging performance against England in 1995.
According to the New Zealand Herald, Lomu died of a cardiac arrest, while surrounded by friends and family in his Auckland home. The 40-year-old was recently in London for the Rugby World Cup, before holidaying in Dubai.
Lomu, who won 63 international caps, had suffered from health problems and initially retired from the international game in 2002 due to a rare kidney disease. Following a kidney transplant in 2004 he continued playing at an international level until 2007.
Lomu, who was an All Black at 19, changed the game, not only by becoming rugby's first global superstar, but because he was built like a forward - he was 6'5 tall and 110kgs - but had the speed and agility of a back - he could run 100m in 10.8 seconds.
His barnstorming try against England in the 1995 semi-final has been named the greatest moment in rugby history.
RIP Jonah Lomu - him vs Eng '95 was the only reason I started rugby, felt compelled to write https://t.co/eBIpfVUOzV pic.twitter.com/QArBbwa9cT

— Michael McCann (@MLMC_123) November 18, 2015
#RIPJonah I will never forget that semi final in 1995. Watching one man change a game into a Global Sport in 80 minutes.

— Will Greenwood (@WillGreenwood) November 18, 2015
THE greatest rugby player who globalised our game and inspired millions. I'll proudly say to my kids I knew and admired him. #JonahLomu ✌🏽

— Matt Dawson (@matt9dawson) November 18, 2015
The New Zealand Herald quoted Lomu's wife as saying the former All Blacks' death was a "devastating loss".
She said: "It is with great sadness that I must announce my dear husband Jonah Lomu died last night. As you can imagine this is a devastating loss for our family."
She asked for privacy for her family, especially her young sons, during the "traumatic time".
New Zealand Prime Minister John Key said the nation was in mourning.
Deeply saddened to hear of Jonah Lomu's unexpected passing this morning. The thoughts of the entire country are with his family.

— John Key (@johnkeypm) November 18, 2015
Lomu's all-round athletic prowess, can be seen in this tweet about his sporting success as a schoolboy at Auckland's Wesley College.
Jonah's Wesley College athletics champs results 1989 #RIPJonahLomu pic.twitter.com/MpRvqmpHkm

— Tim Murphy (@tmurphyNZ) November 18, 2015
Lomu has been remembered by All Blacks past and present, including World Rugby Player of the year, Dan Carter.
I still can't believe the sad news. Love & thoughts go out to Jonahs family #RIPJonah

— Dan Carter (@DanCarter) November 18, 2015
Would of done anything to have played a test with him. Gone way too soon my brother #ripjonah pic.twitter.com/tb8ZLROKfu

— Dan Carter (@DanCarter) November 18, 2015
#RIPJonah pic.twitter.com/b72VujMNUG

— All Blacks (@AllBlacks) November 18, 2015
Rest easy @JONAHTALILOMU . Changed the game of rugby by doing things no one could ever do. Prayers and thoughts are with his family. #11

— Zac Guildford (@zacguildford11) November 18, 2015
Sad sad news.. The man who gave kiwis the desire to play for the All Blacks. Thank you @JONAHTALILOMU will miss you big guy! #RILTokoUso 😞😢😢

— Piri Weepu (@piriweepu) November 18, 2015
Luni laid to rest yesterday and the Big Guy gone too!! #Whatthehellshappening!! #Stillindisbelief!! #Restinloveuso's! #Lovetothefamilies! 😢

— Tana Umaga (@tanaumaga) November 18, 2015
Shocked, thoughts are with the Lomu family right now ❤️❤️

— Sonny Bill Williams (@SonnyBWilliams) November 18, 2015
Speaking to the New Zealand Herald, former All Blacks captain Tana Umaga said there will never be another player like Lomu.
"Everyone's tried to manufacture one. They've tried to put forwards out into the backs and tried to put someone on the wing who was the same size. But there was no one else like him. And, to be honest, there probably never will be.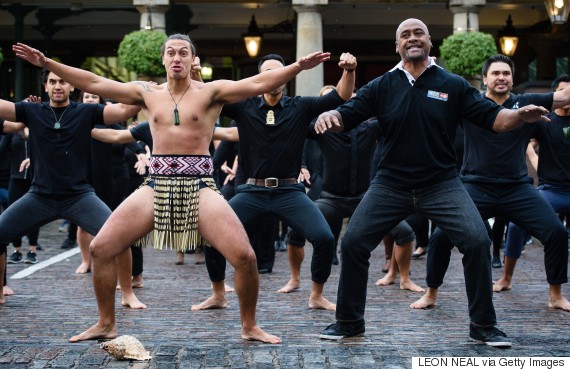 Jonah Lomu pictured in September with members of the Ngati Ranana London Maori Club in London

.
"He was a unique individual as well. He did live his life in a bit of a goldfish bowl, after that World Cup (in 95), and he did it really well. He understood the expectations on him, he understood the new guidelines in his life he had to live within.
Story continues below
"We sat on the outside seeing all the accolades he was getting but knowing that it came at a price. He let us know there was certain responsibilities to what you did and that's how he helped players - just letting them know the responsibility to becoming an All Black, of being in the spotlight. He kind of led the way in that."
Umaga told the newspaper off the field, Lomu was a "very generous man" who helped with the "betterment of other players".
Former All Blacks doctor John Mayhew said in a statement Lomu died unexpectedly on Wednesday morning. He said the Lomu family was "obviously devastated, as are friends and acquaintances".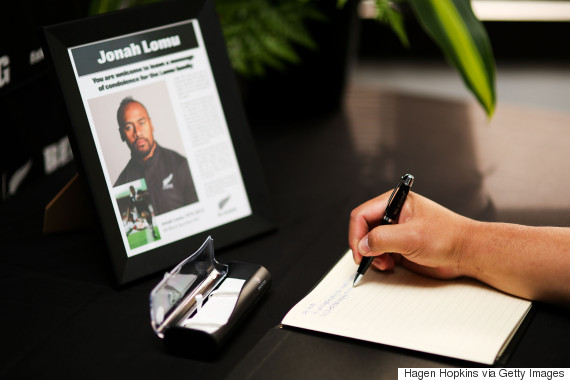 A well-wisher signs a condolence book at New Zealand Rugby Union headquarters.
Mayhem said: "The family have requested privacy at this stage, they are obviously going through a terrible time. It was totally unexpected. Jonah and his family arrived back from the United Kingdom last night and he suddenly died this morning."
New Zealand Rugby chief executive Steve Tew, said: "Jonah was a legend of our game and loved by his many fans both here and around the world.
"We're lost for words and our heartfelt sympathies go out to Jonah's family."
Lomu won a Commonwealth Games gold medal with the New Zealand Sevens in 1998, but never won a Rugby World Cup. The closest he came was in 1995 in the classic final against the Springboks - a match now immortalised in the film 'Invictus'.
The winger was also remembered by a host of England sporting greats including World Cup winner Johnny Wilkinson, and fellow Adidas ambassador David Beckham.
Wilkinson said: "I am so, so devastated to hear of the passing away of JONAHTALILOMU The greatest superstar and just a fabulous human being. Deeply saddened."
Jonah Lomu and Christian Cullen are the reason I picked up a rugby ball - JL was a legend and a true inspiration who kept fighting ❤️😔

— DannyCipriani (@DannyCipriani87) November 18, 2015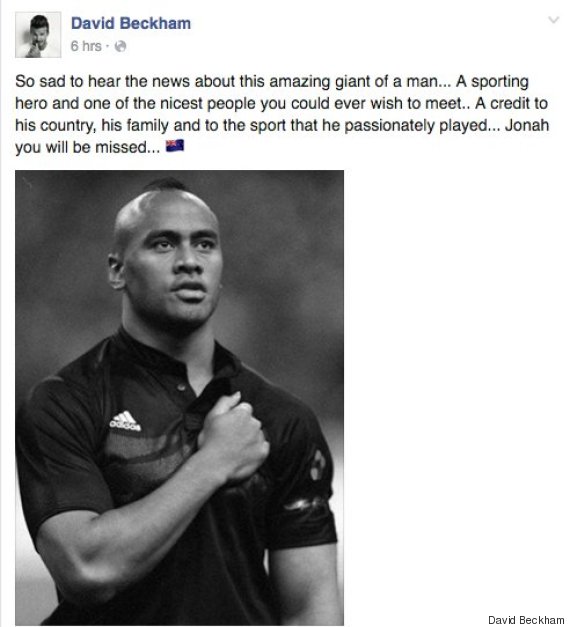 The greatest player to play the game!!!

Prayers & condolences to the Lomu family. #MyHero #Legend pic.twitter.com/IRGfLaiicj

— JP Pietersen (@jppietersen14) November 18, 2015
I can't believe the legend Jonah has passed away! So so sad 😥 An inspiration & hero to everyone ever involved in rugby #RIPJONAH #JonahLomu

— Mike Brown (@mikebrown_15) November 18, 2015
So sad & shocked to hear about Jonah Lomu.

True sporting giant & humble, charming, funny & likeable man. RIP pic.twitter.com/gWlAYzzNPR

— Piers Morgan (@piersmorgan) November 18, 2015
RIP Jonah Lomu ❤️ - devastating news! True legend of the game

— DannyCipriani (@DannyCipriani87) November 18, 2015
The death is a second blow to New Zealand rugby who only recently farewelled another All Black legend, Jerry Collins, who died in a car crash in the south of France on June 5, along with his partner Alana Madill.
The world has lost another legend.Treat them up in heaven to what we loved down here.

#RIPJERRY pic.twitter.com/mudZP18vNO

— RugbyPigs (@RugbyPigs) November 18, 2015
Lomu burst on to the international scene at the 1995 World Cup and later had a stint with Cardiff Blues, for whom he played 10 matches for from 2005-06.
As well as being the player every boy in New Zealand wanted to be, Lomu also inspired an unlikley fashion trend. The player used to shave his jersey number, 11, into his eyebrow, and kept a tuft of hair on the top of his head, while the rest was shaved off.
I remember in primary when all the boys turned up to school photos rocking the 'jonah lomu' look. 😂

— Zoë (@OfficiallyMzee) November 18, 2015
Even if you knew nothing about rugby you knew about Jonah Lomu. He could have played rugby in any era. What a legend #RIPJonah

— Jonny Campion (@Joffc567) November 18, 2015
New Zealand Rugby chief Steve Tew said: "Jonah was a legend of our game and loved by his many fans both here and around the world."
Lomu was diagnosed with the serious kidney condition nephrotic syndrome in 1996. He underwent a kidney transplant in 2004, but it failed in 2011 and he became reliant on dialysis.
In an interview with the Daily Mail in August this year he had said he was hoping for a second transplant.
Just three days ago, in one of his final tweets, Lomu showed his solidarity with the people of France following the Paris terrorist attacks.
He tweeted from Dubai a picture of the Burj al Arab hotel lit up with the Tricolore, accompanied with the words: "Sois Fort. Viva la France".
Lomu had been in the UK to watch the All Blacks win the Rugby World Cup, and had then visited Dubai with his family on his return home.
Later the same day he also tweeted support for a cancer sufferer, saying: "We are praying for you be strong my friend."
Sois Fort

Viva la France

From Dubai pic.twitter.com/KT0TCKsLtk

— JONAH LOMU (@JONAHTALILOMU) November 15, 2015
A tribute video to Lomu describes him as "arguably the greatest rugby player of all time. This machine has terrorised World Rugby throughout his decade reign. Lomu's ability to out pace, out strength and out wit his opponents makes him a very formidable player. Standing at 6ft 5, weighing a whopping 120 kg and running 10.8 seconds (100m) makes him an once in a lifetime athlete."