BBC Newsnight presenter Emily Maitlis tackled Ken Livingstone over the "chaos" in the Labour Party on Wednesday evening, amid a blazing internal-row over Trident.
On Wednesday the former London mayor was engulfed in an argument with shadow defence minister Kevan Jones over his appointment to co-chair the party's defence review. The argument went nuclear after Livingstone made fun of mental health issues. Jones suffered from depression.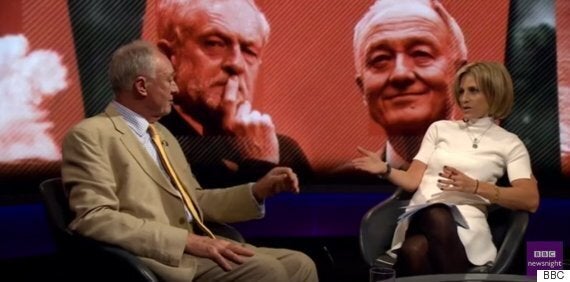 Appearing on Newsnight, Livingstone defended his words. "I didn't start this row," he said. And offered qualified apology. "If anyone is offended I am very sorry."
Maitlis told Livingstone: "It's chaos in the Labour Party".
"At this time, when people are desperate for leadership, they are desperate for cohesion, they know what they get from David Cameron, and when the come to Labour they get a wheel of fortune, every time they spin it, something different comes up," she said.
"The perception to the public, who are at this time feeling vulnerable, presumably want a bit of leadership from the Opposition, they are not getting it."
In a combative appearance on Channel 4 News earlier in the evening, Livingstone faced off with Jones. The shadow defence minister said Livingstone had caused "huge damage" with his comments.