Woody Harrelson is one of Hollywood's more unusual characters, which is why it should be no great shock when he pulls out from his sleeve one of the most random American superstar-English presenter connections I could possibly imagine, and yet… anyway, we'll get to that.
At the moment, he's busy heaping huge praise on his 'Hunger Games' co-star Jennifer Lawrence, whom he has watched in her transition from respected young actress at the beginning of the franchise, to Oscar-winning global star now that it prepares to close its curtains after four films.
"She doesn't need any advice from me," he chuckles. "She's extraordinarily smart, powerful, extremely funny, it's been wild watching her. But her confidence is inspiring, she's just never really waivered."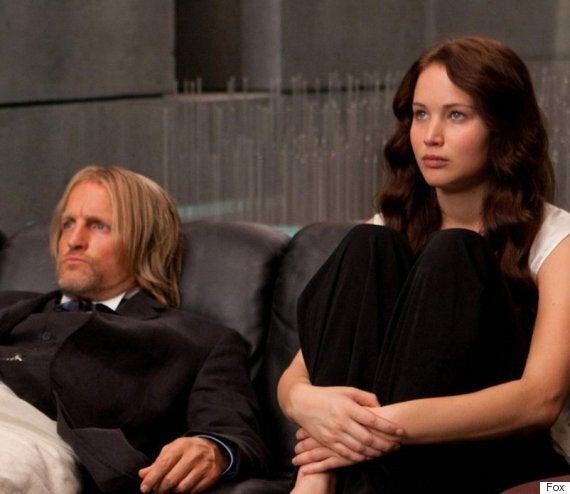 Woody is stunned by how well Jennifer Lawrence has taken her success, something he didn't initially achieve
Woody is the first to admit he didn't handle his early success with quite the same aplomb, telling HuffPostUK that "I was in a big show myself, I kind of experienced that overnight success, and I pretty much lost myself for a while." Bless him for explaining, and I'm not going to ruin the moment by admitting that pretty much every British TV viewer of the 1980s could recite the lyrics to the 'Cheers' theme as accurately as any Bostonian.
Woody and Jennifer are two of the stars that have successfully brought off these films to the tune of $2billion and counting at the global box office. It's a tight team, united in grief most recently by the loss of co-star Philip Seymour Hoffman
The final film, in cinemas now, finds Woody's character, the mercurial Haymith Abernathy, reading a letter apparently from Plutarch, played by Hoffman in the first three films before his sudden death in February last year. It's clear these words were originally meant to be spoken by Plutarch once more – did that make things even more difficult for Woody to get through?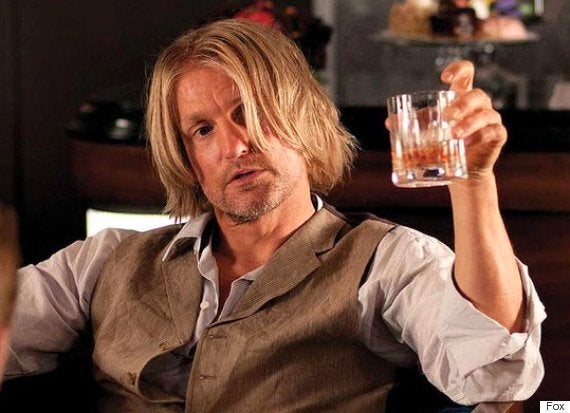 Woody admits, "I pretty much lost myself for a while"
"It was very emotional," Woody remembers. "I read the letter very simply. It was the very last scene we had to film, and when I finished, there was a long pause, then one of the crew said quietly, 'We got it.' And that was it. Some tears."
We pause too, then move on to the happier topic, the important contribution the character of Katniss Everden has made to young girls' idea of themselves, and what's possible. Woody doesn't have to profess any feminist affiliations, his life is living testament. The son of an absent father, he grew up with a mother and sisters, and he now has a wife, three daughters, "and a female cat, don't forget the cat," he adds. "I've been thinking about this a lot recently."
'This' turns out to be the fruits of Woody's research into his latest role, that of President Lyndon B Johnson, studies that have taken the deceptively laidback actor all the way back to white men's first arrival on American soil.
"And they adopted what is essentially an Iroquois confederacy," says Woody, on full steam now. "But they forgot one crucial aspect – to include the council of women elders. And I do think, if you can get the council of women elders to be involved in running things, we basically all stand a better chance."
He sips his tea. "Now Katniss is an important contribution, she's a confident, smart woman. And no one should be afraid of that."
As we say goodbye, I ask Woody how he's planning to spend his down-time during his trip to England. "Well, I'll probably head to north London," he muses. "Last time, I was staying at Richard Bacon's house, and I liked that area round there, so I'll probably head there again for a meal."
What??? Time is pressing, so I let it go, leaving Woody Harrelson happy that he can still surprise his audiences, on and off screen.
'The Hunger Games: Mockingjay Part 2' is in UK cinemas today.