Jim McMahon is Labour's local hero. But with UKIP snapping at the party's heels in Oldham West and Royton, can he hold onto the seat in the deep mid-winter by-election?

As far as I'm concerned this campaign is local, it's about this town and its people."
Like many by-election contenders before him, Jim McMahon is determined to keep the focus firmly on his own backyard.
Labour's big hope for Oldham West and Royton is perhaps the ultimate local candidate. Leader of the council, with kids in the borough's schools, the 35-year-old is relentless in his emphasis on sticking to the political and physical boundaries of the Greater Manchester mill town.
But national issues have a habit of coming up and biting big parties on the backside in by-elections. And with UKIP determined to turn the poll on December 3 into a referendum on Jeremy Corbyn's leadership of the Labour party, the national political battle is more difficult to ignore than usual.
McMahon, however, doesn't sound worried about the threat posed by UKIP's John Bickley to Labour's hold on this normally safe seat, which Michael Meacher won with a majority of more than 14,000 in the May 2015 general election.
"He's an experienced by-election candidate, to put it mildly," McMahon says drily, a reference to the UKIP man having fought – and lost – similar contests in Wythenshawe in Manchester and in neighbouring Heywood and Middleton.
"He lives in Cheshire," he adds. In Oldham, coming from Cheshire isn't quite as bad as coming from Yorkshire, but it still reeks of that word 'carpetbagger'.
And McMahon thinks that Bickley's lack of local connections was laid bare in a recent call by UKIP to scrap a £35m project to turn the old Town Hall into a cinema and restaurant complex.
"It's gone down massively badly for UKIP. It's a complete own goal. The old town hall which is a Grade II listed building was built when Oldham was at its industrial peak," he says.
"But for 26 years, it's been empty and declining, the last tenants were pigeons and rats. And finally after a number of failed attempts, we have got investors now to turn it into a cinema and restaurant complex. UKIP rock up without knowing what the local news was, suggesting that the project could be scrapped when for local people, it is a symbol of the town moving on.
"It's playing out really badly for them on the doorstep because it just highlights that they are not local and they don't know what's important to local people. And obviously from my point of view I can say as council leader I have had a direct input into making that project happen. And if elected I will carry on being an ambassador for it.
"Obviously you are being elected to a national parliament and people will want to know your views on a number of national issues. But by and large people want to know that the town is in safe hands, that they are electing an ambassador for the town, a person who's going to fight for jobs and resources and my pitch is that I'm the best person to do that."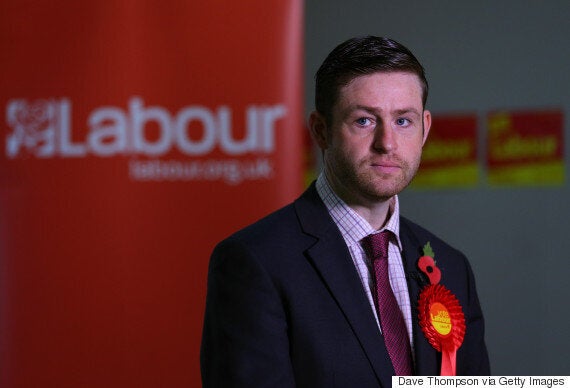 Jim McMahon, Oldham council leader and now Labour by-election candidate
Not that McMahon isn't aware that UKIP are a danger to Labour in northern seats like this, one of many where Nigel Farage's party came second in the last election. Add in the fact that turnout could be hit by this being the shortest and probably coldest by-election campaign in years (it's been decades since a December polling day) and it's no wonder he's out on the streets every minute of the day.
"It's a very short by election period. We've got a lot of people we need to talk to in that time. Generally speaking the feedback has been positive, but we need to fight for every vote and we can't be complacent, we need to make sure people turn out on a cold December day and support us," he says.
As well as his local knowledge, McMahon's strongest asset against UKIP is that he's as working class as many of Oldham West's constituents. A truck driver's son, born in nearby Miles Platting, he left school at 16 to work in a cash and carry store. After he became a young father in his early twenties, he did three jobs at once to help his family make ends meet.
A councillor at just 23, he soared up the Oldham council ranks to become one of the youngest ever council leaders in the country, and was elected unopposed by fellow town hall chiefs to lead Labour nationally on the Local Government Association.
McMahon's record in turning the council round, in an era of little cash, caught the eye of national politicians. He made a speech to the Blairite Progress rally at Labour's 2014 conference and many were impressed by how assured and fluent he was compared to some MPs.
His devotion to his local area led him to resist entreaties from some in Labour to think about Westminster. But when Michael Meacher died in October, he decided to make the leap. If there was one place he wanted to be an MP, it was obviously in Oldham.
For McMahon, uniting his community around commons goals are what gets him up in the morning.
"The view I've always taken as a council leader it's your job to bring together the different interests in the town, so people have a common vision for the town's future," he says.
"And if people feel connected to it they will spend their time, energy and resource into making it happen. I think we've done that to the extent that we've got massive community support, we've got good business support, we've got good attention now from investors and I think that's going in the right direction really.
"What I say to all those different interest groups, I'm going to be an ambassador for the town and I'm Oldham through and through. My kids are growing up here, I live here myself, my partner works in the town. we've got a massive commitment to making the town the best it can be. And I think that really appeals to people."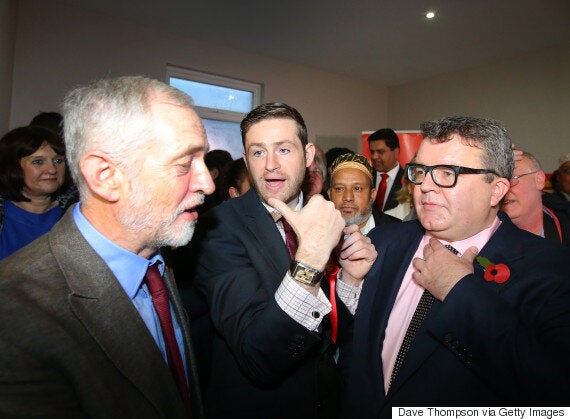 Jim McMahon, with Jeremy Corbyn and Tom Watson
Although only in his mid-30s, McMahon has years of experience of trying to find innovative ways to regenerate his town and maintain public services in an era of austerity.
What does he think of some on the Left who believe that Labour councils should not be 'doing Osborne's dirty work' in cutting spending and should fight back by refusing to set budgets? It's a tactic that several leftwing councils used in the 1980s, but McMahon is clear there can be no going back to those days.
"I think Labour local leaders are by instinct disciplined, they step up to take responsibility, not step back and defer responsibility," he says.
"So if the judgement is do you step back and not set a budget and let George Osborne and civil servants can do it for you, the answer is going to be no.
"You've got a responsibility to make sure that the council budget, however tight, needs to meet the needs of the local community. Far better that we do it, even in difficult circumstances, than a civil servant from Whitehall in London does it for us, which would be the alternative.
"I'm very clear that austerity has gone too far, that services have been cut to the bone. But equally I and other Labour local authority leaders are clear we should step up and take responsibility, we don't shirk it."
As far as national government is concerned, McMahon is dealing with the world as it is, rather than as he wants it to be. Yet that doesn't stop him from a withering assessment of the Tories' deep cuts to council funding over recent years.
He says the Conservatives' approach was summed up by the recent leaked letter from the Prime Minister to Oxfordshire county council, complaining about closures of day centres, libraries and children's centres.
"I think David Cameron is so out of touch with reality it's untrue. For him to write to his own local authority, evidently completely oblivious to the impact of cuts to a local authority that had been by and large protected from cuts, says everything.
"If David Cameron wants to come to Oldham, I can show him what real cuts are like: youth centres that are closed, daycare centres that are closed, police stations that are closed, a magistrates court and a county court that are due to close. If he wants to see real cuts he should come on the train and come to Oldham."
McMahon, who until the by-election some had tipped to be the man to run for the first directly elected Mayor of Greater Manchester, says the PM's failure to campaign in the seat undermined the Tories' message about getting stuck in in the north.
"He should find time during this campaign to actually turn up in Oldham. The campaign has had a notable absence of Conservatives on the ground.
"You've got to wonder whether or not there's an internal spat with the Tories trying not to concede too much ground to George Osborne and his Northern Powerhouse rhetoric.
"If the Tories do badly here it would seriously undermine George Osborne's credibility and his campaign to be next Tory leader."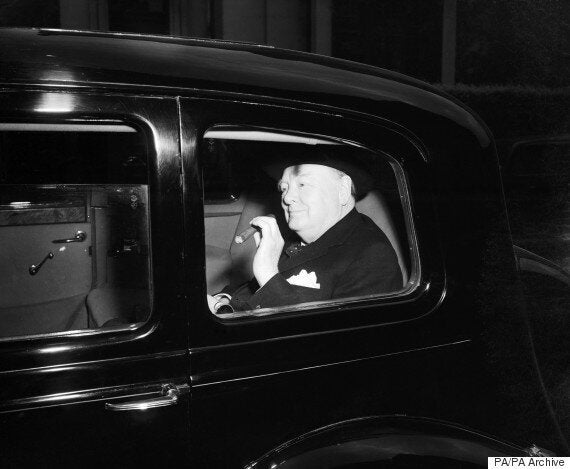 Sir Winston Churchill, former Oldham MP
There is one Tory that McMahon has time for, and that's Winston Churchill. And he's acutely aware that Churchill started his long and chequered Parliamentary career as MP for Oldham, way back in 1900.
"I was contacted by a relative of Winston Churchill who had a letter in one of the family archives, where Winston had written to Oldham on the offer of the Freedom of the borough [in 1941]," he explains.
"I bought that myself with my own money to donate it to Oldham Gallery. Regardless of party politics, he was an Oldham MP, he was a significant national figure and I think that's important to tell the town's story."
And for McMahon, local history isn't just a pastime, it's a key to creating a distinct sense of local pride to unlock regeneration funds.
"I'm a firm believer that regeneration isn't just about the future. It's about understanding where you come from and I think Oldham should be very proud of the part it has played in British history," he says.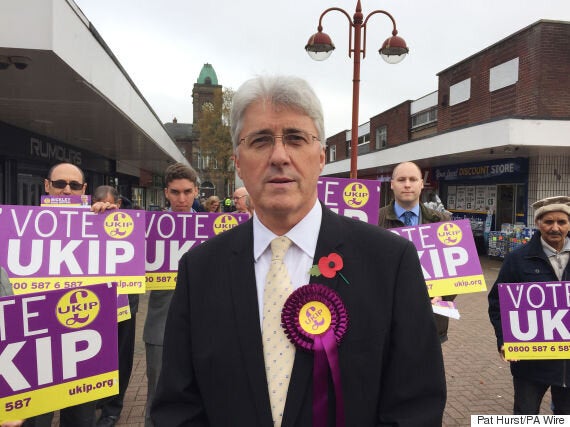 UKIP's candidate, John Bickley
UKIP signalled their intent in the by-election when Nigel Farage started the campaign with an attack on Jeremy Corbyn's patriotism. In recent days, the party has put out a leaflet, purporting to be from Labour, pledging Corbyn would axe the armed forces, the Monarchy and hand the Falklands back to Argentina.
Bickley has told HuffPost UK that Corbyn's remarks about the legality of the 'shoot-to-kill' tactics of Paris police and of the killing of 'Jihadi John', as well as his views on Osama bin Laden, meant he was "a clear and present danger" to the UK.
McMahon is due to go to Buckingham Palace next month to pick up his OBE for services to the community, so can't be attacked on the Royal connection. And on defence and security, he's firm that Labour should be strongly patriotic. He has led local projects on restoring the Cenotaph and exploring Oldham citizens' links to the war.
"In an ideal world none of us would want to see human beings killed in a conflict, but we are not in an ideal world," he says.
"People have to step forward to safeguard our liberties and our freedoms and when people have paid the ultimate sacrifice the least they should be able to expect of us is that their memory is respected. And that we pass it on to future generations.
"It is only by learning the horrors of the past that we can hopefully try and avoid horrors of the future. But it's a constant battle. The fight for peace wasn't won at the end of the Second World War, it's a constant battle."
McMahon's grandfather served in the army and his father was in the Territorial Army, links that are shared by many others in Oldham.
"Oldham has a strong military history and we were very keen to make sure that on the 100th anniversary of the First World War, we remember them," he says.
"We went on a Cenotaph refurbishment programme of £200,000. I myself was a Remembrance Sunday organiser because the danger is that as veterans die off who were part of the Second World War, that story gets lost.
"So we are very keen to embark on a project called Oldham Remembers and that's about telling the human individual stories, right from the nurses who worked in the hospitals, through the people who stayed at home and what they went through, to people who went out to serve in the armed forces. Those human stories connect people to it."
Again, McMahon is also keen to stress what can unite all the town's inhabitants, whatever their background.
"There's a massive thing on there [Oldham Remembers] around Pakistani and Indian people who fought for the British Army and lost their lives, with relatives who live in Oldham. That really does cut across quite a number of issues for a town like Oldham, that actually says together we have fought against people who want to destroy our way of life. We should remember that," he says.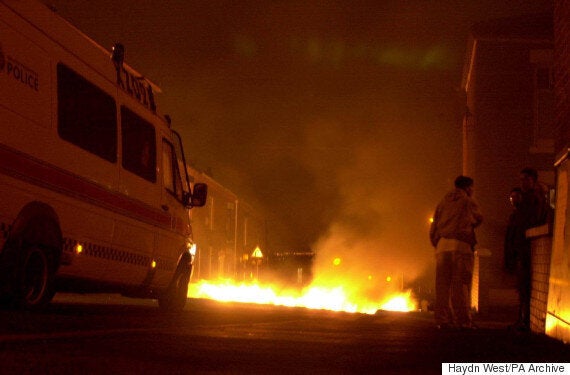 Immigration, as well as patriotism, is one of the key issues UKIP are determined to highlight in the campaign. A key claim in their 'fake' Labour leaflet was that Corbyn wanted 'uncontrolled, mass immigration'.
Oldham saw some of the worst race riots of recent years in Britain when Asian and white groups clashed in 2001, with riot police coming under fire from petrol bombs, bricks and stones thrown at them.
McMahon warns of the dangers of political parties seeking to use the by-election to stir up ethnic tensions.
"Oldham has come a long way from where we were when the town was divided. There's a great sense that we don't want to go back to those dark days of our past," he says.
"Regenerating the borough, getting great places for people to shop, to enjoy life with a cinema and restaurants, decent houses for people to live in, decent quality jobs, are all part now of looking to the future and not looking backwards.
"On 3rd of December people will have a choice. And the choice that I can see is between a candidate that believes in the future and has a track record in fighting for investment in Oldham or a UKIP candidate who frankly couldn't care less about Oldham.
"He just rocks up here because it's the latest by-election and uses it as a platform to make a national political point."
As for 'community cohesion', the buzzword of Whitehall and local councils alike, McMahon has his own take.
"When we talk about cohesion we tend to start from the point of 'well, we are all different aren't we?' When I look to unify the town, I look to find the things that make us Oldham and the things where we have a common interest.
"We all have a common interest in a decent town centre, that our schools are providing a decent education, if we get the common things right then we can unify people."
In the wake of the riots, millions of state cash were spent on parts of Oldham but McMahon has pointed out that the most sustainable way of regenerating the town is by leveraging in private sector money.
"I am unashamedly pro-business," he says. "If you want to attract inward investment, if you want to create jobs, you've got to create the conditions where people think your town, your city is a place to invest.
"The reason why we have got a growing Independent Quarter, why we have an enterprise trust fund, why we've got so many business start-ups, the reason the business community are working in our schools with our enterprise hub, it's because we make them feel part of our community. It's not 'us and them', if you've got a stake in Oldham then you are part of the team as far as I'm concerned."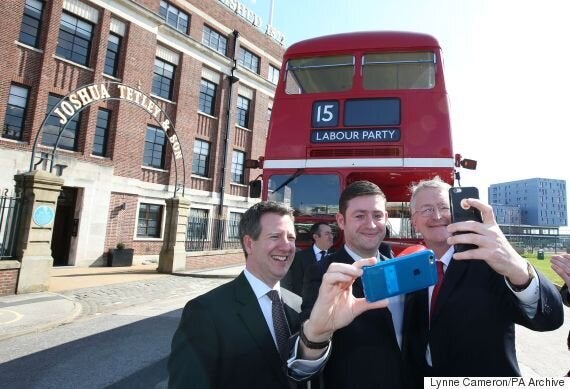 Jim McMahon poses for a selfie with Chris Leslie and Hilary Benn
That's not to say he welcomes all business with open arms. As council leader McMahon waged war against Brighthouse, the pay-weekly TV and washing machine loan firm that he felt was ripping off poorer residents.
"Brighthouse are still here," he says, wistfully of his Fair Credit campaign. But he points to the success of a string of his other council 'fairness campaigns', including cutting the cost of bus travel and energy bills.
"Our fairness campaigns are about saying to people 'what can we do in the community that we found individually difficult to do?' The fair energy campaign was about reducing the cost of energy bills. We had over 8,000 households signing up to it, the average saving was £171 a year. One woman who had never switched in her life, who saved £700 a year on her dual-fuel gas and electricity."
His Fares Fair campaign highlighted the fact that bus tickets were 50% more expensive in north Manchester than south Manchester.
"That campaign meant that First Bus reduced their weekly bus tickets from £18 to £13 a week, because we used our leadership to campaign on issues that effect everybody, regardless of where they live in Oldham."
"We are ambitious. If we think people in Oldham are being taken advantage of, we are going to stick up for them."
McMahon clearly believes that UKIP's opposition to a new cinema in the town will backfire. And he brims with pride at a brand new leisure centre opened in Royton.
But when it comes to rest and relaxation, he admits to some division, rather than unity, closer to home: his family's differing football loyalties.
"I have got a fantastic conflict at home because my eldest son is a City fan, my youngest son is a United fan, my partner is a United fan and I turn up to the Oldham Athletic games to cheer on Oldham," he says.
Yet again for Jim McMahon, local pride is never far away.
"I'm not a full sports fan at all, but there's something inspiring about attending your home town's ground hearing people shout that they love Oldham, they love Oldham, It's good for the town."
Related