The 2015 General Election saw 176 MPs elected to the Commons for the very first time. In a series of exclusive interviews, The Huffington Post UK is speaking to 15 MPs from the 2015 intake of the Conservatives, Labour and SNP. Today it's the SNP's Stuart McDonald...

Scottish politics in numbers: there are 56 SNP MPs, one Labour MP, one Tory and a Lib Dem. The SNP even wins on having more than one Stuart/Stewart McDonald.
This week, HuffPost UK speaks to Stuart McDonald, who represents Cumbernauld, Kilsyth and Kirkintilloch. The party's Westminster spokesman for Immigration, Asylum and Border Control explains how a berth in Westminster was never planned or expected, the struggles of being a Dundee United season ticket holder, and why the Press "leaves a lot to be desired".
Here is Stuart McDonald's 15 from '15:
1) Where were you born and raised?
Born in Glasgow and raised in a village called Milton of Campsie, just north east of Glasgow.
2) What did you want to be when you were a child?
Very pathetic, but I wanted to be a footballer. Every young lad wants to be a footballer. A bunch of us support Dundee United from the 1980s because they were quite a successful side back then. My first game was the first leg of the Uefa Cup semi-final in 1987. I've had a season ticket every year since 1994 - the first season I got one we got relegated, so I have stuck with them.
I had some strange inclinations: at one point I think I announced I wanted to be an expert in cheese. I enjoyed eating it and, to be honest, cheddar cheese. So I don't know how much of an expert I would have been. I think I was six or seven.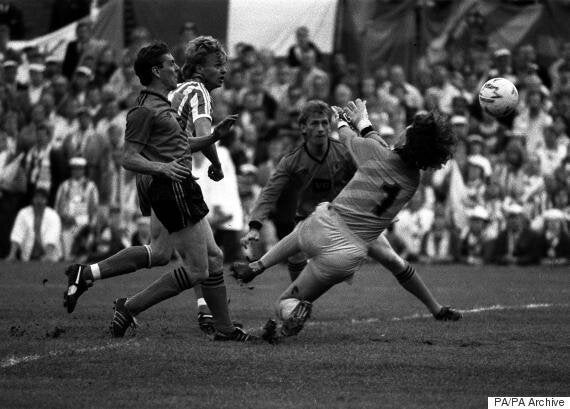 Action from the Uefa Cup final between Dundee United and IFK Gothenburg in 1987
3) When did you first become interested in politics?
You were very aware of the dislike of Margaret Thatcher. She probably attracted a lot of people to politics just because of the passionate response to her. I joined the SNP in 1994 - still 16, so I have been involved with the party for more than half my life.
Back then one of my current colleagues, Alex Salmond, was a huge figure in Scottish politics. Hugely influential in getting a lot to my generation to sign up to the party.
One of my teachers was a branch chairman of the SNP and overheard me having an argument in the corridor with one my fellow school pupils, and invited me along to a meeting. Back in those days it was five or six people and in my first week I was made branch secretary. It wouldn't happen these days but it was dumped upon you.
When I went along to try to get the nomination for Cumbernauld, you had to park a couple of streets away and talking to a room of 100 people. It was absolutely transformed.
4) Do you have any political heroes?
When I was at school and becoming interested in politics, I remember being inspired by Nelson Mandela and also fascinated by Mikhail Gorbachev – though not sure if I'd quite say "hero".
For a while Barack Obama was definitely a hero before the movement towards the "change we need" became somewhat bogged down.
Closer to home, former Labour Secretary of State Tom Johnston is a home town hero, while no SNP supporter of my generation could deny the influence Alex Salmond and Nicola Sturgeon have had on our party – though using the word "heroes" would get me well deserved pelters.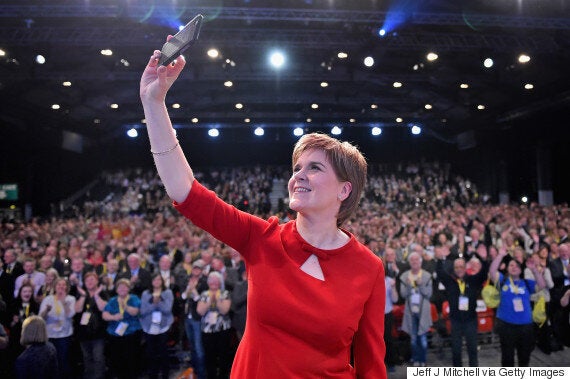 Nicola Sturgeon takes a selfie on stage following her keynote speech at the SNP conference this year
5) When did you first stand for election?
This time. It was not something I'd ever given serious thought to. I always envisioned I would put my name forward if they were struggling to find a candidate. Strangely, there must have been a little bit of post-referendum mourning. A couple of friends had said they were struggling to find a candidate, and I ended up the sole nominee. Three months later there would have been 15, 20 people interested.
Nothing is inevitable in politics and things change incredibly quickly. But I don't think you could argue we are not in an incredibly strong place if you believe in an independent Scotland. There is a window of opportunity here.
You need to have a reason to go back and ask the question again. It's for us to put it in our manifesto and for people to decide whether they are ready for another referendum. But like my colleagues I am confident it will happen over the next few years - but I've given up predictions because they have been hopeless.
6) What did you do for a living before becoming an MP?
I was a solicitor. I trained in private practice and worked in the NHS, then did immigration and asylum law - which is probably how I've ended up in my current spokesperson role - and went off to work in the Scottish Parliament for a while. That led eventually to working in the 'Yes Scotland' headquarters. I was then recruited to work for the Coalition for Racial Equality and Rights in Glasgow. I was selected as a candidate but I didn't think it was realistic I would be an MP. They agreed with me and recruited me.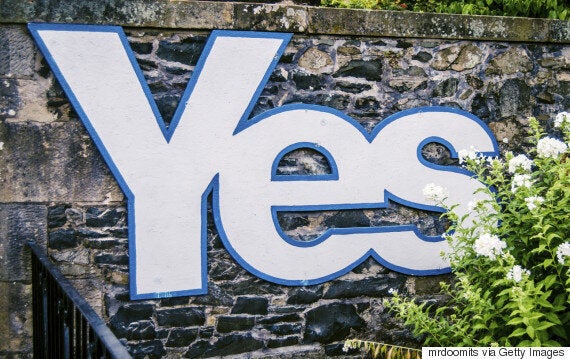 7) What do you do to relax?
Big football fan, and love watching sport. I was a football referee for a while. When I got to 16, 17, even I had to accept I was rubbish at football but I could have a wee stab at being a referee because the standard of refereeing was rubbish. But once you've done your badges and are on the football park you realise how bloody difficult that job is. I was running the line for the juniors - which is a level below professional. A couple of my contemporaries you see refereeing in the SPL or Europe. I don't envy them at all, it's an incredibly tough job. I play the piano as well, which is a nice way to unwind.
8) If you could run any Government department, which would it be?
I've got a strong interest in home affairs so Secretary of State for the Home Office would be an interesting one. A one size fits all immigration policy isn't doing us much favours in Scotland, and elsewhere in England I'm sure.
9) What is your favourite film?
The one I always loved growing up was Trainspotting. I quite like grim, social realism Ken Loach-type films. Kes, My Name Is Joe, Sweet 16, but I'm not a huge film fan.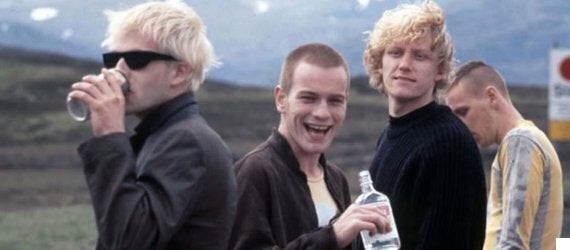 10) Who is your favourite band/artist?
I'll put a plug in for James Edwyn and The Borrowed Band. It just so happens my younger brother is the drummer. But they are genuinely very good. When I was younger it was all Oasis, that was the band I went to see more than any other and bought all the albums. I went to see them at Loch Lomond and much later on at Hampden Park.
11) What is the best thing about the House of Commons?
There have been some good debates. Although there were a couple of people I'd quite like to strangle, the debate on the refugee crisis was quite thoughtful. The day MPs were paying tribute to Charles Kennedy - you could see why folk have respect for the place. It made me just about miss a vote and I ended up in a meeting of the (Tory backbench) 1922 (committee) by accident.
12) What is the worst thing about the House of Commons?
The voting procedure. Some of the procedures are archaic. I'm quite happy to respect traditions that are harmless. Some just provoke ridicule. Others are a waste of time. Why is it we were here until half-past-midnight voting on the EU Referendum Bill - but we could have had that done by half-past ten if we'd introduce electronic voting, for example
Procedure for introducing bills - it's a bit like a pantomime, people bowing and answering weird questions. Bring it up to date. Folk looking at that are going to ask whether that's a Parliament fit for the 21st century.
13) What is the one thing you would change about UK politics if you could?
The way politics is reported sometimes leaves a lot to be desired. So much is about personalities, talks of splits, newspapers pursuing an agenda without even giving a fair crack of the whip to the other side. I'm not expecting 50-50 balance in every newspaper but at least provide a fair representation of what the other side are saying, and in your leader say why that is nonsense. It affects the way politicians behave. It's not a party thing - Ed Miliband got it in the neck big style, all the parties get it from different quarters.
14) What one reason would you give someone to visit your constituency?
You've got the new town Cumbernauld, which is an incredibly green town. Great walking routes, great cycling routes. The other part is a nice collection of villages with the beautiful Campsie Hills in the middle of it. It's an ideal location - you can get to Edinburgh and Glasgow easily, equally you're 20 minutes away from Loch Lomond and picture-esque parts of Scotland. Everything you could want on your doorstep.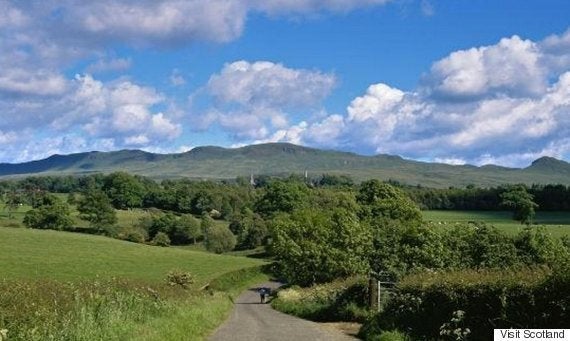 "The beautiful Campsie Hills"
15) What are the best and worst aspects of your personality?
If you spoke to my colleagues I think they'd say I was even-tempered, which can be a good thing. But maybe I could be pushy a bit more.
Popular in the Community