A student who previously caused a storm on social media after challenging sexual consent workshops has been driven out of lectures with cries of "rapist".
George Lawlor, 19, says he fears for his future at university after being bullied for challenging the student union regarding rape awareness sessions.
The abuse has became so bad that Lawlor, a second-year politics and sociology student at University of Warwick, has stopped going to lectures. He told the Daily Mail: "I was expecting a reaction, but I was not prepared for just how horrible it was. I remember putting it online and told a few people, who [warned] there would be a backlash."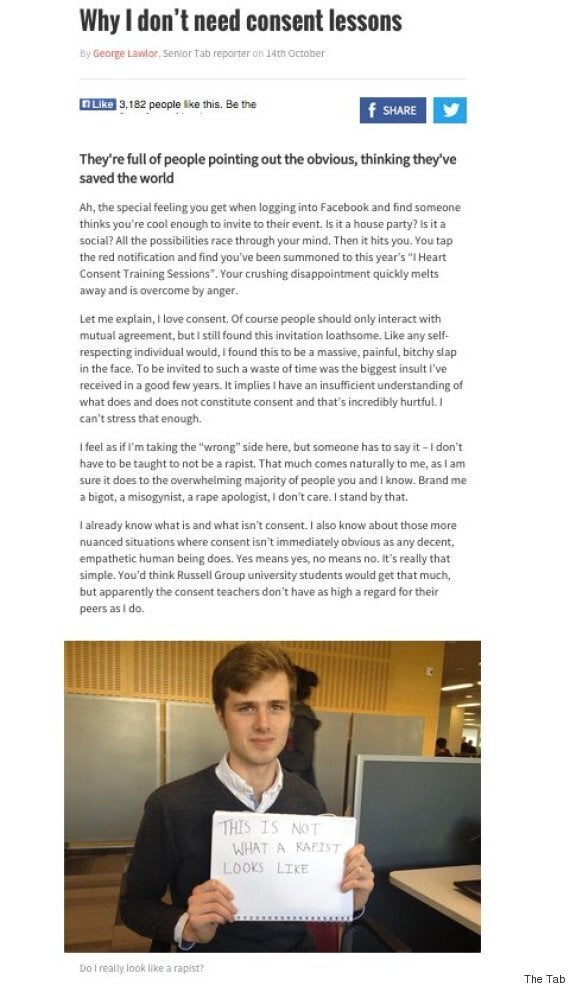 An extract of Lawlor's blog, which appeared in the Tab
In October, George wrote a blog titled: "Why I don't need consent lessons", saying people "don't have to be taught to not be a rapist" – and that men inclined to commit the crime would be unlikely to attend such a workshop.
He added that he "loved consent" but organisers were "pointing out the obvious" and he found his invitation to one of the sessions "incredibly hurtful."
He finished the piece by posing with a sign which read "this is not what a rapist looks like", in attempt to show that most men understood boundaries. Instead Lawlor was criticised for making the assumption a rapist can be easily identified and was accused of being "classist" and "racist" by people who thought he was commenting on what the physical appearance of a "typical" rapist was.
Lawlor recently ran in the student union election and said someone wrote on his Facebook page, "I want to give this guy minus one vote", followed by another user adding, "I want to give this guy minus 100 per cent oxygen".
After one confrontation where he was forced to leave a bar due to students crowding around him and "calling me a rapist, a misogynist, and threatening me" he was left in tears. However he does not "want to play the victim card".
Lawlor believes the ordeal will affect his future as "rapist" appears next to his name on Google and has warned that so-called "safe spaces" only apply to certain issues meaning students are afraid to express their thoughts publicly.
Popular in the Community