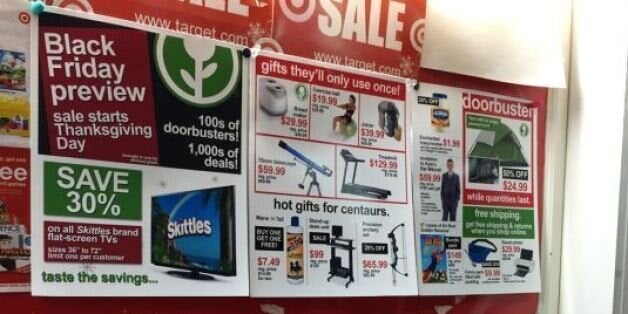 A hilarious collection of fake Black Friday ads was recently planted in a Target store, and its deals are likely way better than you'll find on store shelves.
From "hot gifts for centaurs," including a stand-up desk and archery set, to never-before-seen Star Wars toys and household goods -- who wouldn't want a "Luke Skymopper" doll complete with action mop to "trick kids into doing their chores"? -- there appears to be something for everyone. There's also a free falcon with every $75 purchase – while supplies last.
Jeff Wysaski, who created and posted the fliers as part of his comedy blog, Obvious Plant, said this is just his latest handiwork planted in stores.
"This one was left in a Los Angeles Target store," Wysaski told the Huffington Post. "I can't say how long they stayed up, because I'm not the one who took them down (if they have, indeed, been taken down)."
Since his work was shared on Imgur Monday, it's been viewed more than a half a million times.
Among some of the immediate favourites voiced by Imgur fans in the comment section is the "racist printer," the "Air Bud: Golden Receiver" DVD bundle pack containing 87 copies, the tent with an angry possum inside, and the "Star Wars: Episode VII" hot dog blaster, which is said to shoot real hot dogs.
Unfortunately, those looking to get their hands on such great items, like a Chewbacca toilet brush, will be horribly disappointed. Despite the flyers' fonts, colours and in-store placement, they never directly reference Target. Plus, there are asterisks beneath the falcon, one which clarifies: "this is not real."