Commuters are aghast at a very un-British trial going on at London's Holborn station.
An escalator has been made "standing only" on both sides, defying the long established rule of standing on the right and walking on the left.
The initiative is reportedly part of a three-week trial to see if standing still on escalators can reduce congestion by ensuring the maximum number of commuters is on it at any one time.
Two underground staff members with megaphones were stationed at the bottom of one of the up escalators during Wednesday's rush hour, ordering commuters to stand on both sides.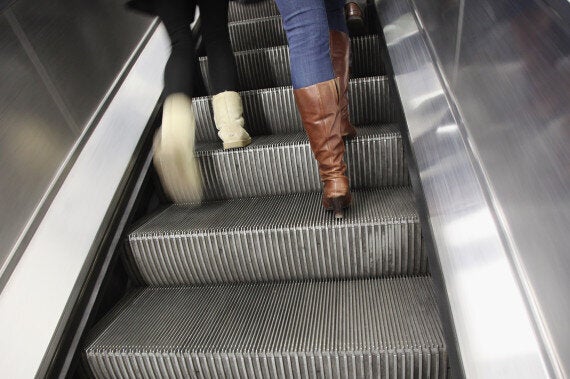 Holborn tube is trialling a "standing only' escalator to reduce congestion
Reactions to the trial have been mixed.
Peter McNaught, Operations Director for the Central line, said the trial was about keeping "people moving" at Holborn station, which is one of the busiest stations on the Tube network during both morning and evening peaks.
He told the Evening Standard:"To keep up with demand, we have a plan to upgrade the station with a new entrance and an enlarged ticket hall, which will boost capacity by 80 percent by 2022.
"In the meantime, as part of a three-week trial to reduce queues and keep people moving through the station, we are encouraging customers to stand on both sides of the 'up' escalators during busy periods.
"We believe this will increase the capacity of the escalators as more people will be able to board, preventing queuing at the bottom of the escalator."
Meanwhile, plans for the night Tube are reportedly back on track with Transport for London suggesting hiring part-time staff in an attempt to break a negotiation stalemate with unions.
Around 140 part-time drivers would be hired to work the night shifts, which unions have argued would disrupt the work-life balance of full-time drivers, CityA.M reported.
Popular in the Community