Commuters are aghast at a very un-British trial going on at London's Holborn station.
An escalator has been made "standing only" on both sides, defying the long established rule of standing on the right and walking on the left.
The initiative is reportedly part of a three-week trial to see if standing still on escalators can reduce congestion by ensuring the maximum number of commuters is on it at any one time.
Two underground staff members with megaphones were stationed at the bottom of one of the up escalators during Wednesday's rush hour, ordering commuters to stand on both sides.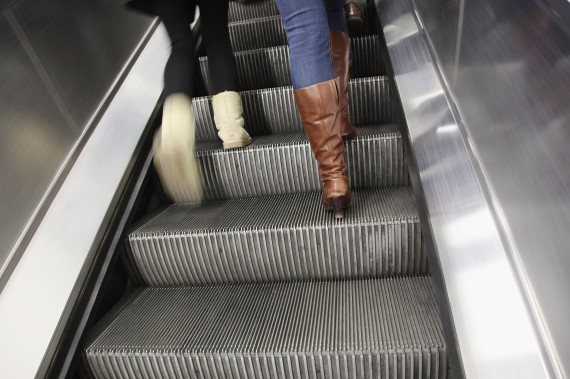 Holborn tube is trialling a "standing only' escalator to reduce congestion
Reactions to the trial have been mixed.
Fascinating experiment going on at #Holborn tube station this morning.

— Kat Ellis (@KatEllis37) November 25, 2015
This mortifies the Brits more than the Severe Alert does :))) https://t.co/t6N3nXyhB7

— Ana Lavinia (@Lavinia_Vanilia) November 25, 2015
NO. I save about a minute a day by walking on escalators - don't take my six bonus hours a year away from me! https://t.co/aFfmaqpdV7

— Alan Martin (@alan_p_martin) November 25, 2015
They're trying a "standing only" escalator at Holborn. London commuters could not be more out of their comfort zone.

— Chris Hamilton (@chrishams) November 25, 2015
Blasphemy!!!! | Londoners are being made to stand on the LEFT side of the escalators at Holborn https://t.co/RNPoP0KL9R

— Savvas Dalkitsis (@geeky_android) November 25, 2015
@KatEllis37 So there's one escalator for walking and one for standing? Worth a try but hard to account for Holborn just being too small!

— Wasp Box (@WaspBox) November 25, 2015
@KoraLee_Holmes it just isn't done, not the British way #AlwaysBestToQueue

— Cllr Helena Spencer (@hel1958) November 25, 2015
And the end result:
Result? People stand on right, and walk up on the left. I guess no-one wanted to be the first to stand on the left and get in the way.

— Kat Ellis (@KatEllis37) November 25, 2015
Commuters at Holborn resist staff requests to stand on BOTH sides of the escalator. It's against nature. https://t.co/UQki80vGv1

— Laurence Dodds (@LFDodds) November 25, 2015
@KatEllis37 was the escalator goin any faster? Of not it's seems pointless

— vikki #LovinTheD (@i_love_elvis) November 25, 2015
@i_love_elvis ......everyone who wanted to walk up could use the other escalator. I'm not sure I quite get it either!

— Kat Ellis (@KatEllis37) November 25, 2015
@Jackdearlove It is!!!! People travel for miles to try it!!!! (Apparently it's a crowd-control trial. Can't see how it's supposed to help.)

— Chris Hamilton (@chrishams) November 25, 2015
Peter McNaught, Operations Director for the Central line, said the trial was about keeping "people moving" at Holborn station, which is one of the busiest stations on the Tube network during both morning and evening peaks.
He told the Evening Standard:"To keep up with demand, we have a plan to upgrade the station with a new entrance and an enlarged ticket hall, which will boost capacity by 80 percent by 2022.
"In the meantime, as part of a three-week trial to reduce queues and keep people moving through the station, we are encouraging customers to stand on both sides of the 'up' escalators during busy periods.
"We believe this will increase the capacity of the escalators as more people will be able to board, preventing queuing at the bottom of the escalator."
SEE ALSO
Meanwhile, plans for the night Tube are reportedly back on track with Transport for London suggesting hiring part-time staff in an attempt to break a negotiation stalemate with unions.
Around 140 part-time drivers would be hired to work the night shifts, which unions have argued would disrupt the work-life balance of full-time drivers, CityA.M reported.