The five things you need to know on Wednesday November 25, 2015…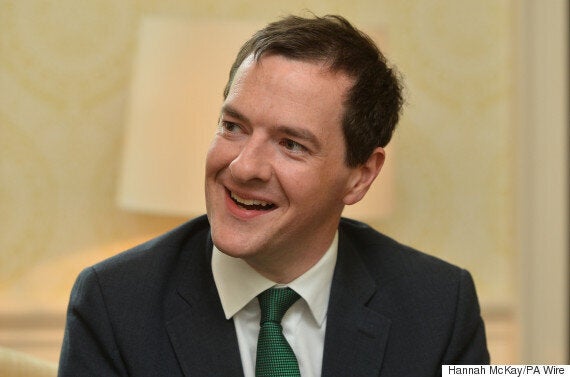 It's a big, big day as George Osborne gears up for his combined Autumn Statement and Spending Review. The shape of the state over the next Parliament will be sketched out, and plenty will be looking to see whether the Chancellor is still on course to become the next Prime Minister.
One figure to look out for is the planned surplus. It may be less than £10bn previously announced, partly because of a tougher borrowing situation but maybe partly to give Osborne some wriggle room to afford more cash for defence, the NHS and tax credits adjustments. Still, as the FT has pointed out low interest rates have also given him a windfall. We could get some fresh privatisations too.
On tax credits, some suspect he will phase in the cuts over three years rather than a big bang in April, and will he reduce the cuts hitting the worst off. But to pay for it, he may well hit the housing benefit - which is claimed by many in-work strivers, not slackers. Will George have yet another rabbit to distract attention?
Housebuilding is Osborne's big theme overnight. Yet his swift from homes to buy not rent, and his pumping of billions of state money into private housing developers is not without political risk. Letting private developers as well as local authorities and housing associations apply for government building grants is certainly radical - as is using taxpayer cash directly for 'starter homes' - but reflect Osborne's frustration at the low level of housebuilding.
The Times says he is unapologetic about developers making profits if they can help the government to provide 135,000 new shared ownership properties by the end of the decade. At present only 10,000 are built each year.
The big losers today may be police (watch for Boris' reaction), social care and public health (watch for Simon Stevens' reaction) and - of course - local government. The Ministry of Justice could see huge cuts too. Business worries about the expected 0.3% apprentice levy. The Express splashes on one consequence of Osborne's radical pensions reforms, saying an obscure 'Deprivation of Capital' rule means those who cash in their pension pots early could end up in poverty as they are denied welfare.
But it is on the generational divide that Osborne could be most vulnerable. Slashing young people's housing benefit, rental prospects, nurse bursaries, student grants, further education colleges - all while boosting pensioner pay rates and protection of key perks. It's raw politics, driven by the fact over-55s actually go out and vote.
Finally today is also a big day for John McDonnell, who has to respond at the despatch box. He told Labour MPs on Monday night that he is meeting the City of London Corporation this Thursday: "It is a cross I have to bear," he said. Let's see if today's cross is any lighter.
2) MR WHIPPY'S COLLECTIVE
The big day on foreign policy will come tomorrow when the PM sets out his Syria response to the Foreign Affairs Committee. With 'heir to Blair' parallels, already some close to Corbyn are worried Cameron's document will be, if not quite a 'dodgy dossier' then a 'threadbare' justification for war. On the FAC's two tests on the peace process and the troops on the ground, it's unclear how strong Cameron will be. Corbynistas also say the UN vote did not authorise military action.
But Labour's position is still in flux. At Shadow Cabinet yesterday, it was agreed to hold another meeting after Cameron's Commons statement tomorrow, but the real meeting - on policy and on whipping - will be held next Monday.
Corbyn told colleagues he preferred a 'collective decision' from the Shadow Cabinet, which some felt suggests he does not want a free vote. Yet if the Shad Cab decides it wants to back military action, won't Corbyn, McDonnell and Abbott all have to break the whip or abstain on their own policy? Some suspect maybe Corbyn was simply saying he'd like a collective decision against war and if he can't get that then there'll be a free vote.
What upset some shadow ministers was Corbyn's advice that they should consult their local parties this weekend, a clear signal he wants them to take into account newer members, many of whom are part of Momentum and Stop the War.
Tonight John McDonnell is addressing a 'Keep up the Momentum' meeting in Stella Creasy's backyard in Waltham Forest. HuffPost understands he'll be attending "as an MP" rather than as Shadow Chancellor. But on the evening of the Spending Review, does that mean Seema Malhotra will be left to do the heavy lifting on C4News and Newsnight?
Lots of MPs are watching for Hilary Benn's lead on Syria. There were rumours flying yesterday that he planned to quit if the party ended up with a position he couldn't agree with. The Times reports
Benn was nonplussed to learn that the PM had offered a private security briefing to the Democratic Ulster party yesterday and not, he believed, to Labour. But No 10 insisted that it had offered the same briefing to Mr Corbyn — an invitation he appears not to have shared with the shadow foreign secretary.
It's not a bad story when Red Len tells Red Jez to "stop saying the first thing that comes into his head" and wake up to the responsibility of being Labour leader. It's an even better story when Len McCluskey has told Jeremy Corbyn that his musings on 'shoot to kill' police tactics were 'inappropriate'.
What made the Unite leader's remarks so potent of course was his closeness to the Labour leader. But they also let slip some frustration even among Corbyn's friends that he is not yet used to leadership. Unison's Dave Prentis told the Sindy that "divisive rows over Trident or shoot to kill are distractions no one needs..It's got to stop".
I'm told McCluskey was 'mortified' at the reaction to his remarks at York University, but he has a habit of speaking off the cuff. Last night he put out a statement saying Jezza had his full support. "It is exactly his brand of conviction politics and principled opposition that has won him so many supporters and his leadership is stronger for it." But the delicious irony of that statement wasn't lost on some. Maybe Len 'should stop saying the first thing that comes into his head' quipped @benmonteith on Twitter…
BECAUSE YOU'VE READ THIS FAR…
A new Imperial College study has found that babies born in hospital at the weekend have a 7% more chance of being still born than those born in the week. Crucially, the study could not find any evidence of a link with staffing levels. And in fact the Royal College of Midwives points out there are equal levels of midwife cover at weekends as during the week.
But to read some papers today, you'd think this was about staffing. The Mail has splashed on the story and linked it to the junior doctors strike. More surprisingly, the Mirror takes a similar line. As with the famous claim that 11,000 more people die at weekends overall, some medics are sure to point out there will be several reasons why the rates are different, and may not be due to staff.
Nottingham Uni's Phil Cowley tweeted yesterday that SNP MPs without the whip are now Scotland's second biggest party in the House of Commons. But although that neat gag underlines the party's dominance, it also prompts another one: to lose one MP from the whip may be unfortunate, to lose two smacks of carelessness.
Michelle Thomson resigned the whip in September after police launched an inquiry into property deals she was involved in before entering politics. Yesterday, it was the turn of Natalie McGarry. Her resignation from the whip came after Daily Record and Guardian investigations found that £30,000 due to the Women for Independence campaign was allegedly unaccounted for.
Ms McGarry denies any wrongdoing. Note that just hours before the announcement, Nicola Sturgeon went out of her way to stress 'a presumption of innocence'. Some Labour sources claim this is because McGarry's links to the SNP hierarchy are much stronger than those of Thomson, who was cut loose swiftly in September. The SNP will say it just underlines Sturgeon's even handedness.
CENTRE FOR SOCIAL JUSTICE AWARDS 2015
A great night was had last night and the winners were truly inspiring. Iain Duncan Smith had a self-deprecating gag about his own status. Full details will be up online on HuffPost later. In the meantime, read my interview with IDS here.
If you're reading this on the web, sign-up HERE to get the WaughZone delivered to your inbox.
Got something you want to share? Please send any stories/tips/quotes/pix/plugs/gossip to Paul Waugh (paul.waugh@huffingtonpost.com), Ned Simons (ned.simons@huffingtonpost.com), Graeme Demianyk (graeme.demianyk@huffingtonpost.com) and Owen Bennett (owen.bennett@huffingtonpost.com)