The Argos website appears to be buckling under the pressure of Black Friday 2015.
The retailer has come under fire for crashing and delaying online purchases.
In an attempt to cope with the online demand, Argos is now giving customers a countdown as long as nine minutes before transactions can be completed.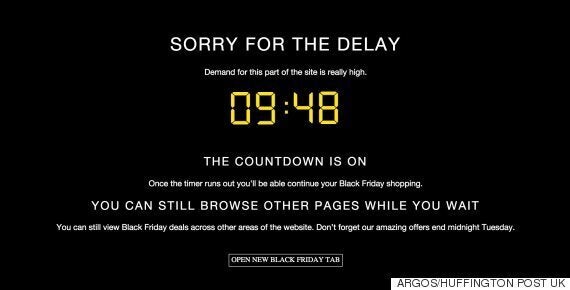 Spokesperson for Argos told the Huffington Post UK: "The Argos website has not crashed or seen any outages at any point today.
"We are seeing very high levels of traffic, with over 2.5 million visits so far which is continuing to grow by the hour.
"We are actively managing the flow of traffic through our website and have processes in place to ensure all customers can complete their transactions.
We are very sorry if some customers are experiencing a delay as a result. Lots of successful orders are being placed so we ask them to please be patient."
The spokesman added: "We are very sorry if some customers are experiencing delays as a result. Lots of successful orders are being placed so we ask them to please bear with us and keep trying."
However, the frustration of it all has started to turn customers away from the store:
Others vented at the store's inability to cope with sales: