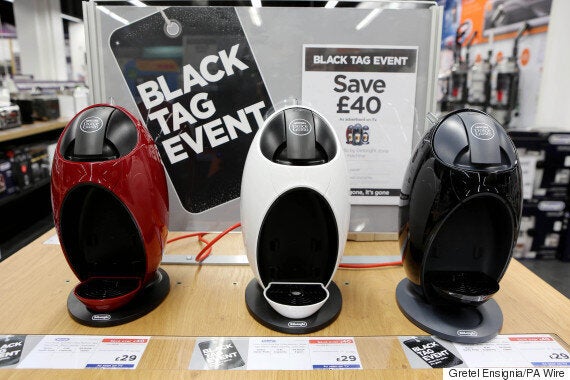 Customers at Currys PC World take advantage of the Black Friday deals at their Tottenham Court Road store in London
Although things got off to a relatively slow start Retailers made cut-price deals available online from midnight and many shops changed their opening hours to offer customers more time to snap up discounted stock, ranging from televisions to toothbrushes.
But there were no signs of the huge crowds which gathered last year, or the scuffles which broke out as customers fought over big-ticket items.
It is expected that customers could spend their way to the UK's first £1 billion in online shopping day today.
Tesco, which opened many of its stores at 5am, had installed queuing systems and assured shoppers there would be enough security and stock following scuffles over limited numbers of items last year.
Argos deals
Argos has released details of its Black Friday deals, including:
Philips Bluetooth Headphones, at £29, saving £70
Toshiba 48" 4K Smart TV, at £479.00, saving £220
Hitachi 40" DVD Combi TV, at £229.99, saving £115
iPhone Refurb (4S) White, at £99.95, saving £100
Samsung Galaxy 'Flagship' S5 – Black / White, at £269.95, £60.00 off
TomTom Go50 5" West EU Sat Nav with Traffic, at £99.99, £60.00 off
Philips 40" 4K UltraHD FreeviewHD Smart Android TV, at £379, £220 off
Philips 50" 4K UltraHD FreeviewHD Smart Android TV, at £529, £270 off
Philips 55" 4K UltraHD FreeviewHD Smart Android TV, at £649, £350 off
Meanwhile Ebay is expecting nine million Britons to visit its website today, Argos, Currys PC World and AO.com are all offering hundreds of pounds off selected items, while John Lewis has promised to honour its Never Knowingly Undersold pledge and match competitors' prices.
Amazon.co.uk is offering its Fire tablet for £34.99, £15 cheaper than the regular price, as well as deals on televisions, video game consoles and Star Wars toys and £650 off a Gibson electric guitar, while those in the market for fine jewellery can snap up a white gold and diamond tennis bracelet for £3,500 off the regular price of £8,995.
Other stores' opening times and information
The supermarket said shoppers were no longer as interested in "flash sales on big-ticket, non-essential items at Christmas". The move comes one year after shoppers were said to be acting like "animals" in "war-zone"-like scenes. Previously, the store opened at 8am on Friday and added a whole extra day.
Sainsbury's usually dedicates a special section in its stores to Black Friday deals, with in-store only offers this year. The supermarket has a geolocator tool on its website so that you can find shops near you taking part in Black Friday. Main, front-of-store deals on electrical household items will run from the 27th until the 29th, while stocks last. Additional non-food deals will be available from the 25th November until 1 December.
The Oxford Street shop will open an hour and a half early at 8.30am, and stay open late until 10pm. Any additional opening hours for other shops will be announced online. The store is promising to stand by its commitment to being Never Knowingly Undersold with its Black Friday web page.
Currys PC World is expecting such a surge of interest on Black Friday it's inviting customers to register their interest weeks in advance. An online queueing system is in place and if you leave, you'll lose your place. Shoppers planning to visit stores on the day can reserve items online, and are reminded to get there early and to "bring plenty of coffee to keep you awake before the doors open." Shop opening times vary and can be found on the Black Friday Currys site.
The home improvement retailer is expected to offer in-store-online deals from Friday morning, and online from midnight, but hasn't revealed any early opening times. Shoppers are encouraged to browse online ahead of the day.
Amazon is promoting a series of Lightning Deals in the run-up to Black Friday. The deals are live for a limited period only and can be accessed through the website's Today's Deals section, by following the online store's social media accounts and signing up for deals emails. Shoppers can also install a mobile app for easy access and advance warnings.
There's no news yet of just when Apple plans to start its Black Friday sales, but last year deals started at one minute past midnight and if the store follows the 2014 pattern, they'll continue until one minute to midnight 24-hours later, both online and in store.
B&M has been revealing products in its Black Friday sales from 23 November and sales are set to continue through until the 30th. Closing times will vary depending on which shop you visit, so check your local information.
Boots is taking part in Black Friday, though shoppers are advised to check the website for extended opening times and special deals.
Halfords will open its event at midnight on Friday online, and will operate standard opening times at its physical stores. Sales of bikes are expected to be strong, and the retailer is advising customers to be prepared ahead of the event.
Matalan will continue its half-price sale week, adding new lines on Black Friday. All its deals will end on Sunday 29 November, though, so shoppers are advised to get in early to bag those Christmas gifts and comfy winter clothes.
Last year, Black Friday overtook Cyber Monday for the first time as Amazon.co.uk's busiest day, when it sold more than 5.5 million items at a rate of 64 per second.
But things got off to a slow start on Oxford Street this morning, where midnight came and went without any hint of last year's consumer chaos.
The Boots flagship store on Sedley Place was one of a handful of shops which opened extra early, advertising deals on huge posters by the shop entrance.
But the doors flung open to two waiting journalists and no customers.
Elsewhere Norfolk Police were on site at Blue Boar Tesco in Norwich in case of trouble, but the queue of around 18 people moved slowly and politely through the doors as they opened up.
The scene at Surrey Quays Tesco was more calm than last year, when police were called to reports of arguments breaking out.
Around 30 people waited in the queue before making their way into the store as security guards looked on.
Entrance to Tesco's Western Avenue store in Cardiff was limited to 10 people at a time, as people waited in the rain.
The 100-strong queue at Tesco Extra in Kingston Park, Newcastle upon Tyne were assured the store had plenty of stock, as the shutters were raised at 5am.
In the run-up to this year's event police warned shops to ensure they have carefully thought-out security plans in place for the sales following chaos at a number of stores across the UK last year when huge crowds grappled for cut-price televisions and other big-ticket items.
xperian-IMRG believes internet spending today will hit £1.07 billion, a 32% increase on last year's £810 million - the first time that online retail sales in the UK will surpass £1 billion in one day.
The Centre for Retail Research expects a slightly more modest £966 million online but predicts total Black Friday sales including at bricks and mortar stores will reach £1.39 billion, with shopping over the entire weekend - culminating in Cyber Monday - to hit £3.49 billion.
Visa Europe predicts that shoppers will spend £721 million online on its cards today, up from £616 million last year.
However, consumer advocates warned that shoppers should exercise caution amid the rush for bargains.
Martin Lewis, founder of MoneySavingExpert.com, has warned that the majority of Black Friday deals "aren't special" and advised shoppers to cross-check deals with items they actually need.
He said: "Above all, remember: if you don't want something, don't need it or can't afford it, then don't buy it."
Related