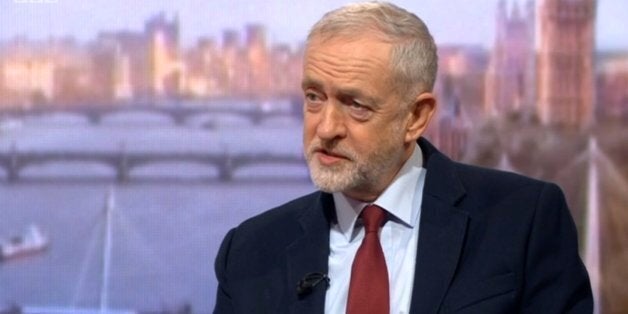 A defiant Jeremy Corbyn has stamped his authority on the Labour Party over supporting bombing in Syria after saying only he will decide whether his MPs have a free vote in the Commons on raids and telling them to consider grassroots opposition to airstrikes.
But he made clear, in any case, they should "think through" the implications of their decision, arguing the Government's plan would lead to civilian casualties, could radicalise Britons, lacked sufficient United Nations authority and relied on questionable "moderate" ground forces.
On Thursday, Mr Corbyn sent a letter to his MPs setting out why he could not support David Cameron's case for bombing.
But the move was more controversial still for effectively encouraging grassroots anti-war campaigners to put pressure on wavering MPs.
In the Marr interview, Mr Corbyn said he had received 70,000 responses to the letter and urged Labour MPs to listen to the concerns.
The letter prompted anger from members of the Shadow Cabinet and backbench Labour MPs, which in turn saw Corbyn supporters, including Labour MP Diane Abbott, suggesting they should fall in line, underlining the deep divisions in the party.
And questioned on being forced out by a party coup over the row, he said: "I'm not going anywhere. I'm enjoying every moment of it."
Asked whether it is the Shadow Cabinet or the leader that decides on whether Labour MPs are whipped, he said: "It's the leader who decides."
There have been threats of resignations from the Labour frontbench if not given the freedom to vote as they saw fit, and senior figures in the party were making clear this morning they disagreed with their leader.
Mr Corbyn made clear he expected MPs to listen to Labour members, who hand the Islington North MP a landslide victory in the leadership election, about their votes on Syrian strikes.
He said: "My view about the membership of the Labour party is they must have a voice. Labour MPs need to listen to that voice, need to try and understand where people are coming from on this and we will come to a decision as a party.
"Surely we must recognise that in a democracy the Labour party has a very large membership, nearly 400,000 members, they have a right to express their point of view and MPs have to listen to it, have to try to understand what's going on in the minds of ordinary party members."
He told Labour MPs to "look very, very carefully at the whole issue".
"Look what will happen if we bomb Raqqa, look at the message that's printed into today's Observer from people who live in Raqqa who say there are going to be a large number of civilian casualties, however targeted the bombs are, and think through this whole thing," he said.
"There is no second plan; there is no effective ground force to back it up... And we're going to be relying on groups in the Free Syrian Army, apparently, who are hundreds of miles away, whose main interest is fighting Assad anyway.
"And also think through, two years ago, the Government was not asking us to link up with lots of forces in Syria to oppose Isil, it actually asked us to join the coalition two years ago to fight Assad. We seem to be changing sides."
His comments on Marr slay previous suggestions that it is the collective will of his Shadow Cabinet - the majority of whom support the Government - that will decide whether MPs are allowed to vote with the party or their own conscience.
He appeared to slap down his frontbench, such as Shadow Foreign Secretary Hilary Benn, when he said "others" had decided to "tell the world their position" on Syria so "it would be a bit odd" for him not to do the same.
Mr Corbyn said: "No decisions have been made yet. I'm going to find out what MPs think. The membership of the Labour Party must have a voice. Labour MP need to listen to that voice, and understand where they are coming from and we will come to a decision as a party."
The uncertainty he has created could torpedo the House of Commons vote, slated for this Wednesday, as David Cameron has said he wants a "clear majority".
The Government's slim majority of 12 means it needs the support of Labour MPs to offset refuseniks on the Tory backbenches.
Shadow Chancellor, John McDonnell, who says Labour and Tory MP should be given a free vote, said on the BBC later Mr Corbyn would make a decision by tomorrow. He backs a free vote.
Mr Corbyn made clear he had "serious questions" over the motives and size of the 70,000 'moderate' fighters based in Syria who would look to defeat ISIL following air raids. "These are not reliable allies," he said.
The Labour leader also said the recent United Nations resolution fell short of authorising war, and was also sceptical about the precision of bombing raids, one of the key reason why the Government says Britain should join, suggesting it might "make the situation worse rather than better".
Defence Secretary Michael Fallon admitted on The Marr Show the Government does not yet have enough votes from MPs to back air strikes.
He told said he had been in talks with Labour MPs but "we've got to keep building the case", and admitted it would be harder to get the support if Labour ordered its MPs to vote against air strikes in Syria.
He told Andrew Marr it was dangerous not to try to defeat ISIL with force: "There are always risks in war but there is a greater risk from not doing something about ISIL and leaving our streets vulnerable to the kind of slaughter we saw in Paris."