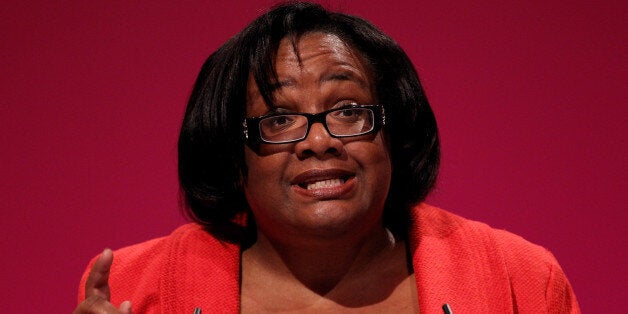 Jeremy Corbyn must impose the whip on his MPs in order to try and force them to vote against British airstrikes on Syria, Diane Abbott has said.
The Labour leader is set for a showdown with his own shadow cabinet today amid warnings several members of his top team could resign if he refuses to allow them a free vote to back David Cameron's call for military action.
Corbyn is due to announce whether he will whip his MPs or not later today. He emailed party members directly over the weekend to ask for their view. On Sunday evening the Labour leader also emailed the party's National Executive Committee (NEC) asking to hear its opinion.
Abbott, the international shadow development secretary and Corbyn ally, told BBC Radio 4's Today programme he should face down his internal critics. "We are a party of government and a party of government has to have a position on matters of peace and war," she said.
"The problem about a free vote is that it hands victory to Cameron over these airstrikes, it hands victory to him on a plate. I don't think that's what party members want to see. I think it's a matter for the leader, in consultation and in particular in consultation with the chief whip. "
"I make the point that it's a matter for the leader. But what I'm saying is that party members and increasingly the country want to see us oppose these airstrikes, which are not the solution, with every sinew of our being. And that would mean a three-line whip."
Abbott said while serving as a shadow minister under Ed Miliband she voted in favour of military action in Libya even though she was opposed as she "understood the discipline of the frontbench".
"I do know that Jermey doesn't want to have either sacking or resignations. None of us want to lose valued colleagues," she said.
The majority of the shadow cabinet are believed to be in favour of supporting the prime minister's wish to expand airstrikes against Isis from Iraq into Syria. There is an argument over whether the decision on whipping lies with the leader or the shadow cabinet as a whole.
Yesterday, Len McCluskey, the Unite union general secretary, accused Corbyn's opponents of using Syria as the "thin edge to stage a coup".
Writing for The Huffington Post, McCluskey, said Cameron's plan to extend air strikes from Iraq to Syria was "illegal and irrational".
"The thought that some Labour MPs might be prepared to play intra-party politics over an issue such as this will sicken all decent people," he said.
In his email to the NEC, Corbyn said: "As you know, I have written to our members as well as the PLP and a meeting with the shadow cabinet will take place tomorrow. As a member of the Party's governing body, it is also important to hear your views."
A party source said: "The role of the NEC is to get the Labour Party match fit to win elections. Considering their track record in 2015, I am not sure they can take the extra responsibility of war and peace.
"Either way, asking the NEC to do the job of chief whip is a slap in the face of the very loyal Rosie Winterton and no reward for her hard work."
Shadow chancellor John McDonnell, Corbyn's closest ally, and deputy leader Tom Watson are among those who have urged a free vote.
Shadow justice secretary Lord Falconer confirmed there were "significant differences" within the shadow cabinet, and he did not think it would be possible to reach a collective view. A majority of the team is thought to favour air strikes.
"My own view is I don't think this very very important issue should be a situation that forces resignations on people," the peer told the BBC's Sunday Politics.