The whole "what do I buy for my boyfriend, dad, brother" for Christmas question has been a conundrum which rears its head every year.
Enter David Galbraith, a 26-year-old entrepreneur of Northern Ireland who's just saved you hours of aimless traipsing around the shops - for this year at least.
Galbraith is the founder of SWIG, a brand of individually-numbered hip flasks which grants the owner access into an exclusive society.
"Every Christmas, I see the same problem," the Queen's University Belfast graduate explains. "Everyone is so difficult to buy gifts for. I am apparently the worst - according to my mum, sister, girlfriend and cat. Why do I keep getting told I'm difficult to buy for?"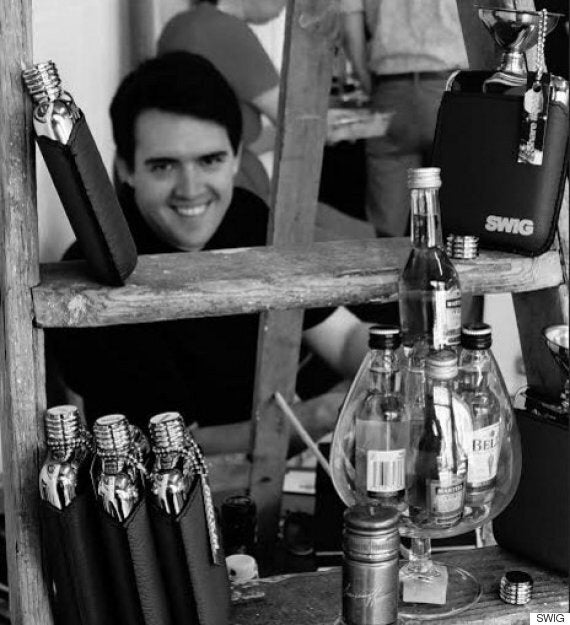 Galbraith with his products
So, Galbraith made the SWIG flask. "It's the seminal 'get out of jail free' gift. A gift that is not expected to end up in a drawer, but to be brought on whatever challenging adventures a swigger might face in their days on earth!"
He quips, drily: "Of course [many might say] that I'm from Northern Ireland and it's in my nature to better protect and transport my whisky."
But it's not been a plain-sailing journey. "When I first came up with SWIG- I went all in," Galbraith recalls. "I quit my job in Northern Ireland and sold everything I owned - think of every joy of a young man's life: Playstation, iPad, my bike, whisky collection etc - to move to London. I invested everything into renting a retail space in Piccadilly Circus to sell my SWIG Hip Flasks."
"This all took place within just one month time. I had gone full tilt and had sacrificed everything that made me comfortable to follow this compulsive hip flask obsession.
"I should have known, but every day is a challenge when you are on a shoe string. I had to be at my most resourceful in my first six months or I would have fallen flat on my face.
"I remember my first batch of 200 pouches arrived and they were too tight for my flasks. I knew I had to retail them the next day or I wouldn't make back the money in time so I stayed up all night, holding them into shape with water in my kitchen sink. Any sane person would have sent them back and let the supplier deal with it. But I just couldn't face the idea of not turning up the next day without having made my best effort."
Originally, Galbraith started out just using credit cards and "juggling cash" because he didn't want to give away equity and the banks refused to give him a loan.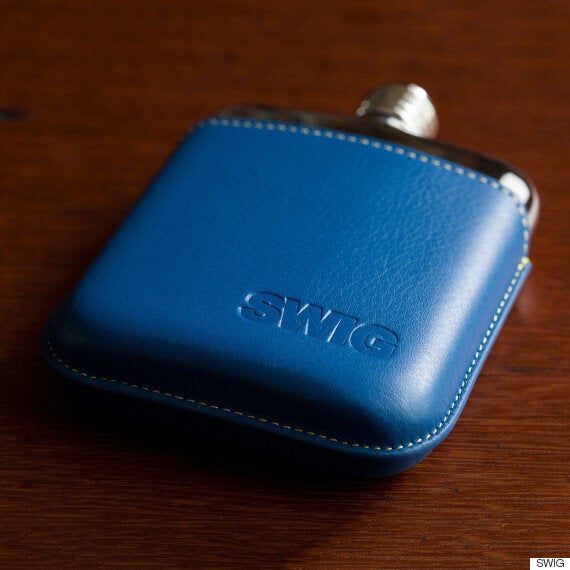 One of Galbraith's SWIG products
"Then Startup Loans came along and gave me £10,000 in cash. Unlike the banks, they had humans assessing applications - with real emotions! - and unlike investment, they didn't take a part of my brand. It was just ideal.
"The cash went straight out the door when I bought a space at the awesome 'Spirit of Christmas' exhibition in London's Kensington."
He sold out, "as I'd expected", but also sold five times more than he would have been able to without the loan, as he'd bought more stock with the money.
"It really sped things up."
So what advice would he give to others starting out?
"Appreciate that we're in the golden age of entrepreneurship," Galbraith says. "Never has there been less barriers and more support available for creating a business. Respect this by taking advantage of all the stuff that people had to work really hard for in the past. Ie, setting up an online store 10 years ago would have taken months and £10,000. Now it takes 20 minutes and is free.
"Try and move past society's view of 'business' and find some realistic influences in your life. Being interested in business celebrities, Dragon's Den and the Apprentice is a first step, but you need to be interested in the actual business, not the dramatisation or fame. Go and meet some local entrepreneurs who are making money and follow their footsteps.
"Realise you can make money out of anything. Pick something you would do for free. Or something you think you can add value to that none else wants to do.
"Apply for the 'New Entrepreneurs Foundation'. Applications have just opened. It is an amazing way to enter the world of entrepreneurship."
And last but not least: "The 'be your own boss' independence thing will just become part of the wallpaper in your life. Don't expect it to excite you for more than a few months."
So, what's in store for the future?
"My dream is everyone in the world wanting to receive a SWIG Flask at some point in their life. This shouldn't be so hard right? I've got a Walt Disney-esque appreciation for customer service and experience, so with enough hard work I reckon I can inspire the world to get involved. I mean - I don't see them as 'just hip flasks'."