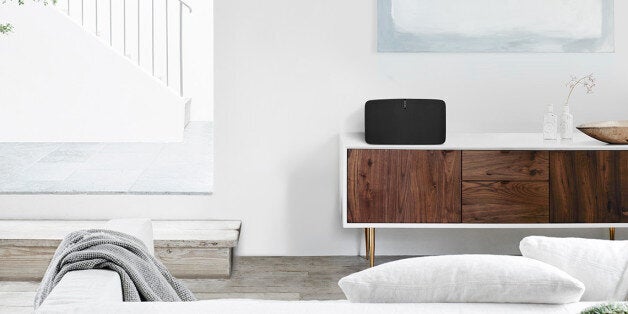 If there's one company that truly nailed the concept of a sound system for your house it's Sonos. Their speakers need just one wire, straight to the power socket. Everything else is then done seamlessly and effortlessly through your smartphone or tablet.
This approach has meant that Sonos remains probably the most recognisable brand in a segment which it arguably created all by itself.
The superstar that helped Sonos do this was the original Play:5, a single versatile speaker that could work as a pair in a living room or on its own in a bedroom or study. That was, if you can believe it, six years ago and a lot has changed since then.
It's a testament to the way in which Sonos builds its products that they've only just decided that they needed to make a new one, with constant over the air updates keeping the old Play:5 well ahead of the competition.
Well there is a new one, and along with Sonos' new room-tuning technology Trueplay we've been spending the last month putting the Play:5 to the test.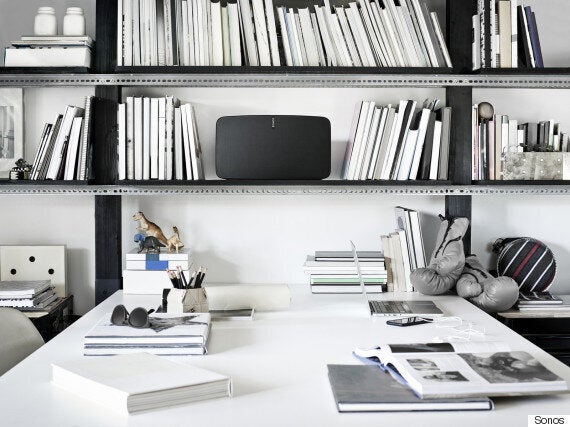 Taking the second generation Play:5 out of its box it immediately becomes clear that very little in your house is going to be able to do this speaker justice. It's a stunning slab of minimalism, all smooth lines and subtle symbology.
Unless your an architect from the Nordics you're going to be buying a Play:5 and then immediately heading to an estate agents to find a house that can do it justice, at least, that's how we felt.
Once we, and our house, got over any insecurities we had regarding the speaker we went through the effortless process of setting the Play:5 up. It really is laughably simple, you simply plug it into power socket, download the Sonos app to your iPhone or Android device and then just follow the instructions.
This is where Sonos' first new party trick jumps in. TruePlay. We don't use the term 'party trick' flagrantly, the fact is that if you use Trueplay in front a large group of your peers you're going to provide a decent amount of entertainment for them. That's because you're going to look like a prize idiot.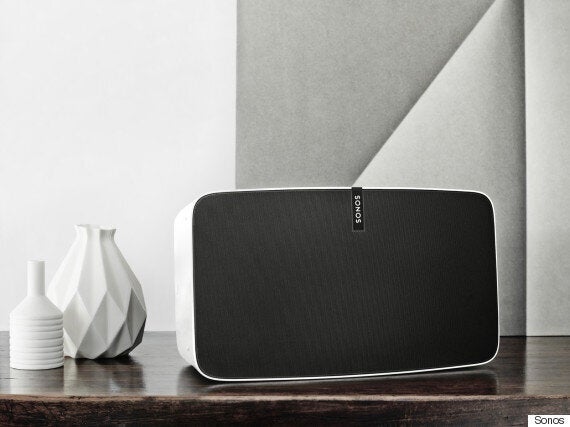 Trueplay is a rather clever piece of software compensates for the fact we all have terrible taste. It forgives us for placing our speakers in the worst possible places, and compensates the speaker so it sounds far better than we deserve.
To do that it uses the mic in your iPhone or iPad and, by listening to the Play:5, is able to create a 3D sound map of your room and the compensate for all the terrible things we've filled the living room with.
The process involves walking around moving your phone or tablet in giant circles. It's ludicrous, but god does it work. The difference in sound is huge and for some it might seem almost too drastic but if done right it'll right any wrongs you've made with a giant leather monstrosity sat opposite your TV.
Once it's all set up the speakers come into their own. This product has been literally years in the making and the time and attention spent on it really shines through when you just start playing the music.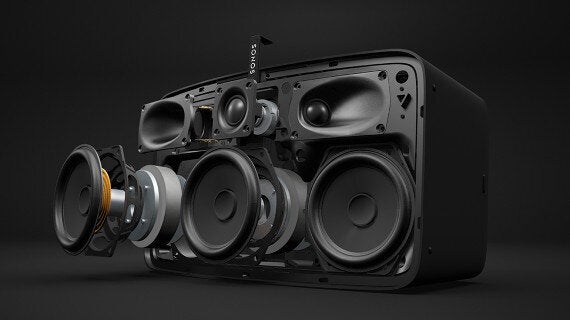 Sonos brought on legendary producer Giles Martin (son of Beatles producer Sir George Martin) to help tune both the Play:5 and Trueplay so the end result was as close to the speakers you'd find in a studio as possible.
Having come from a family of musicians we're familiar with what Martin and Sonos were going for and truly we think they've done a stirling job. The Play:5 is able to separate its lows and mids and highs to a degree that the only speaker simply never could.
Six individually tuned speakers create a gloriously wide sound which keeps the vocals solidly planted in the centre of the action.
This is Sonos' smartest speaker yet as well. Sensors allow you to create a new type of pair with another Play:5 that involves standing the speakers on their side creating less of a footprint.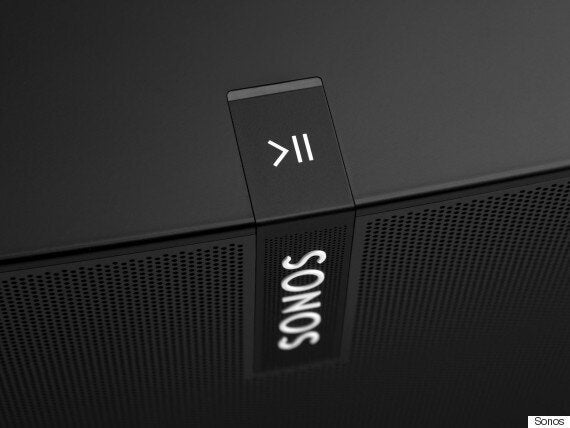 On the top there's a touch sensitive strip that is divided into just three buttons. Tap them to play/pause or increase/decrease the volume, swipe to change track.
The real grunt work is given to the app, which after years of fine-tuning is now a joy to use. Add any number of music services (soon to include Apple Music) and you can create an endless playlist that'll jump between Spotify, TIDAL, Soundcloud and your own phone without as much as a hiccup.
Sonos speakers aren't cheap, nor are they eye-wateringly expensive, instead look at their pricing as you would a Volvo or a Land Rover Discovery. You feel like you're paying exactly what you should be, no more, no less. In return you get a stylish, modern, state-of-the-art product that just works.
That's why at £429, the Play:5 doesn't feel like it's taking the piss. This is a very very high-quality sounding speaker that is designed to be the centrepiece of your living room.
If you're looking to take a small step into the world of Sonos then we'd probably recommend the Play:1. They're better than they should be at that size and at £169 they're a reasonable first step.
For everyone who's either a convert or ready to take the plunge though then there really is no question, the Play:5 is still the best all-round wireless speaker you can buy.