The world is running out of time to tackle climate change, actor Leonardo DiCaprio has warned as crucial talks on a new treaty on global warming continue.
Speaking at a climate summit for city leaders in Paris, DiCaprio said rising temperatures posed the "most fundamental and existential threat" to human beings, warning "the consequences are unthinkable, and worse it has the potential to make our planet un-liveable".
He described the UN talks that are taking place in the French capital as "what may be the most important conference of everybody's lifetime", one that had been 20 years in the making, and said that at previous meetings in Kyoto and in Copenhagen six years ago, countries had come up short.
"This time must be different because we are fundamentally running out of time," he urged.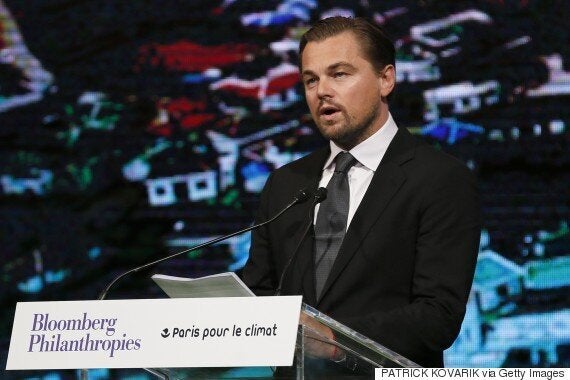 Leonardo DiCaprio delivers a speech at the City hall in Paris during a summit on climate, as part of the World Climate Change Conference 2015, on December,4, 2015
Speaking in the grand setting of Paris's Hotel de Ville, DiCaprio, who has been appointed UN Messenger of Peace for the Climate, said the world needed to move away from fossil fuels, and hailed cities such as Vancouver which has pledged to switch to 100% renewables.
He welcomed moves by 392 cities, home to more than 361 million people to sign up to taking action against climate change under the "compact of mayors" and challenged the mayors, city and regional leaders to do more.
He told them whatever agreement was reached in the UN talks, they were the "catalysts" for the real work that lay ahead.
And he said: "We are now in a race to better ourselves, to better the planet.
"Be bold, be courageous, do everything in your power to change our current course. The entire world is watching you."
At an event as part of the Climate Summit for Local Leaders, the "C40" city leaders group said emissions cuts by cities could fill a quarter of the "gap" between carbon reductions pledged by countries and the action that is needed to prevent dangerous climate change.
The C40 group of major world cities leading action on greenhouse gas emissions said commitments already made by cities would deliver half of the world's potential urban emissions reductions by 2020.
Pledges made by countries in the run up to the UN climate talks for the action they would take to curb emissions do not get the world on track for limiting temperature rises to 2C above pre-industrial levels - beyond which dangerous climate change is expected.
But total potential urban emissions reductions in 2030 could close the "gap" by nearly 25% between what had been pledged and the 2C pathway.
UN secretary general special envoy on cities and climate change Michael Bloomberg, the former mayor of New York, told C40 leaders the work they did was "essential".
He said world leaders attending the start of the UN talks in Paris, which aim to hammer out a new deal to curb temperature rises to no more than 2C, had a much better outlook for a deal than during the previous, failed, bid for a global climate agreement in Copenhagen in 2009.
"Much of that comes from the progress made by cities," he said.
"Whatever agreements the national leaders make, the execution takes place in the cities led by mayors."
"A lot of people are sceptical about what we do, a lot of people don't like it when we effect change, but the bottom line is, if we don't do this, the world is in a very precarious position," he said.
Popular in the Community