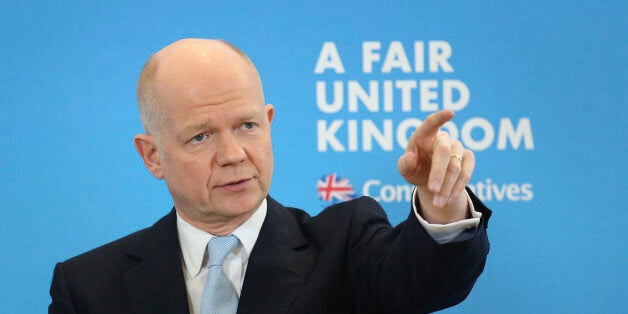 William Hague has warned Jeremy Corbyn not to get 'too excited' about Labour's victory in Oldham - because he knows personally how an Opposition can go on to lose general elections.
In an interview with The Huffington Post UK, the former Tory leader and Foreign Secretary said that Mr Corbyn featured little in Labour's campaign in the Oldham West and Royton by-election.
Mr Hague also joked that he knew how Opposition victories in by-elections, local elections and European elections were no guide to a party's real strength in a general election.
Labour's Jim McMahon held onto the Greater Manchester seat on Thursday, with a nearly 11,000 majority over UKIP, and with the Conservatives in third place.
But Mr Hague, in an interview to be published in full next week, said that it was difficult to interpret local results and infer national trends.
"Clearly the Labour party has fought a very local campaign, a campaign in which Jeremy Corbyn wasn't in the picture very much and the Labour candidate was," he said.
"By-election results, as always, people can interpret in many different ways.
"I would only say that when I was Leader of the Opposition I had many election triumphs, mainly in local elections. And I won the European elections in 1999. And we all know what happened in the subsequent general election.
"So I wouldn't get too excited about it if I was Jeremy Corbyn."
Mr Hague - who stepped down as an MP in May but is now a peer - led the Tories to one of their worst ever general election results in 2001, with a net gain of just one Parliamentary seat from Tony Blair's Labour.
Just four years after 1997, Labour secured a second landslide in succession and a majority of 167 seats over the Conservatives. Mr Hague swiftly resigned.
In Oldham West and Royton this week, Mr McMahon polled 17,209 votes, with Ukip's John Bickley trailing in second on 6,487, giving a majority of 10,722. Labour had a seven point higher share of the vote than in May.
Mr Corbyn visited Oldham on Friday to hail Mr McMahon's victory, declaring that it "shows the way we have driven the Tories back on tax credits, police cuts, on their whole austerity agenda and narrative".
Former GLC leader and Mayor of London Ken Livingstone went further, arguing that the result proved that Labour under Mr Corbyn could win back UKIP voters and even SNP voters lost in 2015. He added that under Mr Corbyn, Labour could have won the last general election.
However, some of his critics among Labour MPs claimed that the Labour leader's stance on 'shoot to kill' policies, Syria and the monarchy in recent weeks had all proved unpopular with voters on the doorsteps of Oldham.
Simon Danczuk, MP for neighbouring Rochdale, said that the victory was down to the hard work and local reputation ofMr McMahon, who has served as leader of Oldham council.
Referring to his party leader, Mr Danczuk told Sky News: "His name came up in not a very good way when I was knocking on doors, so I think it was right that he stayed away from it."
Although they won several local elections and the 1999 European election, the Tories under Mr Hague's leadership had a mixed record in by-elections.
The party lost Romsey to the Liberal Democrats on a huge swing, but held onto their other seats in by-elections from 1997 to 2001. They failed to take any seats from Labour during the period.
Popular in the Community