Update: IBM got in touch with the Huffington Post UK via Twitter to inform us that the campaign has since been dropped.
@HuffPostUKTech This was part of a larger campaign to promote STEM careers. It missed the mark and we apologize. It is being discontinued.

— IBM (@IBM) December 7, 2015
The update follows on from an initiative which IBM had originally created ironically to encourage more women to join the technology and science industry. It was called Hack-a-Hair Dryer.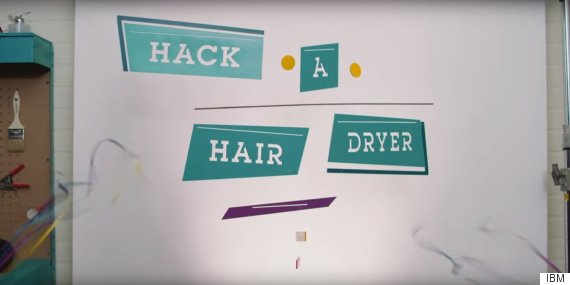 Claiming to be 'dismantling stigmas in tech', the program challenged women to take an everyday hairdryer and then reinvent it as something new, sharing their new creations on Twitter and Facebook.
IBM's campaign has been ruthlessly shot down on Twitter as being sexist, patronising and misguided.
Girls don't like science? Nonsense. Let's blast away the barriers

to #womenintech https://t.co/rrEFwjiBXD pic.twitter.com/eSiJ0UGsjB

— IBM (@IBM) December 4, 2015
The campaign said it aimed to drive away the misconceptions that have plagued an industry where in the UK just 15 per cent of the STEM industry is comprised of women.
"Girls don't like science? Women can't code? Only men wear lab coats? It's hair-raising misperceptions like these that keep bright minds out of research labs, scrum teams and engineering tracks—leaving untold innovations on the shelf." says a statement on its site.
The campaign has received a huge backlash on Twitter with people lambasting the company for 'missing the point'.
#HackAHairDryer seems neat except for the parts where I don't own a hairdryer and I have actual fun things to hack on like lasers

— Eva Kloiber (@aeva_io) December 7, 2015
IBM's current status #HackAHairDryer pic.twitter.com/uOUI8KvAXa

— Artisan GIF-maker (@amanicdroid) December 7, 2015
That's ok @IBM, I'd rather build satellites instead, but good luck with that whole #HackAHairDryer thing. https://t.co/n3vp0grbEP

— Stephanie Evans (@StephEvz43) December 7, 2015
@IBM shame I don't use a hairdryer. I guess that's the end of my career in STEM. Brb quitting my astrophysics PhD. #HackAHairDryer

— Jessica V (@ThatAstroKitten) December 7, 2015
Here, @IBM. My lady brain came up with this for #HackAHairDryer. Kuhn would declare it paradigm shifting, surely. pic.twitter.com/QTfWwnFolB

— Jo Alabaster (@joalabaster) December 7, 2015
.@IBM Sorry. I used to design picosecond-accurate microelectronic modeling software. Wouldn't know where to start on a hairdryer.

— Sarah Brown (@auntysarah) December 7, 2015