The head girl at one of Sydney's most prestigious private schools has used her leaving speech to criticise its "unattainable standards" and "financially motivated" teachers.
Sarah Haynes, the captain of Ravenswood School for Girls, told the audience that she felt "betrayed" by the school and that it had "let her down".
The 18-year-old launched her scathing attack during the school's speech ceremony at Sydney's town hall on 3 December.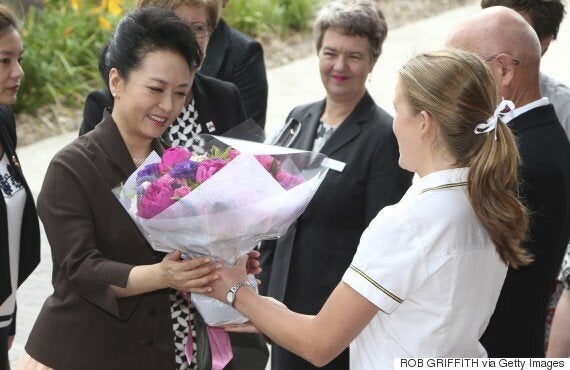 Sarah Haynes gives flowers to Peng Liyuan wife of China's President Xi Jinping during a visit to Ravenswood School for Girls in 2014
"I've spent a lot of this year speaking about the achievements and successes of Ravo, but I'm going to do something a little different this year – be honest," Haynes said.
"I don't know how to run a school but it seems to me that today's schools are being run more and more like businesses where everything becomes financially motivated, where more value is placed on those who provide good publicity or financial benefits.
"I'd love to see Ravo work towards something better where each member of the school fees valued equally."
She also alleged that teachers at the $28,600 (£13,800) a year school would redraft her speeches to make them more in line with its elite image.
"Everything I wrote had to be censored by those higher up than me. I was never trusted to say the right thing," she said. "If the school can't admit it isn't perfect how can they expect adolescent girls to realise perfection is unattainable."
The 13 minute speech, which received a standing ovation, was recorded by another student and posted to YouTube where it has been viewed more than 60,000 times.
Mark Webb, chairman of Ravenswood's council, told Fairfax Media that Haynes' speeches were not censored by staff members.
"Girls have the right to express their individual opinion," he said.