A leading human rights chief was left red-faced when he posed for a photoshoot with the Croatian president - only for his trousers to fall down, leaving everyone else in shot rather bemused.
Ivan Zvonimir Cicak, who chairs the Helsinki Committee for Human Rights, was proudly posing front-and-centre for a picture with his country's first female leader when his loose-fitting trousers suddenly dropped to his ankles.
He was hastily helped to pull them back up by an aide, and gripped his waistband tightly as the snap was taken for good measure.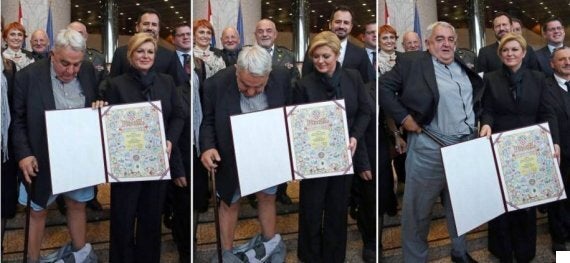 Here's the moment again - this time in full, uncensored GIF format.
Cicak and Croatitian president Kolinda Grabar-Kitarovic were joined by other senior political figures at an event to mark the forthcoming international human rights day, which takes place on Thursday 10 December.
We don't think he'll be forgetting that meeting for a while...
Popular in the Community