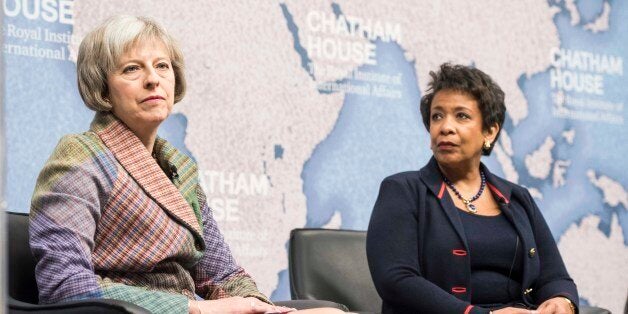 Thousands of people trapped in servitude and being trafficked will be able to text or phone for salvation after the UK Government launched a helpline to tackle the "affront to humanity", Home Secretary Theresa May said.
The Home Office will next year launch the service, based on a successful model in the US, to tackle so-called modern slavery amid estimates of at least 10,000 victims in the UK.
Enhancing an existing support network will allow the vulnerable to text for help for the first time. Experts believe many do not ask for help for fear of being overheard on a telephone.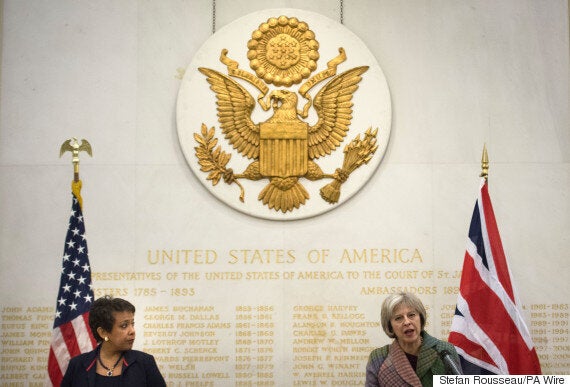 Home Secretary Theresa May (right) and United States Attorney General Loretta Lynch at the US Embassy in London
The service has been developed through a partnership between the Home Office and US non-government organisation Polaris, with £1 million funding from Google to cover start-up costs in the first year.
The Home Secretary announced the plans after chairing a roundtable with United States Attorney General, Loretta Lynch, at the US Embassy in London.
Ms May said afterwards: "Slavery is real and it is happening today. That is why this event is very important, standing together with one of our oldest allies in the fight against the evil of slavery.
"In this most important fight we must learn from each other. We know that modern slavery remains largely a hidden crime and more needs to be done to shine a light on what is taking place."
"It's only by working together we'll defeat this affront to humanity."
Attorney General Lynch said modern slavery was "one of the most pernicious yet invisible crimes law enforcement confront", adding: "In our world of rapid technological progress and rising standards of living, the notion of modern day slavery can seem improbable. Yet the cases belie that impression and are seen in America every single day."
Polaris runs a national hotline in the US where a team of trained operators are available to answer calls, 24 hours a day, seven days a week, in more than 200 languages.
The hotline operators are highly-trained modern slavery specialists, who are able to quickly connect survivors of trafficking to a network of rescue and support services.
Bradley Myles, chief executive officer of Polaris, said more than 1,000 victims are helped each year in the US.
He said: "Human trafficking is a global business that requires a global response so the millions of people exploited by this crime can receive the help and support they need no matter where they are in the world.
"The launch of an enhanced modern slavery helpline for the UK is a critical step forward in this effort."
Popular in the Community