'Star Wars: The Force Awakens' might not be gracing the big screen for another week but that hasn't stopped some hardcore fans from queuing outside cinemas ahead of the film's release.
Have these people not heard of online booking?
One group, imaginatively calling themselves 'The Line Awakens', have set up camp outside the TCL Chinese Theatre in Hollywood, a whole 12 days ahead of the world premiere.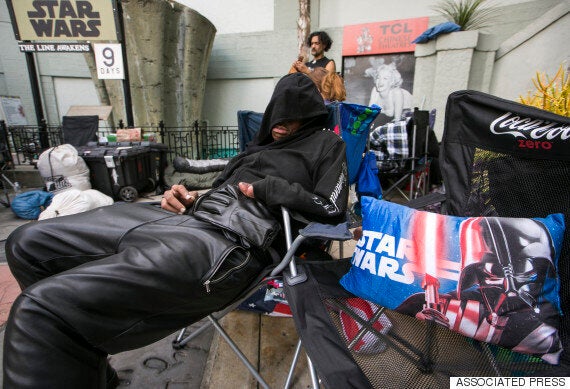 In a post on their Facebook page, they say: "We are those crazy people you saw on the news.
"We lined up on Hollywood Boulevard for each of the Star Wars prequels and we're coming back home along with Chewie and Han to do it all over again for Star Wars Episode VII."
Story continues after the 'Star Wars: The Force Awakens' trailer...
In the queue are an Aussie couple who plan to get married when the film is released.
Caroline Ritter and Andrew Porters flew to Los Angeles from Hunter Valley, New South Wales, Australia.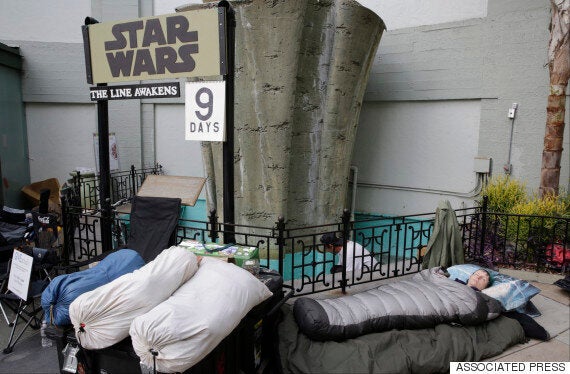 We had hoped the bride would be wearing a stormtrooper outfit (well they are white) but alas, she's gone for something a little more traditional, but will be walked down a makeshift aisle by Darth Vader.
As well as braving the cold, the mega fans are also taking the opportunity to raise some cash for charity.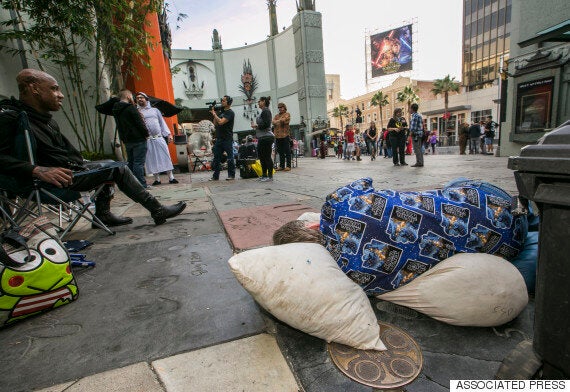 Alongside the tents and Star Wars paraphernalia are collection buckets, and all money collected will be donated to local charities which help children who are terminally ill.
'Star Wars: The Force Awakens' will have its world premiere in Los Angeles on Monday 14 December and will premiere in London on 16 December.
Popular in the Community