Edward Snowden may be one of America's most wanted, and a name that polarises opinion on both sides of the Atlantic ever since he left US soil in 2013, but he still has to eat - right?
Now, it transpires he's used his time in seclusion well, perfecting his recipe for 'Hot Leaks' - fittingly - and his favourite dish is set to be included in a special cookbook being produced by the people behind his Oscar-winning film 'CITIZENFOUR'.
Edward has concocted this recipe with his girlfriend Lindsay Mills, who has lived with him in Russia since soon after he left the US at the same time as he released information about the extent of US and UK surveillance on their citizens.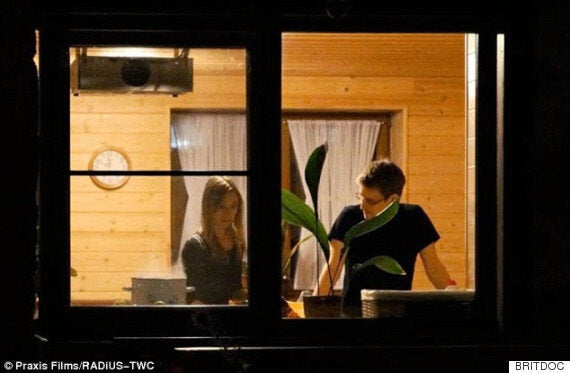 Edward Snowden has been cooking with his girlfriend Lindsay from their adopted home in Russia
To celebrate their 10th anniversary, BRITDOC - the British documentary foundation behind 'Citizen Four' - have invited Edward and nine other stars from their award-winning catalogue of films, to contribute their favourite recipe for this special book. The team have been raising money through a Kickstarting campaign. Click here for info.
Other dishes inside 'Eat Your Heart Out' include 'Stew Peas and Rice with Lamb', or 'Salted Beef and Plantain', from Zimbo Moore, who was featured in their film 'One Mile Away'. And there's also 'Salmon in a Hurry!' from 89-year-old table tennis champion Lisa Modlich, one of the many stars of 'Ping Pong'.
Over the course of the last month, BRITDOC has revealed a contributor every few days, including Andre Bauma, the park ranger from Oscar­-nominated 'Virunga', the Yes Men, Ameena Matthews from Steve James' 'The Interrupters', Joshua Min Htut from 'Burma VJ', and musician Edwyn Collins and his wife Grace Maxwell, who feature in 'The Possibilities are Endless'.
To get your copy of the 'Eat Your Heart Out' cook book, you can make your pledge to the Kickstarter campaign here. As well as the digital cookbook, which is built around a set of original illustrations from artist Ben Lamb, backers can pledge to receive a tea towel, cooking apron and laptop stickers.
There are five days to go on the campaign. Pledges need to be made by 5pm EST on Wednesday 16 December.
BRITDOC is a non­profit organisation founded in 2005, supported by Bertha Foundationand the Ford Foundation. We also work with a number of other US and European Foundations across our project portfolio. Over the last decade, together with our partners, we have funded more than 200 documentary projects, including Academy Award­-winning CITIZENFOUR, Academy Award nominees 'Virunga', 'The Square', 'Hell And Back Again' and 'Dirty Wars'.
Popular in the Community