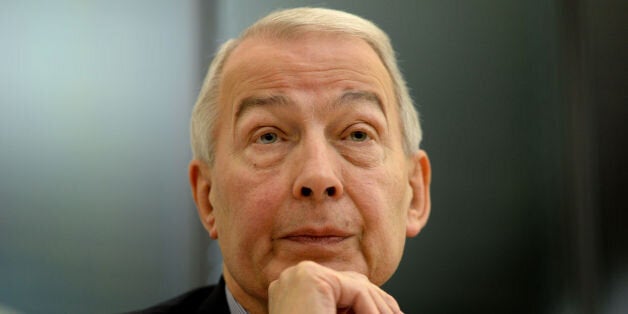 A bill to automatically direct Government cash to Britain's poorest children has won cross-party backing from more than 100 MPs.
Labour MP Frank Field's Free School Meals (Automatic Registration of Eligible Children) Bill, which will be heard in the Commons today, would put a statutory duty on all councils to identify and register all those youngsters eligible for help.
The legislation would require Education Secretary Nicky Morgan to act to help the 160,000 poor children in England currently not registered for a free daily hot meal.
The 10 Minute Rule Bill - which has Tory, Labour, SNP, DUP, SDLP and Green support - aims to correct the anomaly whereby families have to apply for free school meals rather than be automatically granted them on the grounds of their family income.
With schools' Pupil Premium top-up cash directly linked to the number of children on free school meals on their books, many have lost out as numbers dropped with the introduction of 'universal' free meals under the last Government.
Mr Field's bill aims to spread nationwide the practice of some local councils who automatically register those families in receipt of housing benefit and therefore struggling with finances.
It stems from the findings of a cross-party group of MPs and Peers, published last week, which offered a route map to ending hunger in the United Kingdom, 'Feeding Britain in 2015-16'.
The group found that a small but growing number of local authorities are using their Housing Benefit records to identify families whose children are eligible, but not registered to receive free school meals.
Once identified, each family is informed by the local authority that their child has automatically been signed up to receive free school meals, with no need to fill in any forms unless they wish to opt out of entitlement.
Automatically registering those families eligible for free school meals cuts bureaucracy as well as the stigma of having to apply for the extra benefit.
Liverpool City Council, Bolton Council and Wirral Council all implement such a scheme to ensure their schools don't lose out on Pupil Premium cash that is targeted a poor schools and can provide tens of thousands of extra funding.
The Department for Education's most recent estimate suggested that 160,000 poor children in England were entitled, but not registered to receive free school meals.
Mr Field said: "A large number of children will have gone to school hungry this morning. Many of them will have struggled to concentrate in lesson after lesson on an empty stomach. Were the bill to be enacted, far fewer of them would be hungry at school each day in the New Year.
"And it would free up extra money for schools to ensure additional food for the poorest children at breakfast and before they return home after school.'
"The policy of automatic registration for free school meals has delivered a win-win situation in those areas of the country that have been bold enough to embrace it. And yet a large number of local authorities – we don't know how many – won't take up the policy without a nudge from Whitehall.
HuffPost UK has featured one scheme in Mr Field's constituency which aims to help children avoid hunger during school holidays, by offering them a free meal as part of a playgroup scheme.
The list of MPs of all parties backing today's bill includes:
96. Robert Blackman-Woods