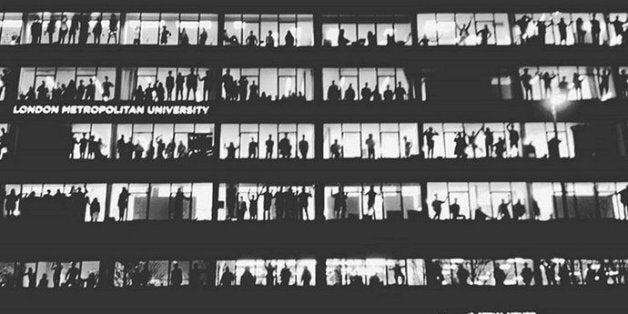 Students have staged a dramatic visual protest over the sale of London Metropolitan University's £50m Sir John Cass Faculty of Art, Architecture and Design.
Over a hundred students stood silhouetted in the windows of the building on Monday night to show their objection to the sale of the Aldgate structure, which is described on the university's website as "internationally recognised" for its "excellent facilities".
The administration plans to invest £125m to move all university facilities to a Holloway campus by 2017 and reduce student numbers from 13,000 to 10,000. The closure of a number of courses, including a prestigious silversmithing course and the country's last musical instrument-making BSc, has also been announced.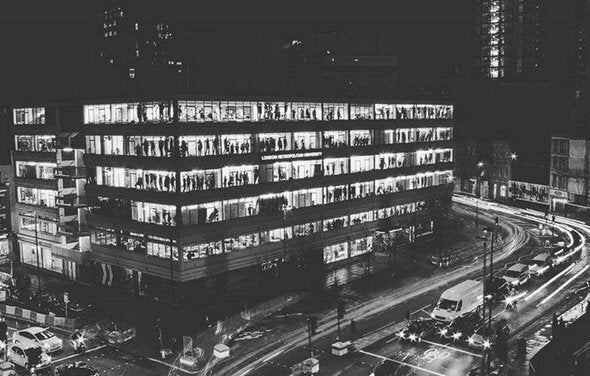 Students have occupied the Cass Faculty in protest. Credit: Steven King.
In a statement on London Metropolitan University's website, Vice Chancellor Professor John Raftery said: "We are excited about this project, which aims to create a one campus, one community University."
"We believe this will benefit our students, who will enjoy an enhanced student experience, and our staff, who will have more opportunities to collaborate."
However, some students are worried that the well-equipped workshops and facilities at the Cass, also known as Aldgate Bauhaus, will not be reproduced at the university's new campus. Speaking to HuffPost UK, a spokesperson from protest group Occupy the Cass said: "It was announced to students for the first time on October 9, and neither the staff nor students were involved in any decision making process. This came as a huge shock as the building has just been refurbished.
"Students returned to university on September 22 and there was a unanimous feeling of disappointment and duplicity as their course fees had already been paid," they continued.
"We are aware that this move will destroy the Cass and have a massive impact on the thriving community of the east end."
In response to the comments, a spokesman from the university said: "The announcement was made as soon as the decision was made as we wanted to be as transparent as possible. It has nothing to do with duplicity or student fees."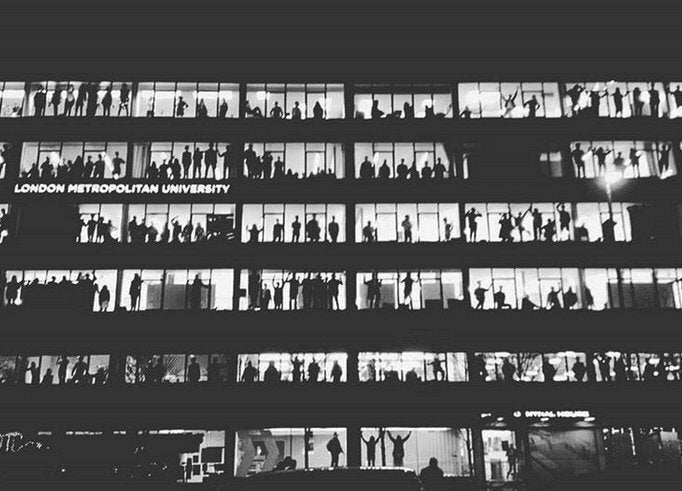 Over a hundred students took part in the event. Credit: Edward Dale-Harris
The group has produced a guerrilla art gallery using work posted through the building's letterbox by fellow students and has received support from visiting professor Jeremy Deller, a Turner prize winner.
Students have also been objecting to the suspension of the dean of the faculty, architecture professor Robert Mull, who refused to support the university's plans.
The university has reported that Mull will still act as a professor and director of architecture while his role on the senior management team is considered.
"Both the university and Professor Mull are making every effort to find a positive way forward, and we expect to be making a further statement next week. We will not be making a further statement until then."