Basketball superstar LeBron James has tweeted an apology after hospitalising the wife of PGA Tour golfer Jason Day, after dramatically crashing into her during a game.
James found himself tumbling towards Ellie Day while chasing a loose ball, resulting in her being stretchered away from the court.
Video footage captured the entire moment as James, who is listed at 6-foot-8 and 250 pounds, crashed into the onlooker. As he landed on her, he fell out of bounds.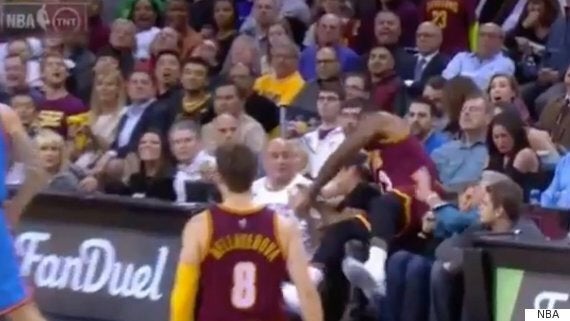 James tumbled across the court into Ellie Day
Day was reported to be okay after the incident, but was taken to a hospital for treatment, according to ESPN.
Day was down for several minutes while she received medical attention, which included having a brace placed around her neck and head.
The game was halted, and James returned to the scene to check on Day. He later said she had squeezed his hand and that he had been told she was "doing great."
James' tweet to Day, wished her well:
When the crash occurred there was only three minutes left in the fourth quarter of the Cleveland Cavaliers' 104-100 win over the Oklahoma City Thunder.
"It wasn't anything out of the usual besides the injury," James said. "But to me, obviously her health is very important, and hopefully she's doing well. The guys told us she's doing great now. So, but you know, I was going for a loose ball. Just trying to keep the possession going, and I hate that that was the end result of it," according to ESPN.