Thousands of miners and their families have taken part in a march of "solidarity" to mark the closure of the UK's last deep coal pit. The final shifts at Kellingley Colliery in North Yorkshire were worked yesterday, marking the end of an era for the once-mighty coal industry in this country. Today, people lined the streets of nearby Knottingley in West Yorkshire to watch as the pitmen walked the mile-long route from the town hall to a miners' social club.The crowds cheered and applauded as the procession, led by a marching band, passed by.
Labour MP Yvette Cooper, whose Normanton, Pontefract and Castleford constituency is close to the colliery, took part in today's march, along with Anne Scargill, the wife of former NUM leader Arthur. Ms Cooper said: "It was great to have so many people here for the march. It just shows the strong support from the whole community. The pit has been part of this town but also part of our industrial heritage for such a long time and I think everybody wanted to show their solidarity with the last of the UK miners."
Mrs Scargill said she thought the march, which was organised by two miners' wives, was "marvellous". The march was organised by Lisa Cheney and Kirsten Sinclair, whose partners worked at Kellingley. Mrs Cheney, 33, said: "I'm upset, really, that it's come to this and there's nothing we could have done to keep the mining industry in this country. It will have a massive impact on the community. Everyone will be affected."
Ms Sinclair, 48, said: "Both our partners are miners and it's really important that it was marked. Nothing had been arranged for them and we just felt that this couldn't happen, they couldn't just go. This had to be marked and the guys needed to have some love and affection shown to them for everything that they do. It was a difficult day yesterday but hopefully by having today we'll have a bit more closure."
Many miners had travelled to take part in today's march and some carried banners. The procession was led by a "Grim Reaper" and the Knottingley Silver Band. Most people attending the rally, including dogs and children, wore yellow NUM stickers with the slogan "Coal not dole" and carried flags. When the march reached the Kellingley and Knottingley Miners' Welfare Reform Social Club, miners could be seen wiping tears from their eyes as the band played a number of songs, including Danny Boy. Two marchers set fire to banners with the slogans "UDM scabbing bastards" and "Save fuel burn a Tory scab". The miners will now mark the closure of the pit with an event at the social club this evening.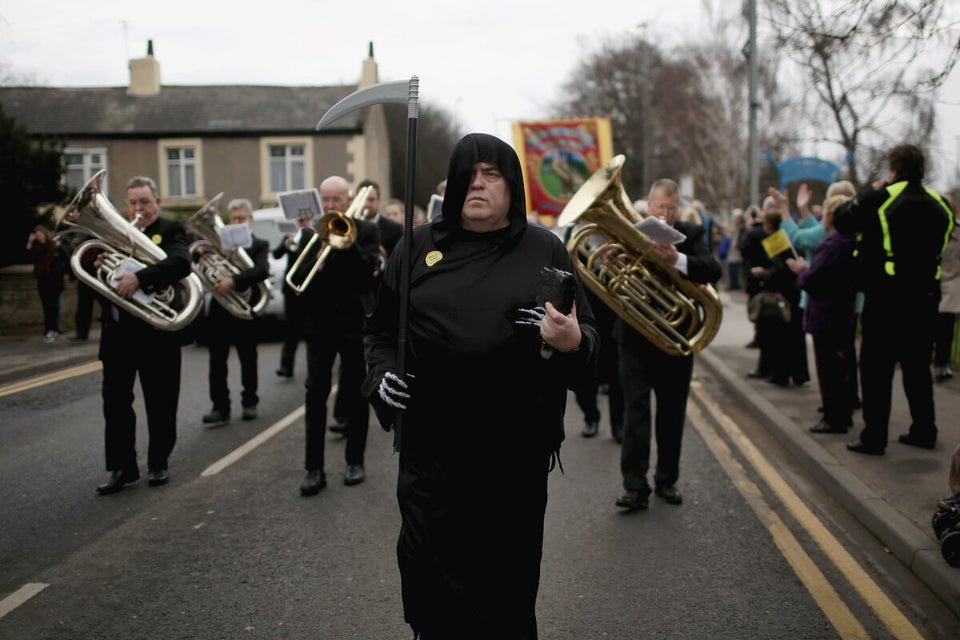 Kellingley Miners Join 'Solidarity' March