A suspected bomb discovered in the toilet of an Air France plane which led to a flight from Mauritius to Paris making an emergency landing was in fact a "fake" explosive made out of cardboard, paper and a household timer, authorities have revealed.
The Boeing 777 was heading to Charles de Gaulle airport in Paris when its pilots requested an emergency landing at 12:37 am Sunday in the Kenyan city of Mombasa, the Associated Press reported.
Speaking at a press conference on Sunday moring, Kenya's interior minister says several people who were on the flight - Air France Flight 463 - were being questioned in Mombasa, while the package was investigated.
Air France CEO later confirmed the device did not contain explosives, but praised his crew for their cool-headed reaction to divert the plane.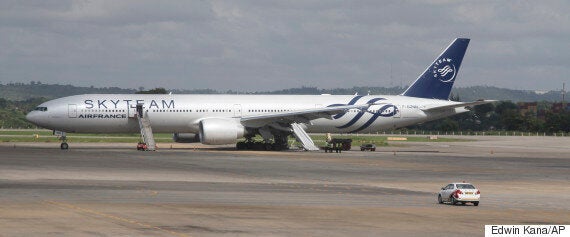 An Air France flight made an emergency landing after a suspected bomb was found in the toilet
It has also since emerged that the Kenya Airports Authority edited its Facebook announcement regarding the incident. The authority initially said security forces had foiled a "bombing attempt". The authority now says the flight made an emergency landing because of a "suspicious object".
The updated Facebook post indicated there were questions over whether the device was some kind of hoax.
Nkaissery did not say how many people had been questioned over the incident or if they were passengers or crew. The plane was carrying 459 passengers and 14 crew members.
The minister said another Air France plane would pick up the passengers once the interrogations are done. He did not say how long that would take.
The Air France spokeswoman, who the Associated Press did not name, said local authorities were also interviewing passengers.
A passenger on the flight earlier told how everything was calm on board and passengers thought there was simply a technical problem as their flight was diverted.
Benoit Lucchini said: "The plane just went down slowly, slowly, slowly. So we just realised probably something was wrong, but the personnel of Air France were just great. They were just wonderful. So they kept everybody calm. We did not know what was happening."
He spoke to journalists in Mombasa after getting off the plane.