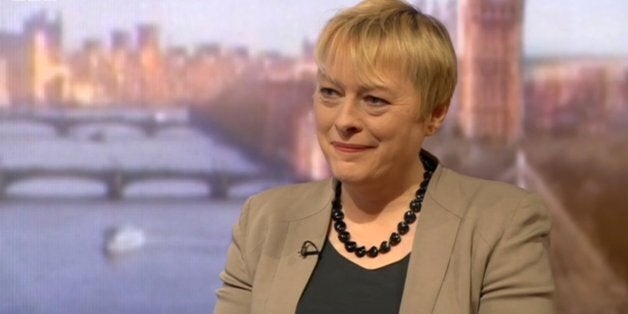 Angela Eagle has dodged giving Jeremy Corbyn her backing to lead Labour into the next general election.
In an interview on the BBC's Andrew Marr programme on Sunday morning, the shadow first secretary of state was asked: "You'd like to see him lead you into the 2020 election?"
Eagle replied simply: "We have our leader."
She told Marr Labour needed to have a "long hard look" at why it lost two elections in a row. Eagle said Labour had to present a "compelling case to the British people in 2020".
"Our leader is of three months standing. Our job is to take the fight to the Conservatives," she said. "We've got a leader. We've had a leadership election three months ago."
Eagle also defended Labour MPs who applauded shadow foreign secretary Hilary Benn for his Commons speech advocating military strikes against Isis in Syria - something Corbyn today criticised.
In an interview with The Huffington Post UK to mark his 100 days as Labour leader, Corbyn said: "Sorry, we were voting to send bombers in to bomb targets, putting servicemen and women at risk, civilians at risk, you can't cheer when you're going to war. That is 1914 Jingoism, that is past."
"What I was appalled by was the end of that debate, with mainly Conservative MPs waving their order papers around, clapping and cheering," he said.
And he told The Sunday Times: "I did not agree with it. I was appalled that MPs should clap, shout and cheer when we were deciding to go and bomb somewhere." He added: "Parliament is supposed to be serious. It's not a place for jingoistic cheering."
Eagle rejected her leader's criticism. "I think it was genuine admiration for the case that had been made by Hilary Benn, which I have to say was far better than the case the prime minister made," she said.
Writing in The Observer today, former Tony Blair aide Peter Hyman said Labour may have to split to survive. "This is the biggest existential moment in Labour's history. Labour may not survive," Hyman said. "Either the current Corbyn party will need some home outside the Labour party or the mainstream of the Labour party will need to make common cause with others to forge a new party."
Hyman's comments echo a warning given by Lord Mandelson that Labour was now "two parties". one made up of the traditional members and one of new left-wing activists who had joined in the Corbyn surge this summer.
Popular in the Community