The moment doctors saved the life of a choking baby has been captured in a dramatic video.
The 20 second clip shows the doctor using surgical scissors and then his fingers to pull a metal object out of the baby's mouth.
After a cough to regain his breath, the baby bursts into tears as medics pat him on the back to calm him and encourage his breathing.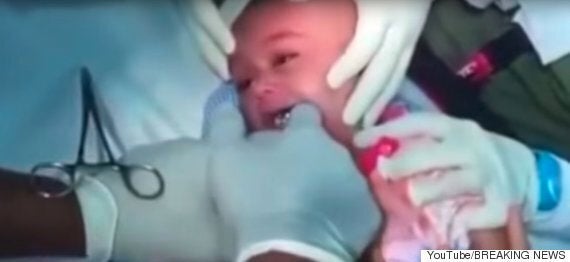 Doctors acted fast to save the choking baby's life
The object pulled from the baby's mouth was reported to be a large wrist watch and according to the Daily Mirror the baby's parents had rushed him to hospital in Saudi Arabia after noticing he was struggling to breathe and realising he had swallowed the watch.
The baby was in a critical condition when the family arrived at hospital and the doctors worked quickly to save his life.
The video was originally uploaded by a YouTube user called Hassan Syed. The identities of the family and medics involved are not known.
Earlier this year, St John's Ambulance created a brief video tutorial to teach paretnts how to save a choking baby.
Watch the Chokables video below to learn how to potentially save a baby's life in 40 seconds.