Five people have been injured and one person has died after a car crashed into a Costa Coffee packed with customers on Christmas Eve.
Police, ambulance and fire services rushed to the scene in Westerham following the crash which occurred around 10.30am in the high street area of the town.
According to witnesses the Audi was seen clipping cars coming from the direction of Oxted.
Pictures of the crash were quickly uploaded to Twitter and showed the Audi still lodged inside the coffee shop.
Whilst Bridget Rowe, who lives nearby, told the local newspaper that it sounded 'like a bomb had gone off'
Meanwhile some reports are claiming the driver of the vehicle suffered from a heart attack:
Bus crash in Peterborough
Elsewhere a bus has crashed into a building in Peterborough, and it has left a number of pedestrians injured.
The crash took place just before midday on Broadway, with police closing off the road amid fears that 13 were injured.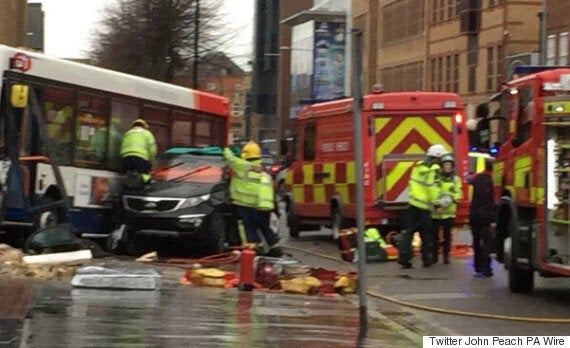 A bus has crashed into pedestrians in Peterborough
An air ambulance is at the scene, and eyewitnesses have said that people remain trapped.
Two fire engines and a rescue vehicle are also at the scene.
Popular in the Community