Martin Sheen is recovering in hospital after undergoing quadruple heart bypass surgery in the last few days, his son Emilio Estevez has revealed.
A week ago, the 'West Wing' star posed for a photograph in hospital following his extensive operation, as Emilio thanked well-wishers for their blessings.
And yesterday, less than a week after surgery, Emilio posted another snap to show the big screen veteran was back on his feet...
Emiio shared the news of his father's surgery via Facebook, where he explained it was not an emergency procedure, but one which had been planned under doctors' advice. Martin Sheen is now reportedly continuing to recover at home.
He wrote: "At a Los Angeles hospital this past weekend, my father Martin Sheen underwent a very successful quadruple bypass surgery. The decision to operate on his heart was a proactive one, not an emergency situation.
With my mother Janet and our family by his side and under the coordination of his extraordinary team of cardiologists, doctors and nurses, my father displayed great courage, strength and humility as he took on this challenge.
Not surprisingly, he is recovering beautifully, out of the ICU and is expected to not only be home for Christmas, but be 100% by the time he returns to work on season three of the Netflix series, 'Grace and Frankie' early next year."
Martin Sheen, whose career has spanned five decades and included starring in 'Apocalypse Now' and 'Badlands' before finding a whole new fanbase with 'The West Wing', has had a challenging year, with his son Charlie revealing his HIV positive diagnosis last month, a condition he'd been keeping secret for four years. Charlie said earlier this week that his father was among the first people he told. He said Martin had initially been shocked and dismayed, but the family had come to a place of love and support.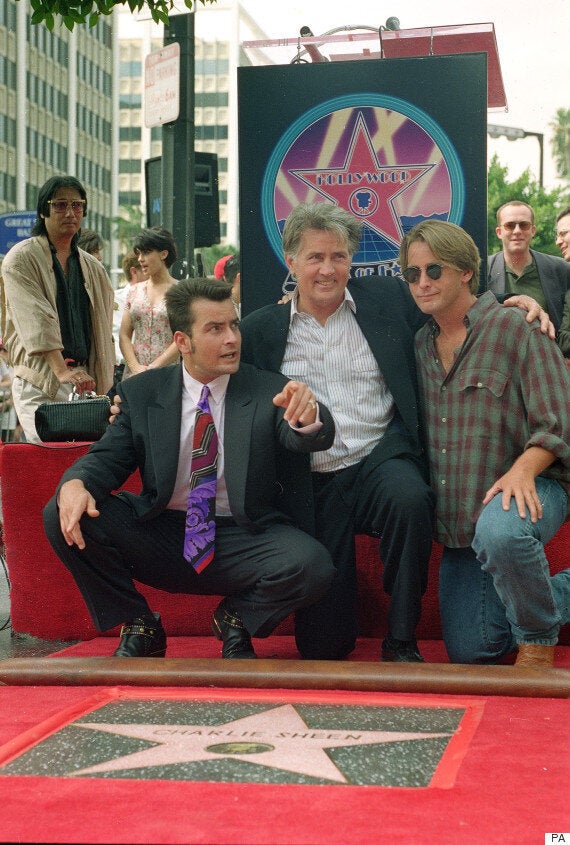 Martin with his two famous sons on the Hollywood Walk of Fame in 1994
When Charlie went public with his condition, Martin publicly praised his son, saying, "I couldn't believe the level of courage I was witnessing. I hope that this day is the first day of the rest of Charlie's life as a free man.
"He had been leading up to this... for several months, and we kept encouraging him to do it. He kept backing away and backing away because it was like going to his own execution, I guess. It was the most difficult thing he'd ever done."
Following Charlie's announcement, Martin revealed, "I left him a message, and I said that if I had that much courage, I would change the world."
The pair appeared together in the 1987 film 'Wall Street' and again in 'Hot Shots! Part Deux'. Martin also appeared in the film 'The Way', co-starring with his son Emilio, who wrote and directed the production.
Martin is popular, not just for his screen work, but for his enormous sense of social justice, which has seen him arrested for protesting more than 70 times. He told Huffington Post UK in an interview last year that, if were president for a day, he would be siding with the disenfranchised, the ones outside looking in.