The official Christmas Number One for this year has been revealed, with the NHS Choir beating Justin Bieber to the top spot for 2015.
READ MORE:
The Lewisham and Greenwich choir's charity single, A Bridge Over You, found its rise to the top of the chart boosted by the Canadian popster's tweet on Thursday, urging even his fans to "do the right thing" and help his rivals beat him to number one.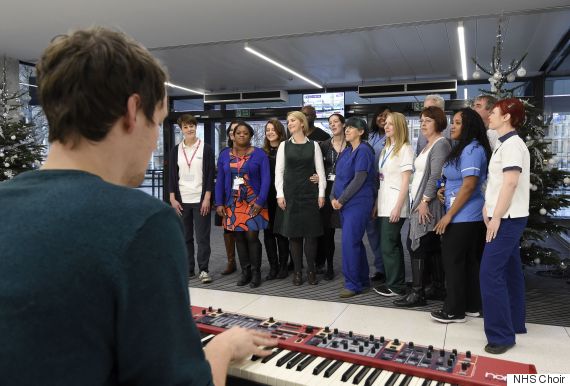 The NHS Choir have reached the top spot ahead of Justin Bieber for this year's Christmas number one spot
The Choir's single enjoyed a combined chart sales of more than 127,000 copies, nearly 31,000 ahead of Bieber's
OfficialCharts.com made the announcement this morning, with the choir's response: "We are absolutely overwhelmed and couldn't be any happier! It's a brilliant celebration for the NHS across the country so well done and thank you everyone for downloading and streaming.
"A massive cheer for the NHS, thank you!"
This display of altruism by the Biebster was doubted by some, with Kate Garraway voicing her opinion on 'Good Morning Britain', saying that Justin Bieber knew he wouldn't get the top spot anyway with his single 'Love Yourself'. "He just wants to look good," she said of his remarks.
so for 1 week it's ok not to be #1. Let's do the right thing & help them win. It's Christmas. @Choir_NHS good luck https://t.co/ORCtFY1k4i

— Justin Bieber (@justinbieber) December 23, 2015
However, it could also be seen as a natural step in Justin's recent redemption curve, which has seen him apologising for his previous antics and being baptised. And, seeing as it's Christmas, we're going to give JB the benefit of the doubt (for one day only) and say Happy Christmas to him, and to all those hardworking NHS people, too.
The chart battle had been described as the closest race for the Christmas number one since 2009, when Joe McElderry's 'X Factor' winner's single, 'The Climb' was beat to the top spot by Rage Against The Machine's 'Killing In The Name', following a Facebook campaign.
LIKE US ON FACEBOOK | FOLLOW US ON TWITTER