Extraordinary video footage has captured the moment that Turkish president Recep Tayyip Erdogan talked a man out of jumping off a bridge on Christmas Day.
The man had climbed over a railing on the Istanbul Bosphorus bridge linking Europe with Asia and was threatening to kill himself when Erdogan's motorcade drove past.
Police had been trying for almost two hours to talk the man out of committing suicide.
According to local reports the man has been suffering from depression for a long time due to family problems.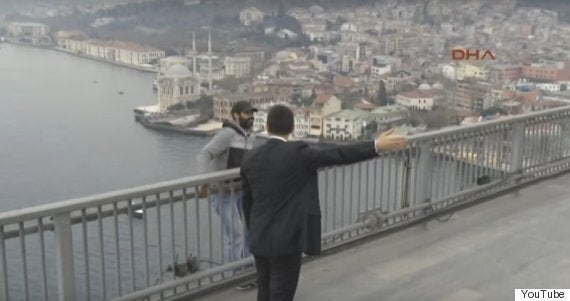 Turkish president Recep Tayyip has talked a man down from a bridge
The footage shot by Dogan news agency shows Erdogan's bodyguards move towards the man, believed to be in his late 30s, and tell him that Erdogan was in the car and that he should meet the president.
"Yes, it's true, that's the president over there," Erdogan's bodyguards are seen telling the man while pointing to a black Mercedes.
The footage shows the man confused but moving away from the railing. A few seconds later, one of the bodyguards grabs the man's arm and others follow suit.
Then, the unidentified man willingly climbs down to safety. He is then escorted to the car while the cameramen continue to film the incident.
It then shows the officials persuading him to go and talk to the president in his car.
Erdogan, who does not leave his car, then speaks to the man with his mobile phone pressed to his ear.
An official from the president's office told the Associated Press news agency he had promised to help him.
Erdogan was on his way to office after attending Friday prayers on 25 December.
Useful websites and helplines: