David Cameron has dismissed accusations his government would have moved quicker to help people affected by flooding if it had happened in the south of England.
Over the Christmas period, large areas of the north England including Leeds and York were overcome with extreme flooding.
Judith Blake, the Labour leader of Leeds City Council, said today people believed there was a north/south divide when it came to funding for flood prevention.
"There is a real discrepancy. People are starting to get very angry across the north in levels of funding going into the north compared to other parts of the country," she told BBC Radio 4's World at One. "Enough is enough."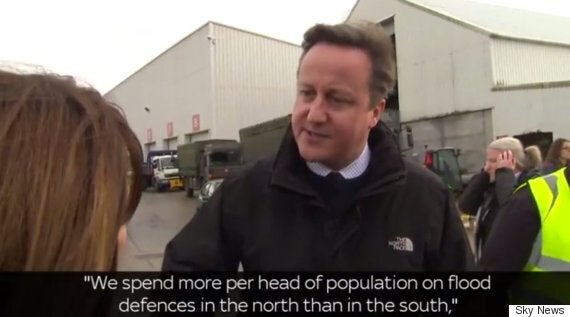 However during a visit to York, the prime minister rejected the claim and said the north actually received more money than the south, not less.
"We spend more per head of population on flood defences in the north than in the south," he told Sky News. "Here in Yorkshire for instance, we've spent £100m since I became prime minister on flood defences. We plan to spend, in this parliament, an extra £280m, so almost three times as much again."
He added: "As I say, though – let's have a look and see if more needs to be done and whether the flood defences need to be made higher than they have already, and that's exactly what we'll look at."
Environment secretary Liz Truss also denied there was a north/south divide and said sometimes there was little that could be done. "Those great cities in the north need to be protected," she told the BBC.
"In the case of Cumbria, Lancashire and Yorkshire, we had very thorough preparations before the events took place. We have a COBRA on Christmas day, on Boxing Day to make sure we had all the resources we needed."
But she added: "The simple fact is though, while some of our flood defences work, others were overwhelmed by the sheer scale of water."
Labour's shadow environment secretary also said she was "not sure" whether it was accurate to say the government was treating the north differently than the south. However she told BBC Radio 4 that was the "perception" - which was damaging in itself.
"People felt the reaction when the Somerset levels got flooded, and also Oxfordshire, the government got its act together," she said.
With more rain forecast for the middle of the week there may be worse to come, and the Environment Agency (EA) still has nine severe flood warnings in place - meaning there remains a danger to life.
Rain will batter the north of England on Wednesday with up to 3in (80mm) falling on high ground and potentially in excess of 4.7in (120mm) in exposed locations - with most places seeing up to 1.5in (40mm).
Some 500 military troops have been mobilised to aid emergency services, with another 1,000 on standby should the situation worsen.