'Star Wars' actor Carrie Fisher has hit out at those commenting on her age on Twitter, saying ageist remarks hurt "all three" of her feelings.
The eccentric star tweeted her annoyance at being shamed for her age by fans on the social network, re-tweeting worst offenders and writing a withering, emoji-laden reposte.
"My body hasn't aged as well as I have," she wrote, "Blow us."
The actor re-tweeted some of her harshest critics.
Fisher plays Princess Leia in the franchise and reprised her role in the latest outing.
At the film's London premiere, and with her omnipresent French bulldog, Gary, in tow, Carrie was spotted throwing some fabulous poses on the red carpet, alongside some Stormtroopers, who had also turned out to give the new film as grand a welcome as possible.
And, let's just say, she certainly appeared to be enjoying herself.
Speaking to The Huffington Post UK at the event, Carrie turned her attention to Daisy Ridley, whose star turn in the latest instalment is about to make her a household name.
"The young cast seem to be doing great, but it's hard," she told us. "Can you imagine going into a event for the first time, like Daisy, when you've never done any other acting? She carries this whole film."
When asked if women have a tougher time than their male counterparts, Carrie replied: "Everything is harder for women because we have to do it twice as well.
"Women have two more fat cells than men, to keep foetuses warm - what about a blanket? We have to overcome these things.
"Then there's the extra stuff - make-up, and heels... Then you have to run around with a laser. In heels."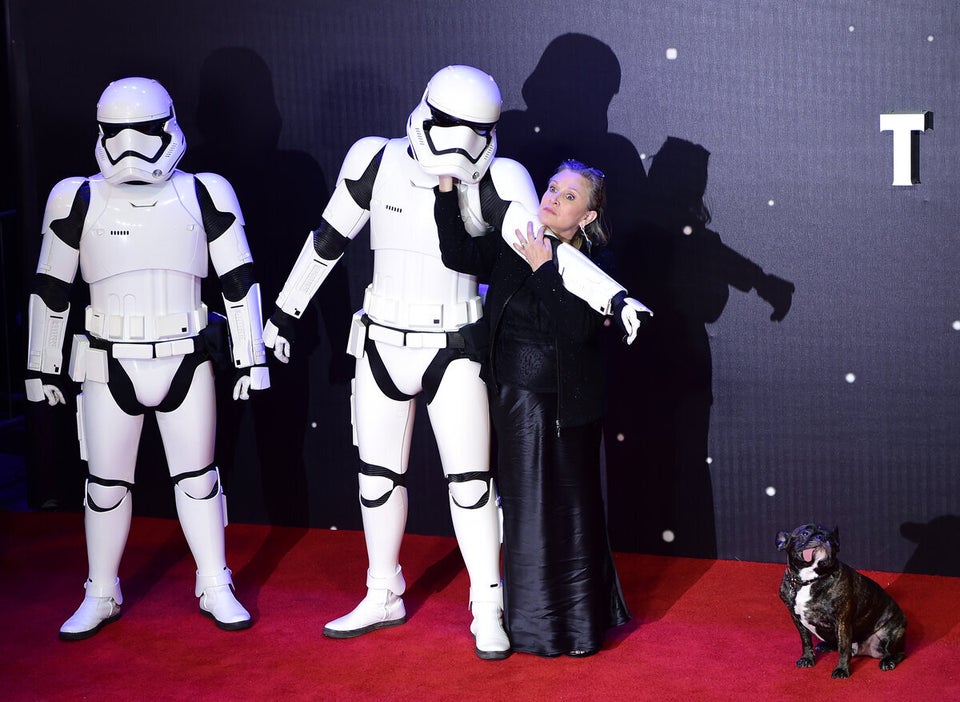 'Star Wars: The Force Awakens' European Premiere
Popular in the Community